How much do you need for a first mortgage deposit?
The higher your deposit, the easier you will find getting a mortgage as a first time buyer. A smaller deposit means your mortgage provider will have to cover more of the property's total price – which makes you a riskier bet. Mortgage companies use something called a loan to value (LTV) calculation, which helps them decide whether to lend and at what rate.
For example, if you saved £20,000 for a deposit on a £200,000 home, this would cover 10% of the cost. You would need a mortgage for the remaining £180,000, meaning its LTV is 90% of the purchase price. If you'd saved just £10,000 your LTV would be 95%.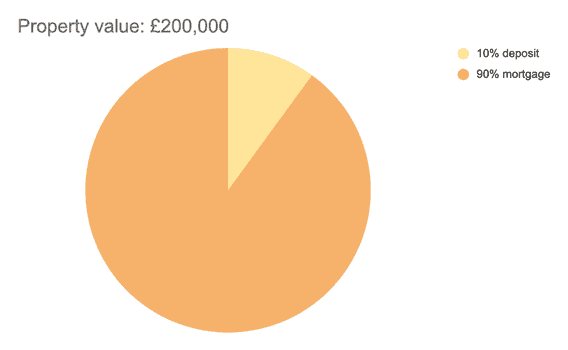 You can get first time buyer mortgages with an LTV of up to 95%. There are even some 100% mortgage deals available with no deposit, including guarantor mortgages that require a family member or friend to guarantee your mortgage and step in if you miss repayments.
There are fewer mortgages available for high LTVs, and the deals you can get usually have more expensive interest rates and upfront fees. The bigger your deposit, the more choice you'll have and the less interest you'll pay.
How to get a mortgage with no deposit
Can I get a mortgage on my own?
Yes, but you will need to earn enough money to cover the cost of your monthly mortgage payments. Mortgage lenders will determine your affordability based on your income and expenses.
It may also be harder to save up for a deposit alone, and you may not be able to borrow as much as you would if you applied for a joint mortgage with a partner, friend or family member.
Use our mortgage affordability calculator to see how much you could borrow
What mortgages can I apply for? 
You can apply for most types of mortgages, but some are designed specifically for first-time buyers, for instance, those that allow you to buy with a small deposit.
Here are some of the main options to explore:
First-time buyer mortgages
Some mortgages are only available for first-time buyers and allow for high LTVs, meaning you would only need a deposit of 5% or 10%. Often, these are a more expensive way to borrow, because the lender is shouldering a bigger proportion of the risk and therefore charges a higher rate of interest.
Guarantor mortgages
These allow you to buy a property with a small deposit, and some are available with an LTV of 100%, meaning you do not need a deposit at all.
A family member or friend must agree to be named on the mortgage and to cover your repayments if you miss them. They will have to guarantee the mortgage payments with either:
Their own property, which could be repossessed if you get too far behind on your repayments

Their savings, which the lender will hold in a savings account until you have paid off a percentage of your mortgage
Help to Buy mortgages
The Help to Buy equity loan is a government scheme that can help you get onto the property ladder with limited savings. The government lends you money that you can use towards your deposit and repay later. 
The loan is interest-free for five years and can cover 20% of the purchase price (40% in London). You still need to save a 5% deposit yourself. 
Right to Buy
Right to Buy mortgages let you buy your council house at a discounted price. The maximum discount is £87,200 across England, except in London boroughs where it is £116,200. The discount you get depends on whether you live in a house or flat. You can find out more on the gov.uk website.
Shared Ownership mortgages
You can use a Shared Ownership mortgage to buy between 25% and 75% of a property. You can buy further shares in your property until you own all of it.
These mortgages can come with much smaller repayments and deposits than if you buy 100% of a property. However, you will also pay rent to your local authority or a housing developer who owns the rest of your home on top of your mortgage payments. The rent is discounted, so it's more affordable and you're also building equity at the same time.
Should you get a mortgage?
A mortgage is a huge commitment, so you need to make sure you are prepared for the expenses involved. You can work out if buying a house is in your budget using our guide on how much buying a property will cost you. You should also think about getting an income protection policy, which pays a monthly income if you are unable to work for a prolonged period of time.
Ultimately, if you can afford your mortgage, it makes far better financial sense than renting. Do your sums carefully, and shop around to get the best deal.
Make sure that you've factored in the following costs:
the deposit

the monthly repayment on the mortgage

fees that come with getting a mortgage

homeowner bills like energy, broadband and council tax

emergency savings – ideally you should have at least three months' worth of basic household expenses and mortgage repayments