Working in collaboration with David Allen of Purely Diamonds, the home insurance experts at money.co.uk studied the official and unofficial Disney Princesses to estimate how much their jewellery would cost in the real world.
Queen Elsa – £600,000
In November 2013, Disney released what would become a worldwide phenomenon, Frozen. Alongside winning two Academy Awards, a Golden Globe and a BAFTA, the main character, Elsa, is also the owner of the most expensive original Disney jewels on our list. All three pieces of Elsa's coronation jewellery are made of solid gold set with magnificent sapphires – perfect for a snow queen.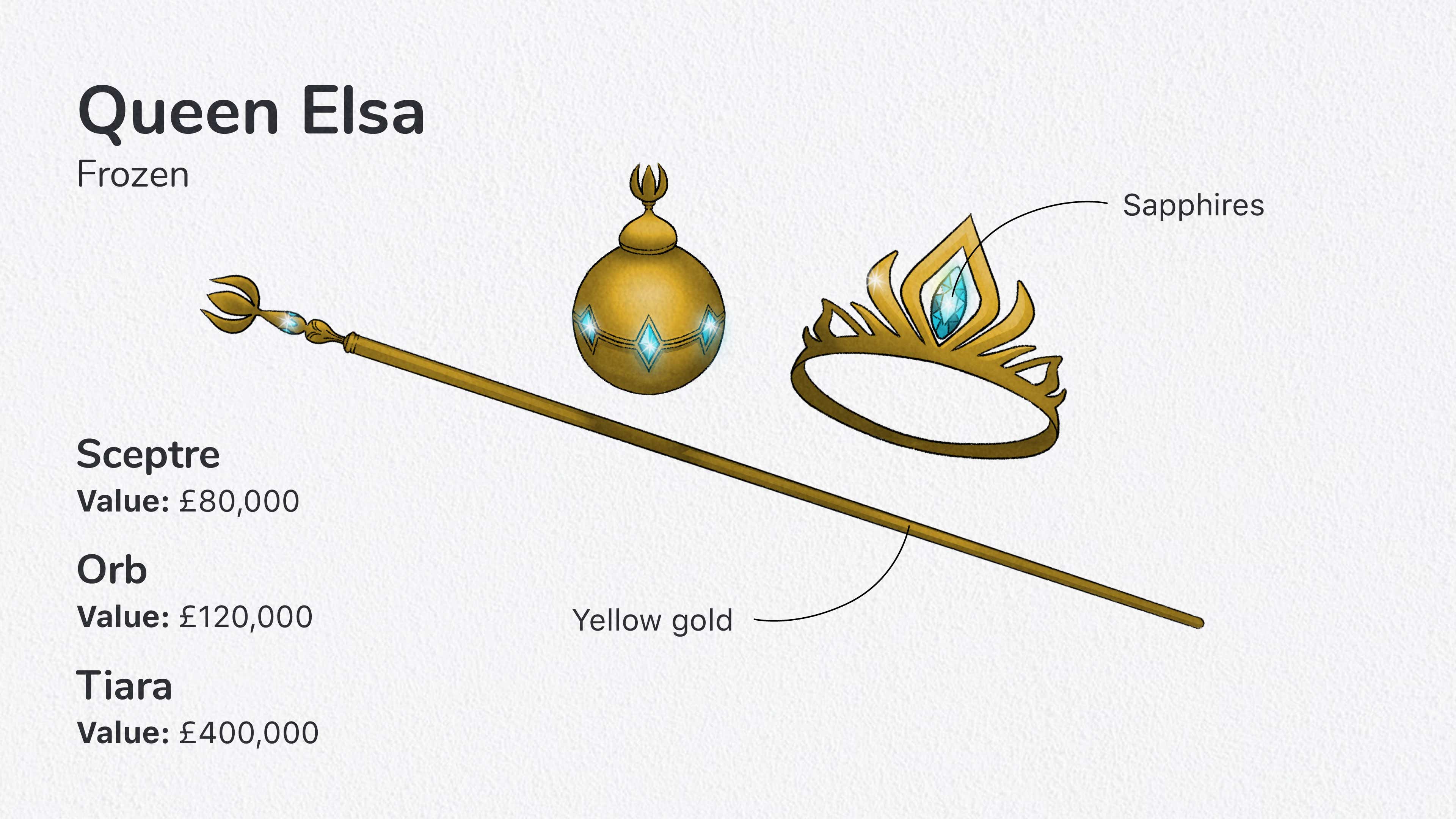 The sceptre is likely made of solid gold and is set with four sapphires, each weighing around five carats. Our jewellery expert estimates that a piece of this style would cost around £80,000. 
For Elsa's orb, the gold likely holds the most value with four sapphires each around 10 carats. Not only is the orb likely to be very heavy, it's estimated value could be in the region of £120,000.
Elsa's orb and sceptre are likely to have a combined value of £200,000, but our jewellery expert estimates her tiara alone is worth double that at £400,000. The focal point of this yellow gold tiara is a single 20 carat sapphires. A symbol of divinity and regality this is the true pièce de résistance in the set. 
Queen Anna – £175,000
Following the success of Frozen, Disney released its sequel Frozen II in 2019. Our jewellery expert has analysed Anna's coronation tiara to estimate its materials and value.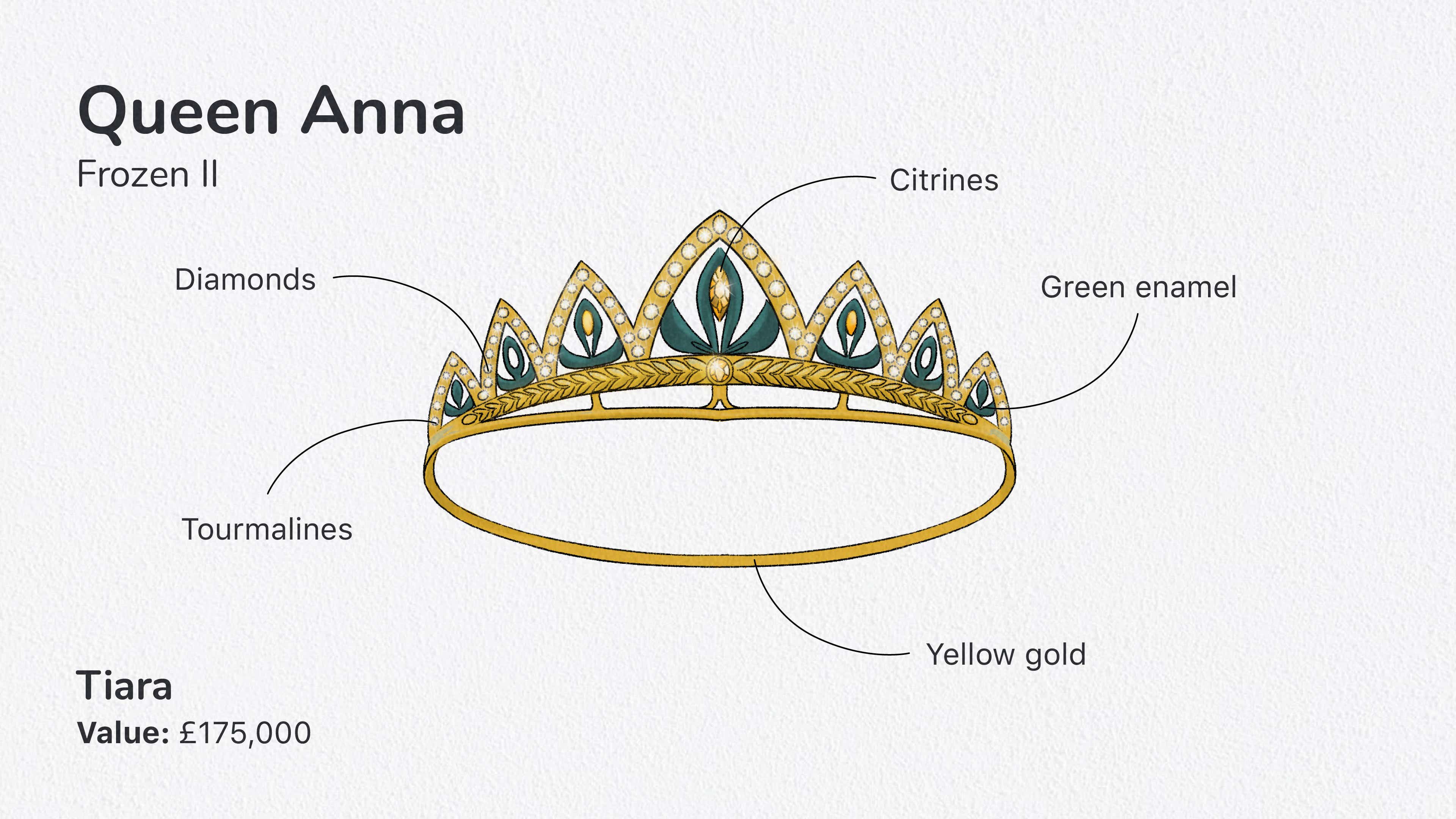 This opulent tiara is perfectly matched to the Queen of Arendelle. Set in yellow gold, the tiara is a plethora of tourmalines (seven carats in total), citrines (12 carats in total) and diamonds (10 carats total) set against green enamel. While not the most expensive of gemstones, the intricate design makes it a labour of the finest craftsmanship. Value: £175,000.
Rapunzel – £150,000
In 2010, Disney released the musical fantasy film Tangled. Based on the story by the Brothers Grimm, this film follows the life of Rapunzel and her long, magical, golden hair. Rapunzel is the first fully computer-animated Disney Princess, so it's no surprise that her jewellery is among the most complex on this list.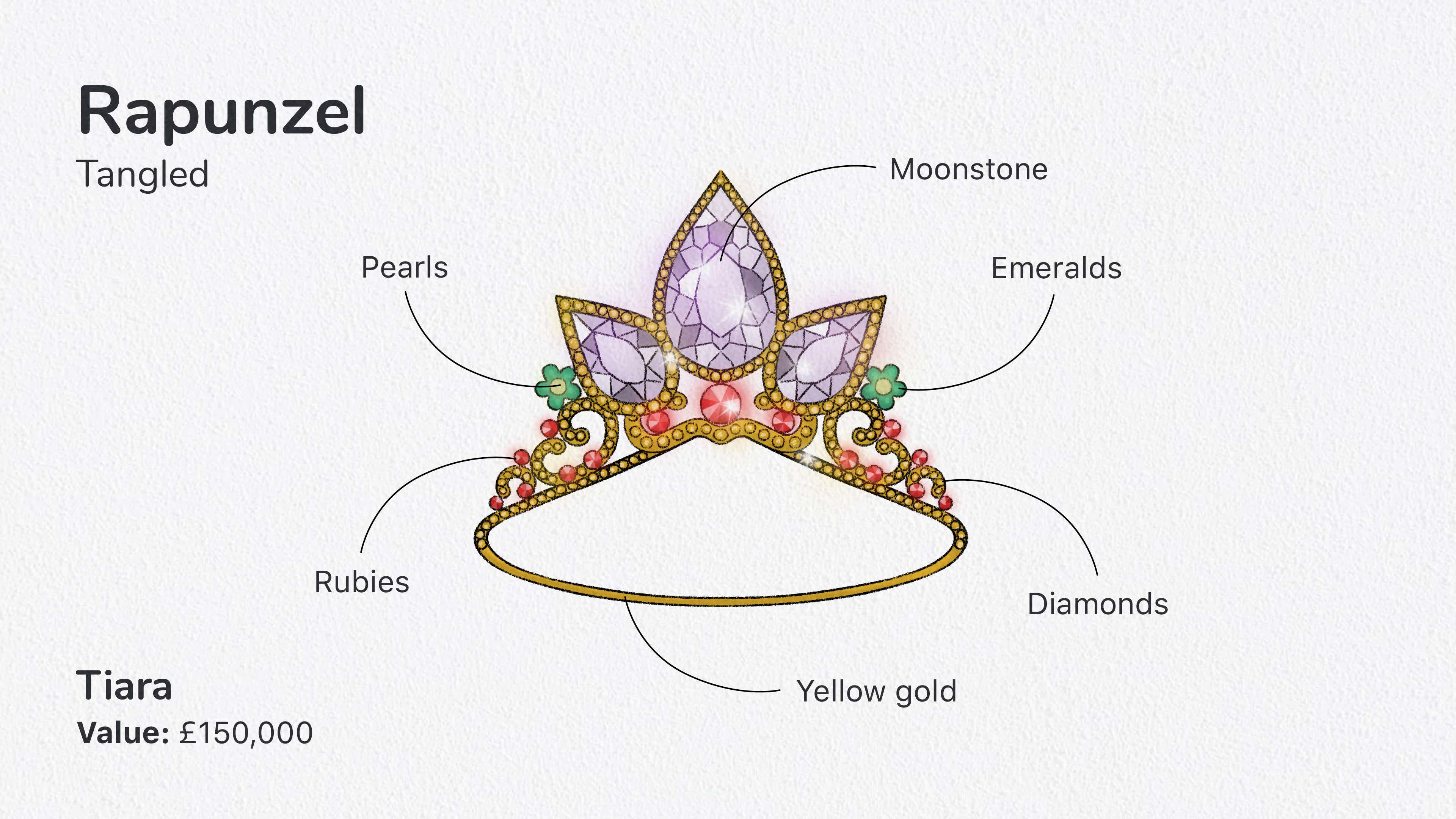 At the helm of this tiara are three large opalescent moonstones weighing approximately 150 carats. The base of the tiara is decorated with additional rubies, pearls, emeralds and diamonds set in yellow gold. Our jewellery expert estimates a tiara of this style would cost £150,000.
Tiana – £100,250
In 2009, Walt Disney Animation Studios released the musical fantasy film The Princess and the Frog. Tiana, the lead character in the film, was also the first African-American Disney Princess.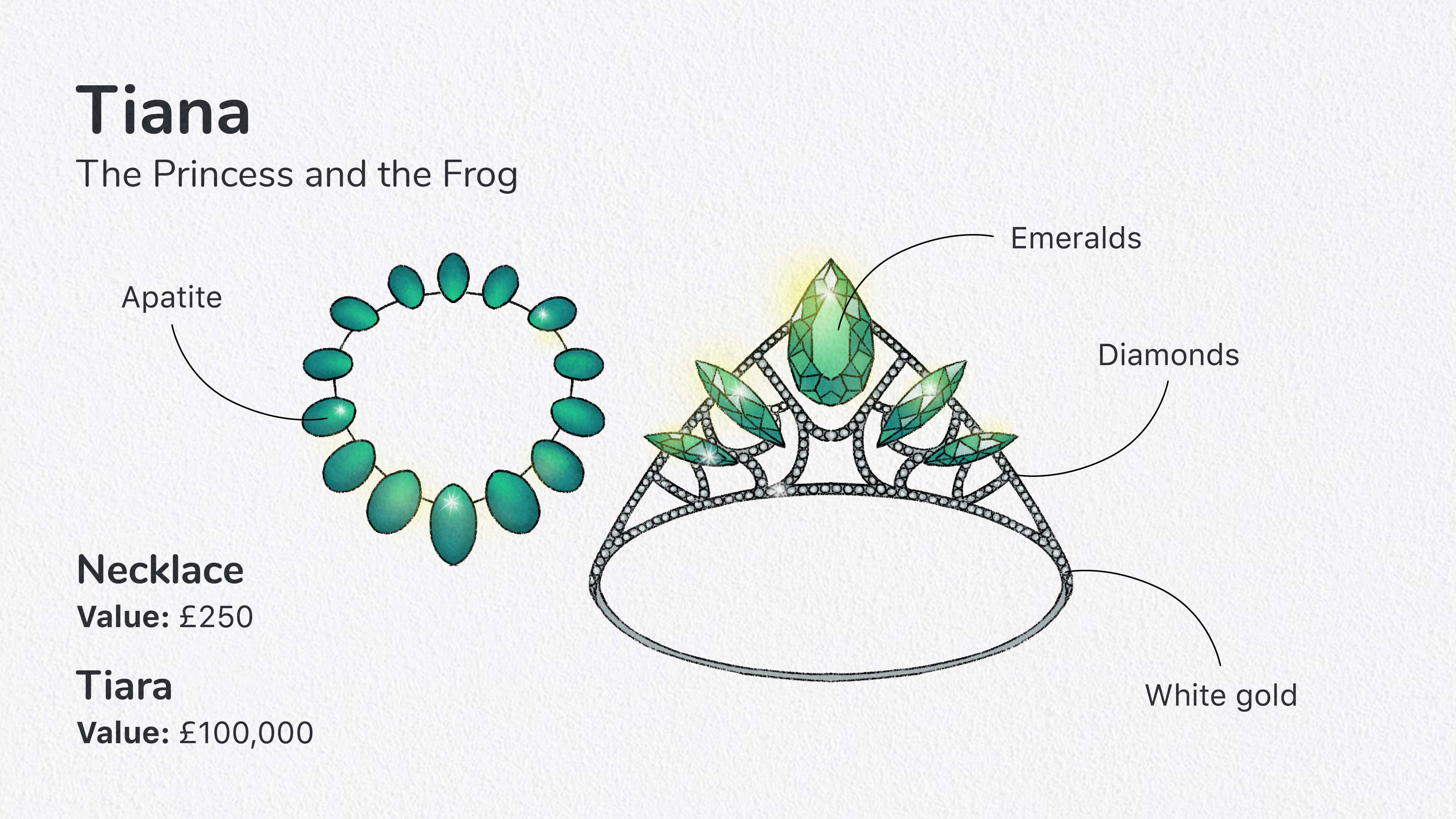 Given Tiana's intelligence and aptitude for hard work, the stone of Apatite is most likely used to make up her necklace. As a symbol of wisdom, it is befitting of this princess and would likely cost around £250.
Tiana's contemporary tiara is full of colour, thanks to the emeralds in the leaf details – a nod to her time as a frog. With additional diamonds to add regality and sparkle, this white gold tiara is likely to cost in the region of £100,000.
Aurora – £52,500
Aurora, or Sleeping Beauty, is the third official member of the Disney Princess line-up and is the last princess to be created during Walt Disney's lifetime.
Similar to Princess Jasmine's pricey accessories, this chunky gold necklace is likely to be plated 22 karat gold. Aurora's necklace is a more geometric design with a more substantial weight of metal, likely having a value of £2,500.
Aurora was one of the first Disney Princesses to wear a Tiara, and this yellow gold piece features a series of beautiful Aquamarine gemstones for some subtle sparkle, but extreme beauty. Value: £50,000.
Cinderella – £41,500
Released in 1950, Cinderella is one of the most iconic animations to be released by The Walt Disney Studios.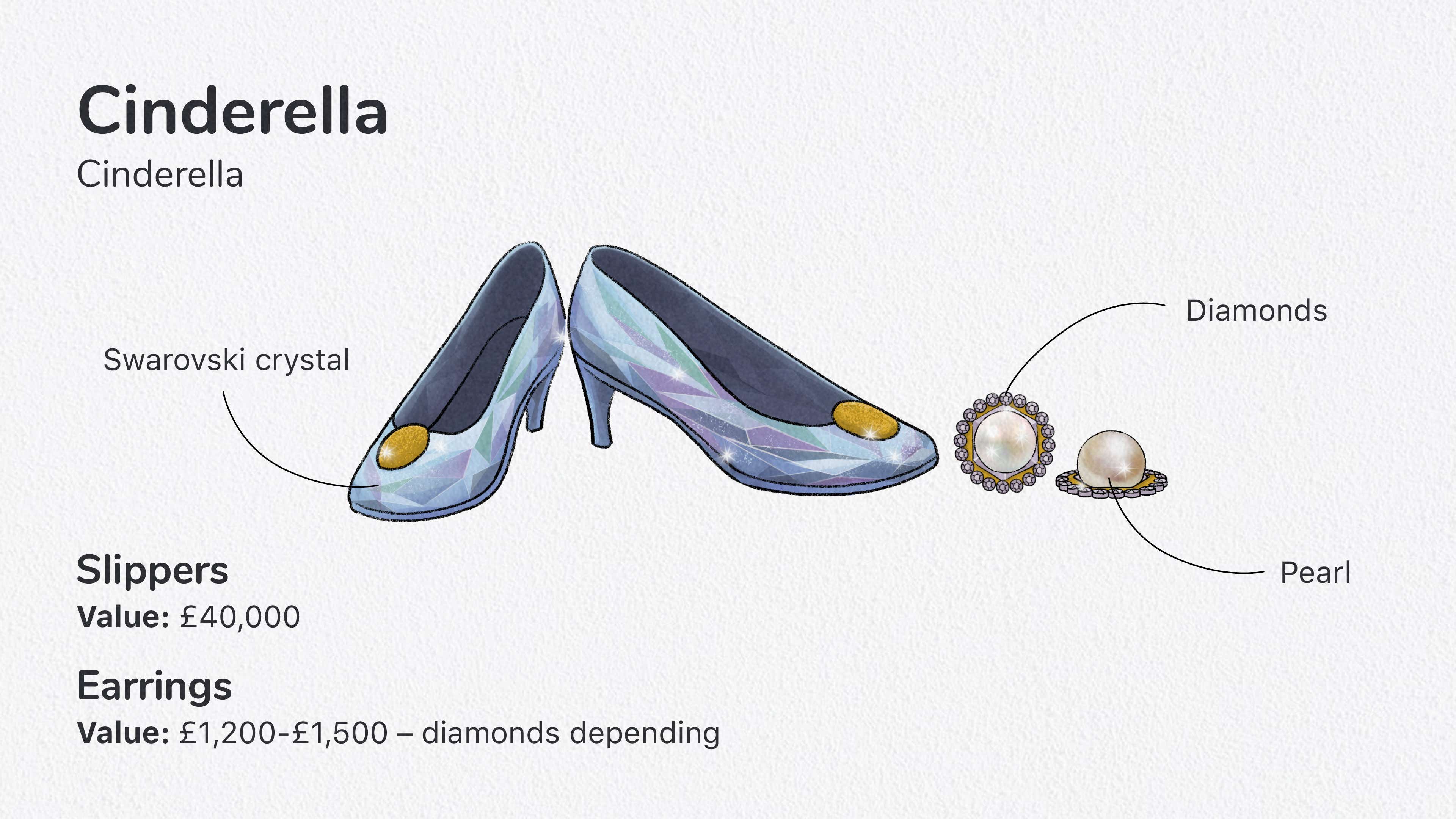 The classic animation features a pair of luscious pearl earrings for Cinderella to wear to the ball. Her appearance in 2018's Ralph Breaks the Internet includes the addition of diamonds. Depending on whether diamonds are included, these earrings would cost £1,200-£1,500.
Disney's animation was originally based upon a folktale called The Little Glass Slipper, so it's fair to say that Cinder's shoes are rather special. Swarovski made the dazzlers for the live action remake, and our expert estimates these would have a value of £40,000.
Princess Jasmine – £5,500
Aladdin took Disney fans to a 'whole new world' following its release in 1992 and features a range of jewels and trinkets. Jasmine, the Sultan of Agrabah's daughter and Aladdin's love interest, was the sixth official member of the Disney Princess line-up.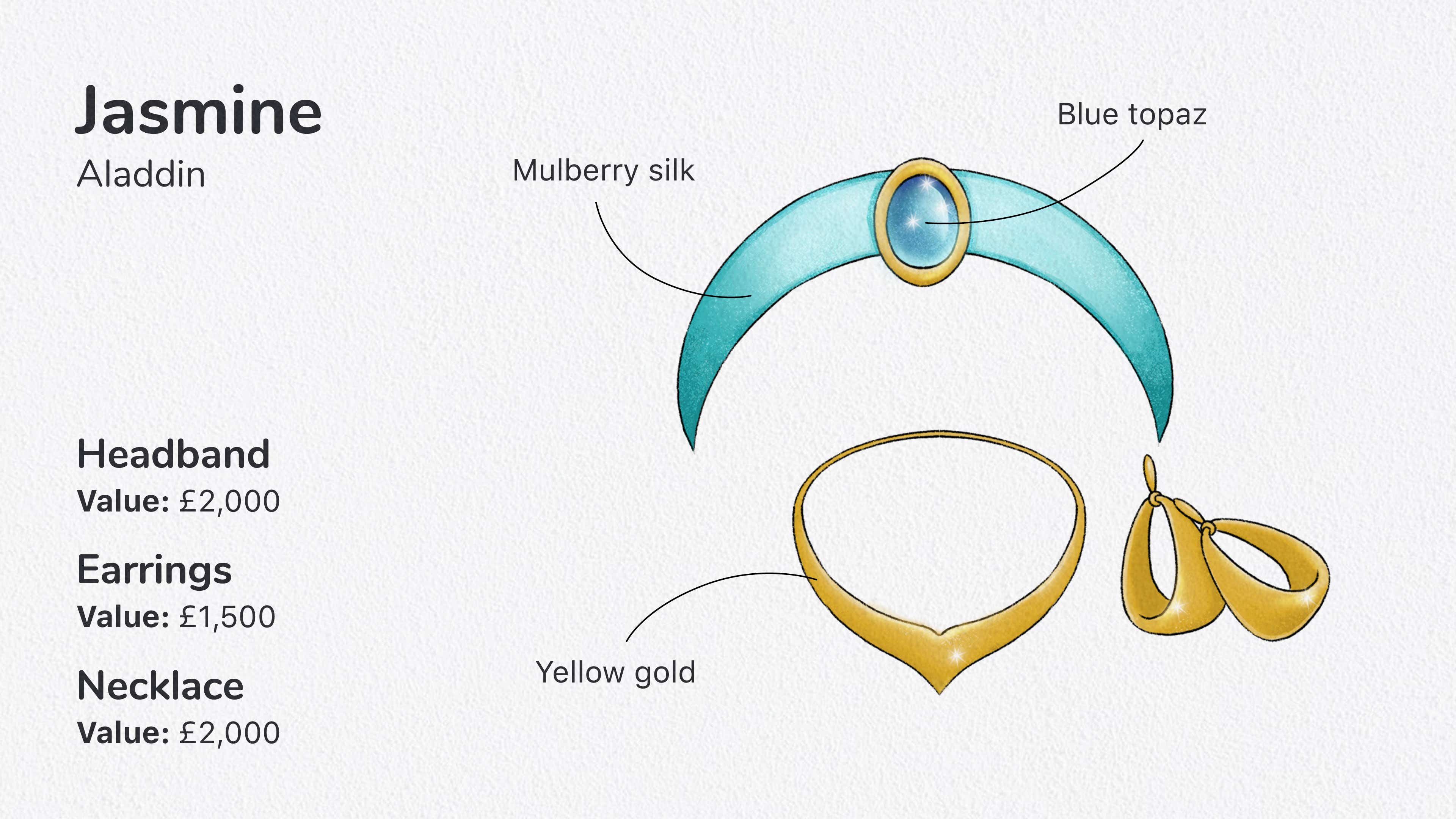 This Princess of Agrabah wears a stunning headband which we can only imagine is made of the finest Mulberry silk and a magnificent 100 carat oval shaped blue topaz in a yellow gold setting. Despite not being a tiara, our expert estimates this headpiece would cost £2,000.
Alongside the statement headband, Princess Jasmine dons two chunky gold hoops and a matching necklace to complete her iconic look. In reality these would likely be gold-plated – as solid gold would be far too heavy and uncomfortable to wear. Likely to be silver, plated with 24 karat gold, they would give the warmth and beauty of solid gold without the weight. Suitable for everyday wear, our jewellery expert estimates the earrings would cost £1,500 and the necklace would be slightly more expensive at £2,000.
Merida – £5,000
Next up is Disney's Scottish princess, Merida, from the 2012 animation Brave. Merida is the 11th official Disney Princess and the first to be created in collaboration with Pixar.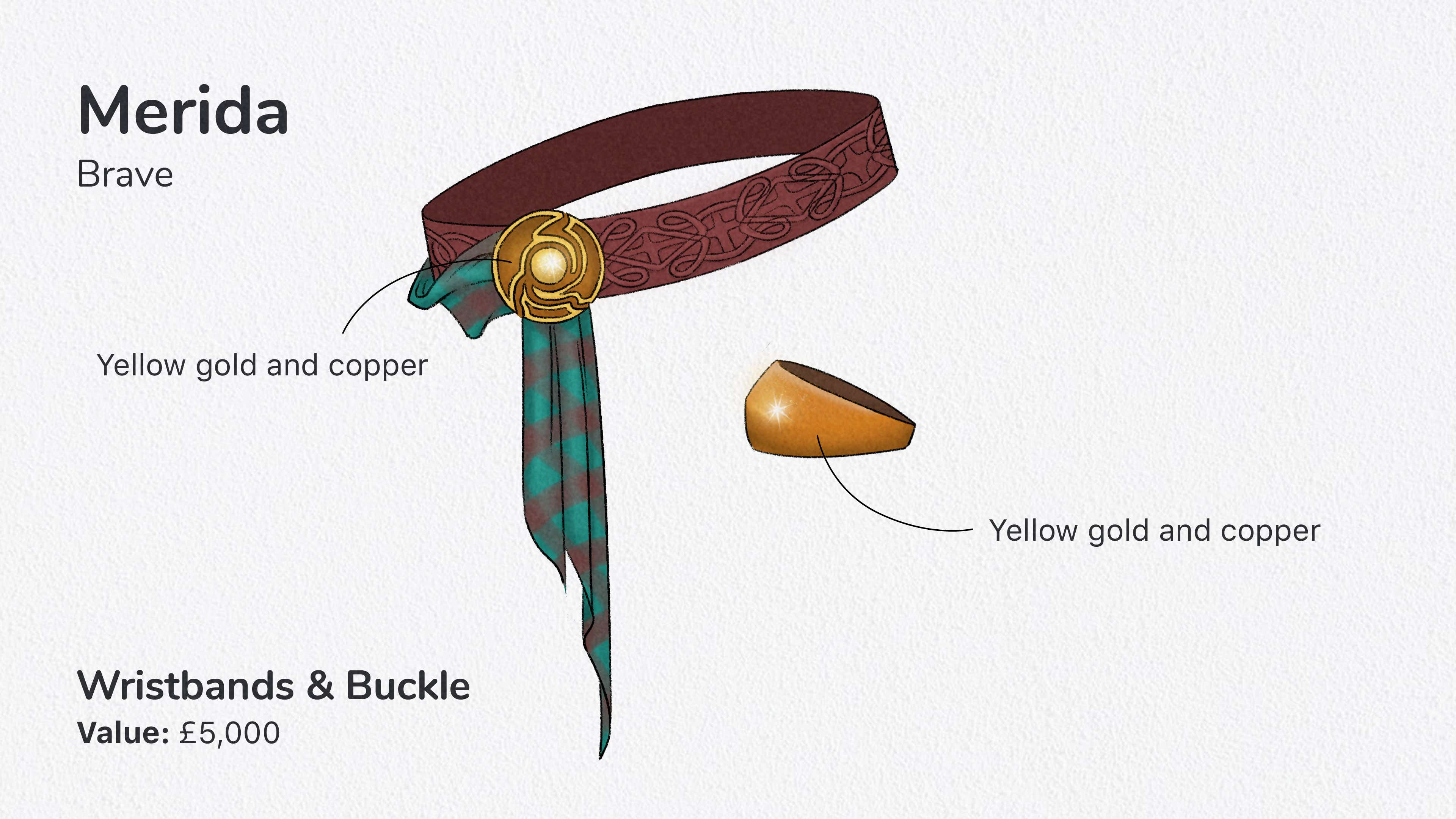 Moving away from ball gowns and tiaras, Merida's jewellery reflects her heritage with a Celtic-inspired belt buckle and wristband. Our jewellery expert suspects these wonderful accessories would be fittingly made from the gold and copper found in the ancient mines of Scotland and would be quite weighty. He estimates that these would cost £5,000 on today's market.
Raya – £2,700
The latest Disney Princess to be announced is Raya. Due to be released in March 2021, Raya and the Last Dragon will be the studio's first movie inspired by Southeast Asian mythology. Although a lot is still unknown about Raya, we have analysed the recently released trailer to get a sneak peek at her jewellery.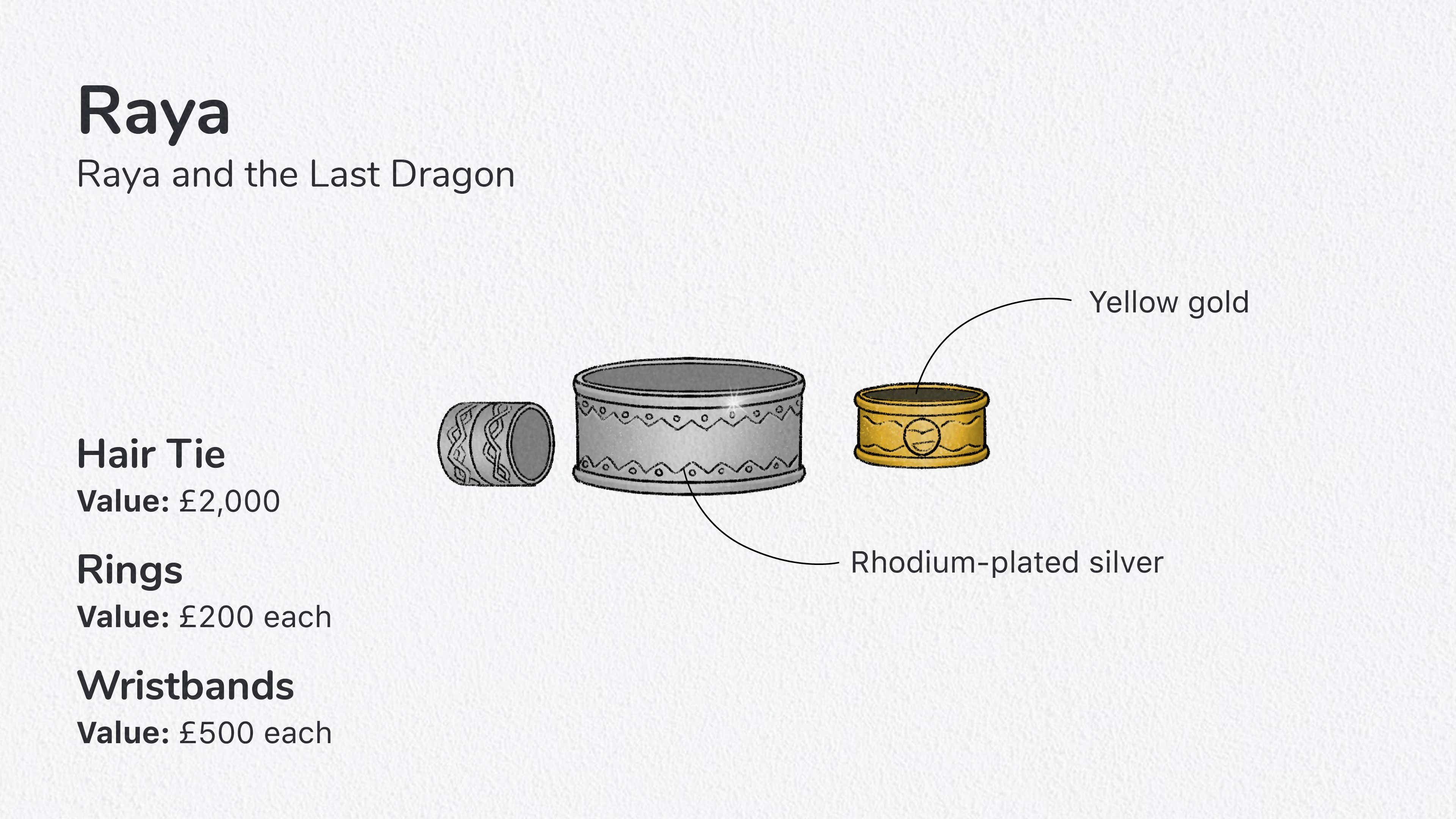 In her hair, we spied a solid gold band, a sign of strength and importance, which our jewellery expert estimates to have a value of £2000.
Later in the trailer, Raya also appears to wear wristbands and chunky rings. Due to their size, our jewellery expert suggests that these could be made from rhodium plated silver – making them lightweight and contemporary. Assuming these materials, the rings could cost £200 each and £500 per wristband.
Mulan – £1,650
In 1998, Disney released Mulan. The eponymous heroine became the eighth official Disney Princess, though Mulan is actually the only one not to be of royal lineage by birth or marriage. Mulan often wears a soldier's outfit in the film, however does wear jewellery when meeting her matchmaker.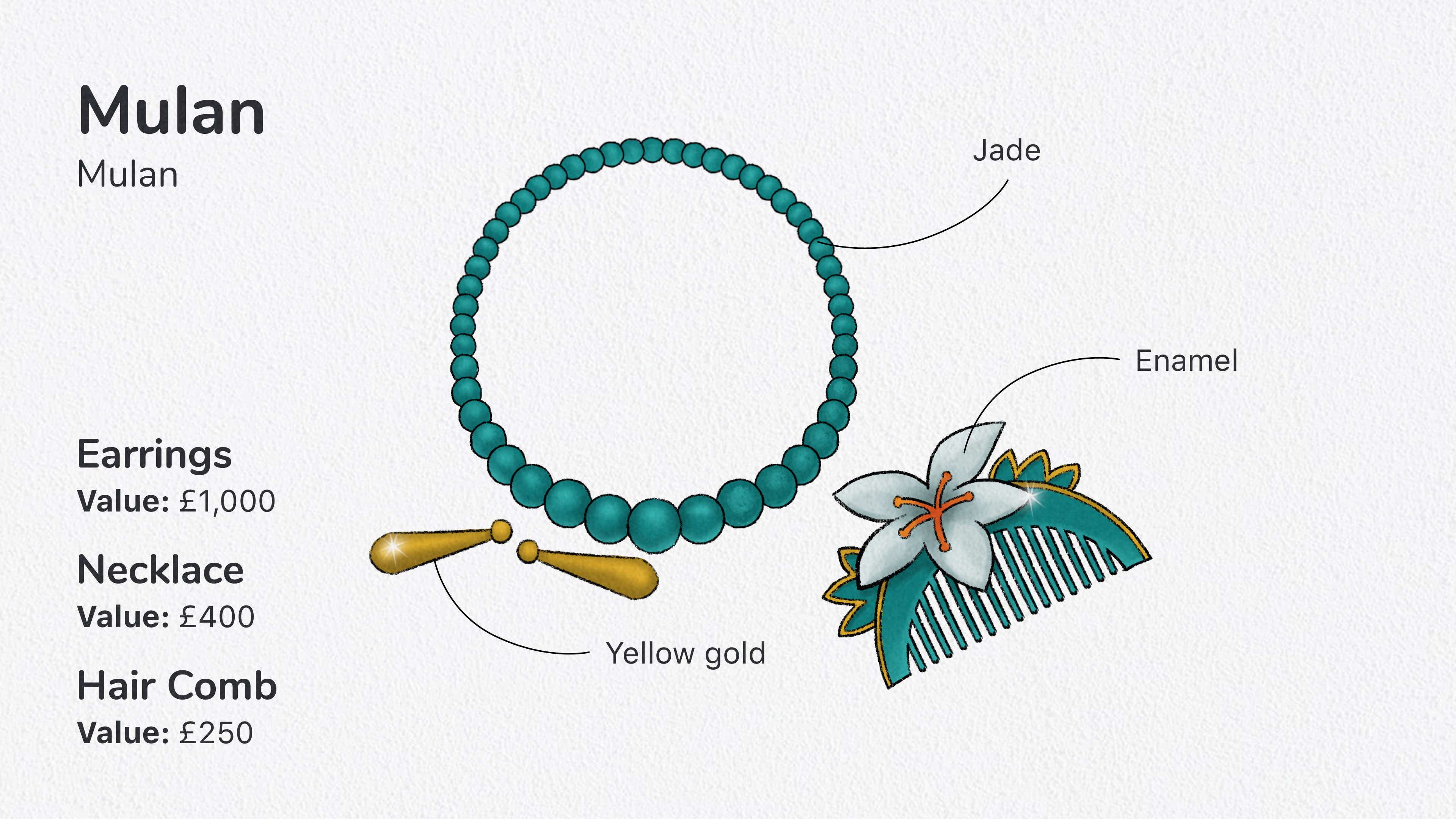 Mulan is seen wearing a classic pair of gold drop earrings, a style which is still popular today.  Our jewellery expert estimates a similar pair would cost in the region of £1,000.
The beautiful necklace worn by Mulan is most likely to be made from Jade. These Jade beads appear to be around 200 carats of the bright green gemstone and would cost around £400. Made of a similar material, is her hair comb. A combination of the finest jade and enamel, this is a key piece in Mulan's iconic image and is valued at £250.
Moana – £950
In 2016, The Walt Disney Studios introduced the 12th official Disney Princess, Moana.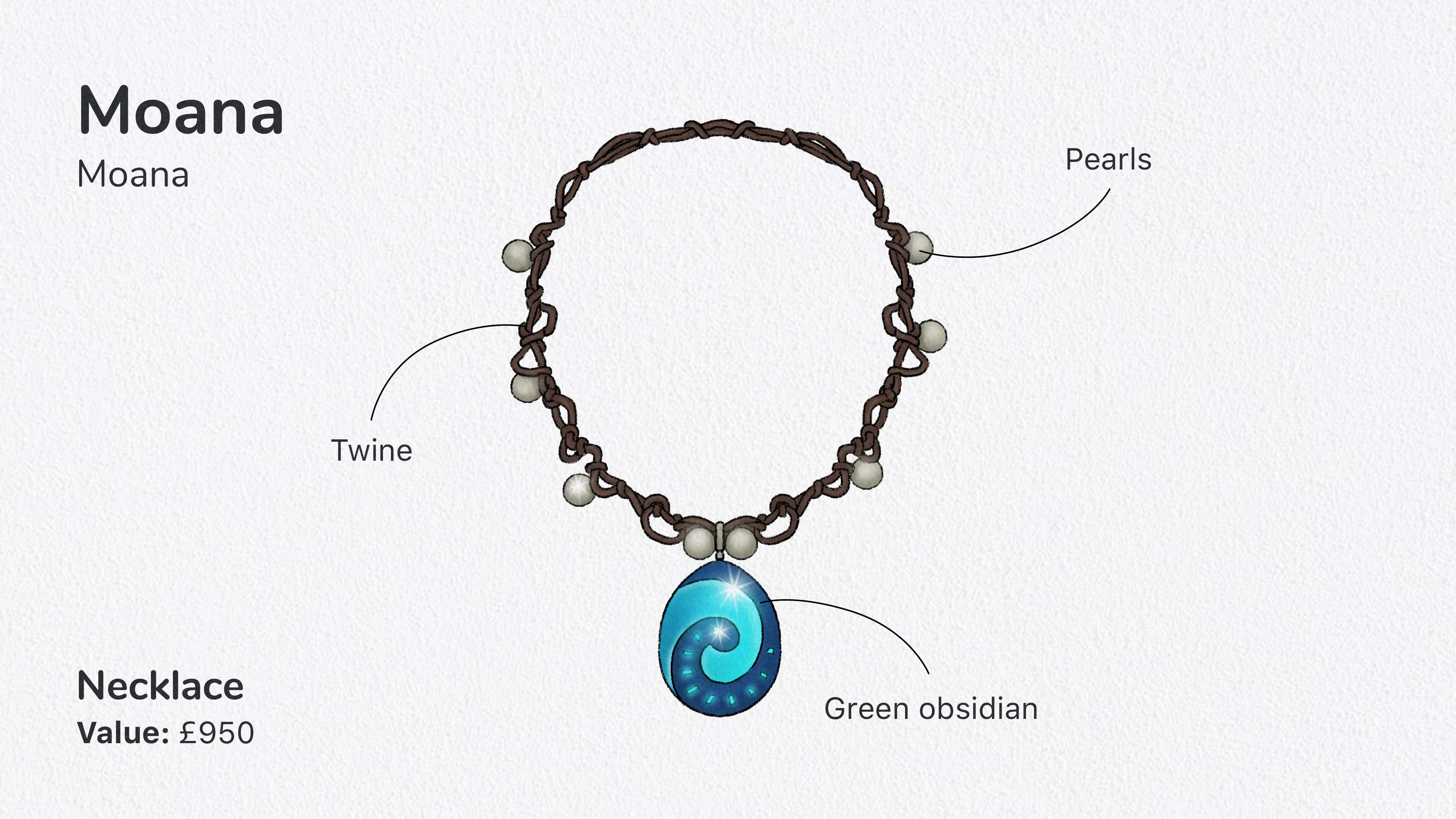 The most naturally found of all Disney jewellery pieces, Moana's necklace is made of twine, with natural pearls and "The Heart of Te Fiti", a volcanic gemstone which is most likely to be green obsidian. Given the fact that these are naturally-formed gems, you could be lucky and find them for free, otherwise a similar necklace would cost around £950 on today's market.
Kida – £850
In 2001, Disney took us underwater with Atlantis: The Lost Empire and introduced us to Princess Kida. A different Disney Princess from her predecessors, Atlantean Kida is a warrior and has the jewellery to match.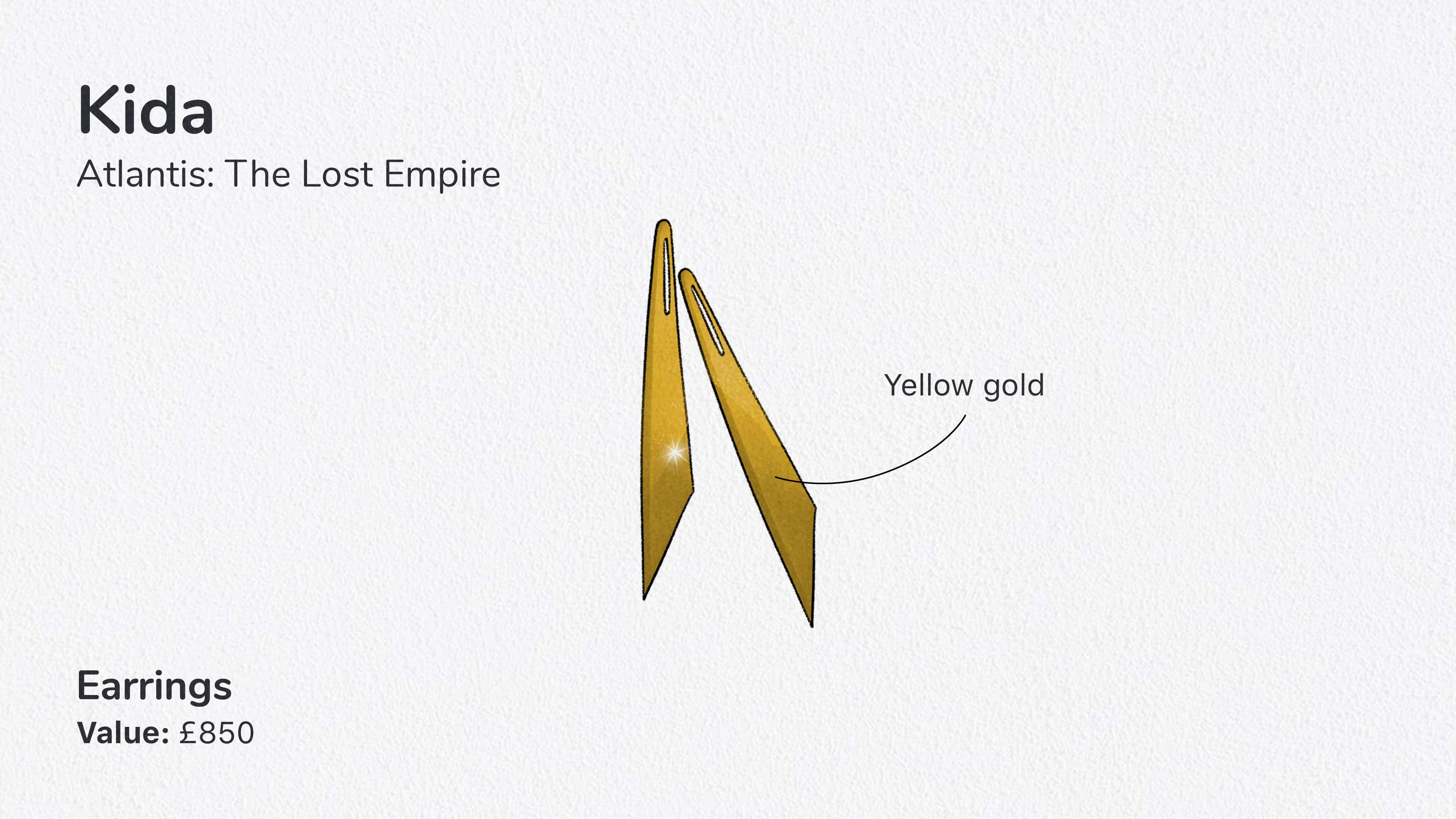 David from Purely Diamonds believes that these asymmetric gold hoop earrings wouldn't look out of place in a style guide of Vogue magazine and are very much on trend. He estimates a value of £850.
Pocahontas – £750
Next up on our list of Disney royalty, is Native American Pocahontas. Based loosely on an historical figure of the same name, Pocahontas is the seventh official Disney Princess and the first to be based on an actual person.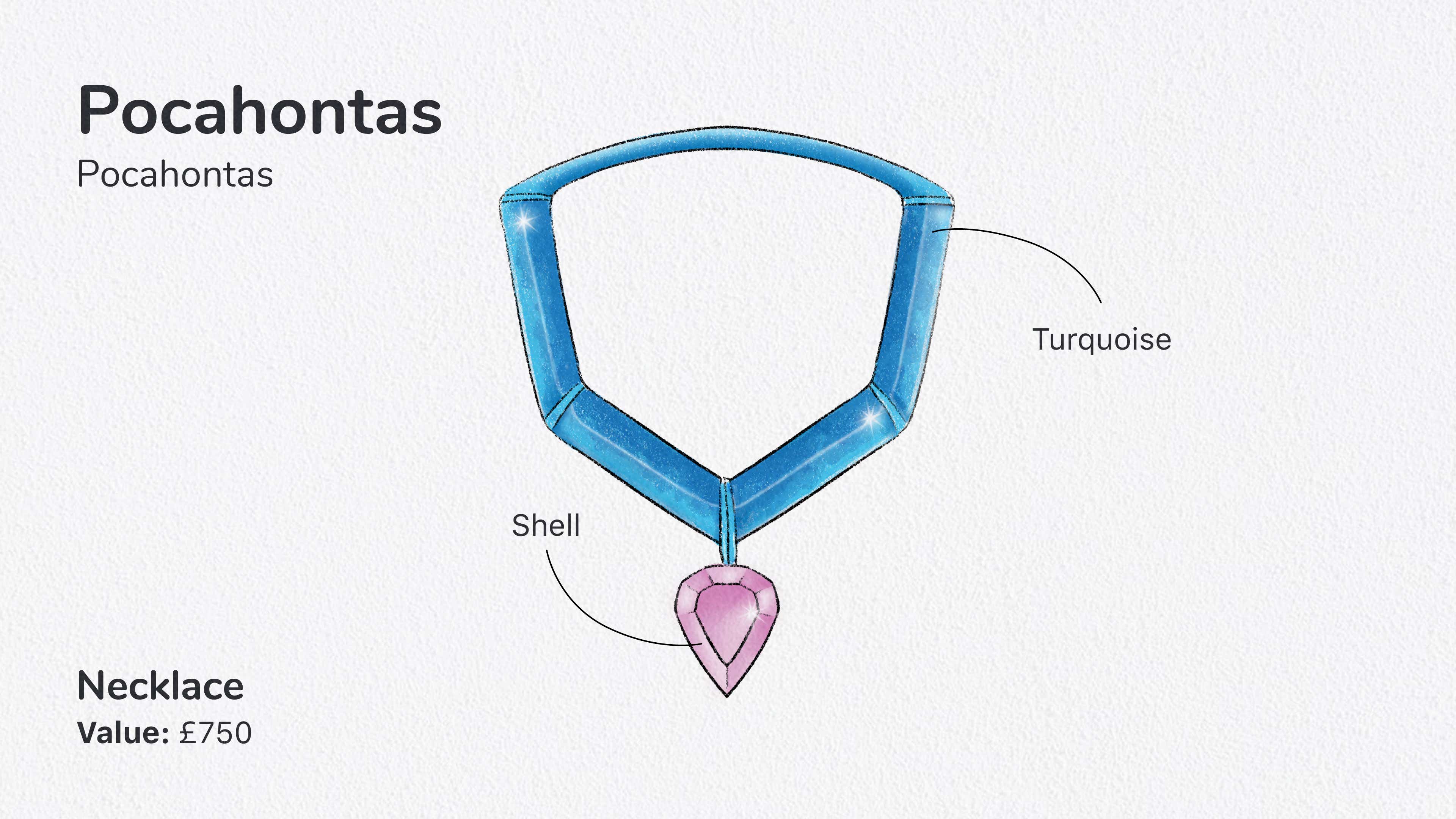 Despite being of a relatively simple design, Pocahontas's necklace is also one of the most distinctive. Our jewellery expert estimates this colourful piece appears to be made of a turquoise body with a hanging shell, and values it at £750.
Ariel – £550
Next up is Ariel, an ambitious underwater princess and reluctant mermaid. Released in 1989, The Little Mermaid took Walt Disney fans under the sea for the first time to explore the wonderful world of Atlantica.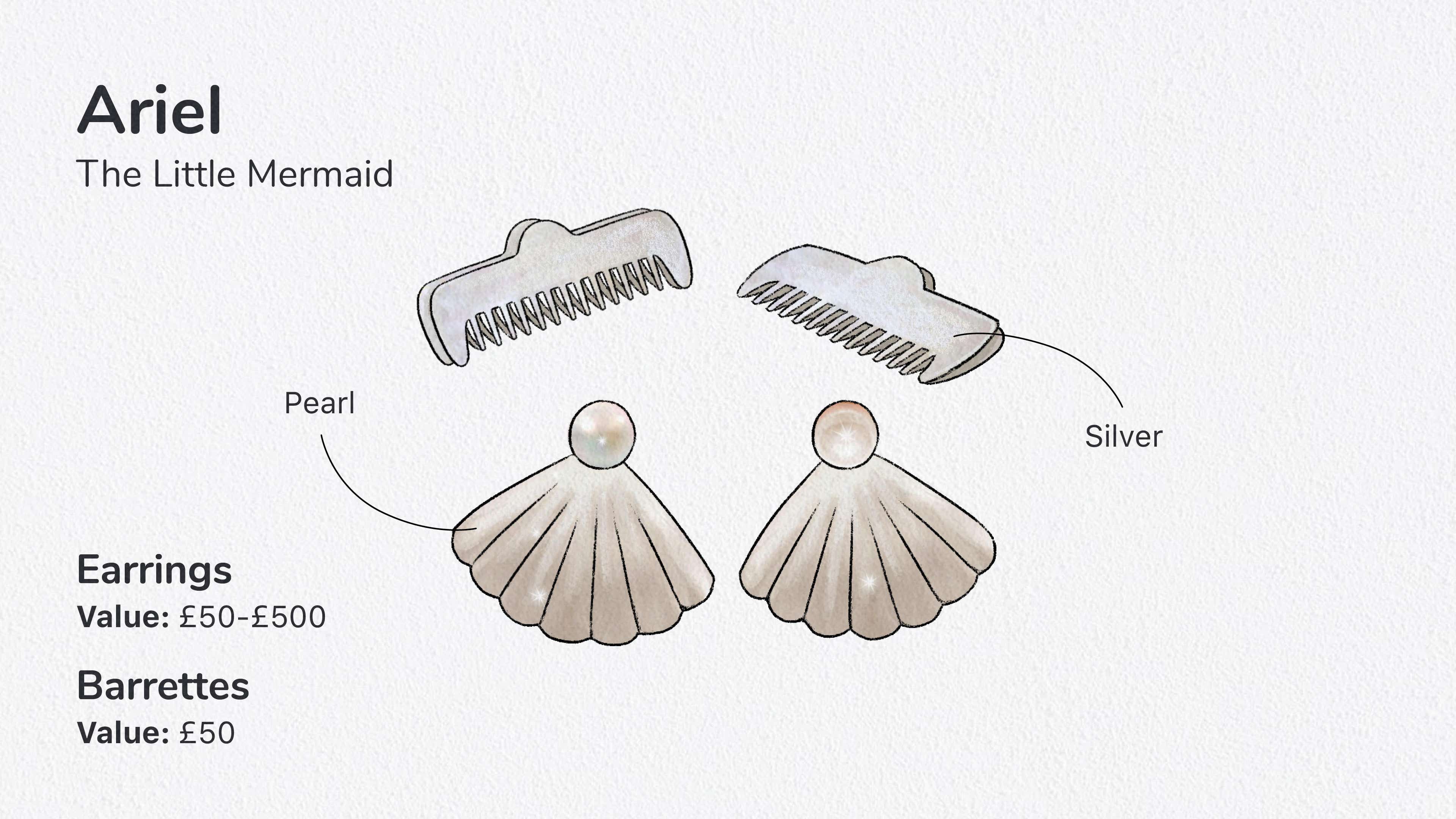 Inspired by her appearance in Wreck It Ralph (2012), Ariel's pearl earrings have become popular with brides all over the world. Each featuring a small spherical pearl and shell design dangling underneath, these are the easiest Disney jewellery items to emulate on a budget. Our expert estimated earrings of this style could cost anywhere between £50 and £500 depending on whether they're cultured or natural pearls.
Ariel's hair clips or barrettes would likely be made from sterling silver, as white gold would tarnish in saltwater. Although you could get a set of similarly styled barrettes on the high street for £7.50, we assume that M&S don't deliver under the sea. Our expert estimates the real deal would cost £50.
Belle – £300
In 1991, Disney brought us the fifth official Princess, Belle, in the classic Beauty and the Beast.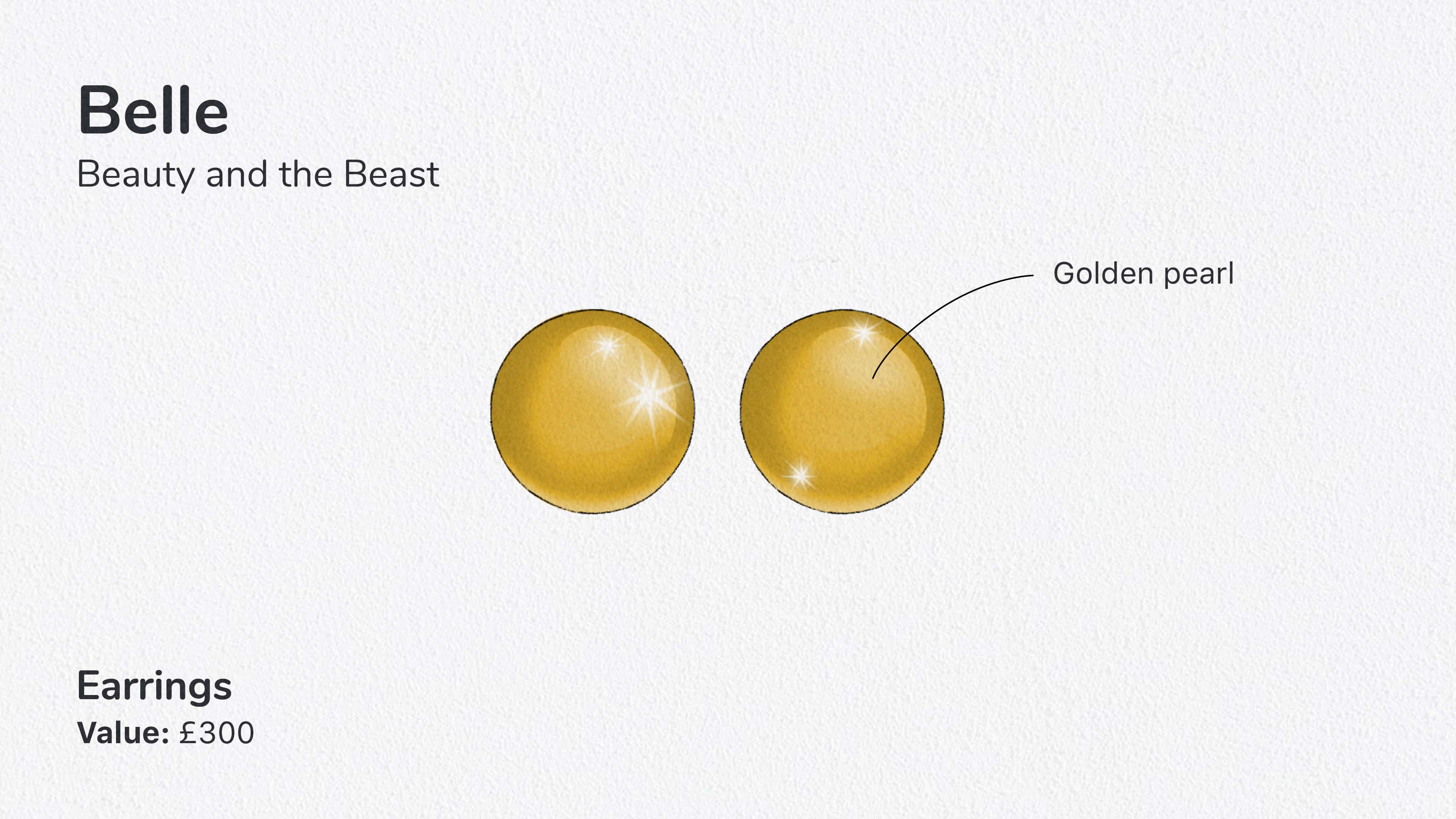 With a name meaning beauty, Belle kept her jewellery very simple with a pair of oversized golden pearls. Estimated by our jewellery expert to cost around £300, this is a simple look to recreate.
Snow White – £65
Snow White, the central character of the 1937 film Snow White and the Seven Dwarfs, has the honor of appearing in the first Disney animated feature, and thus being the first Disney Princess.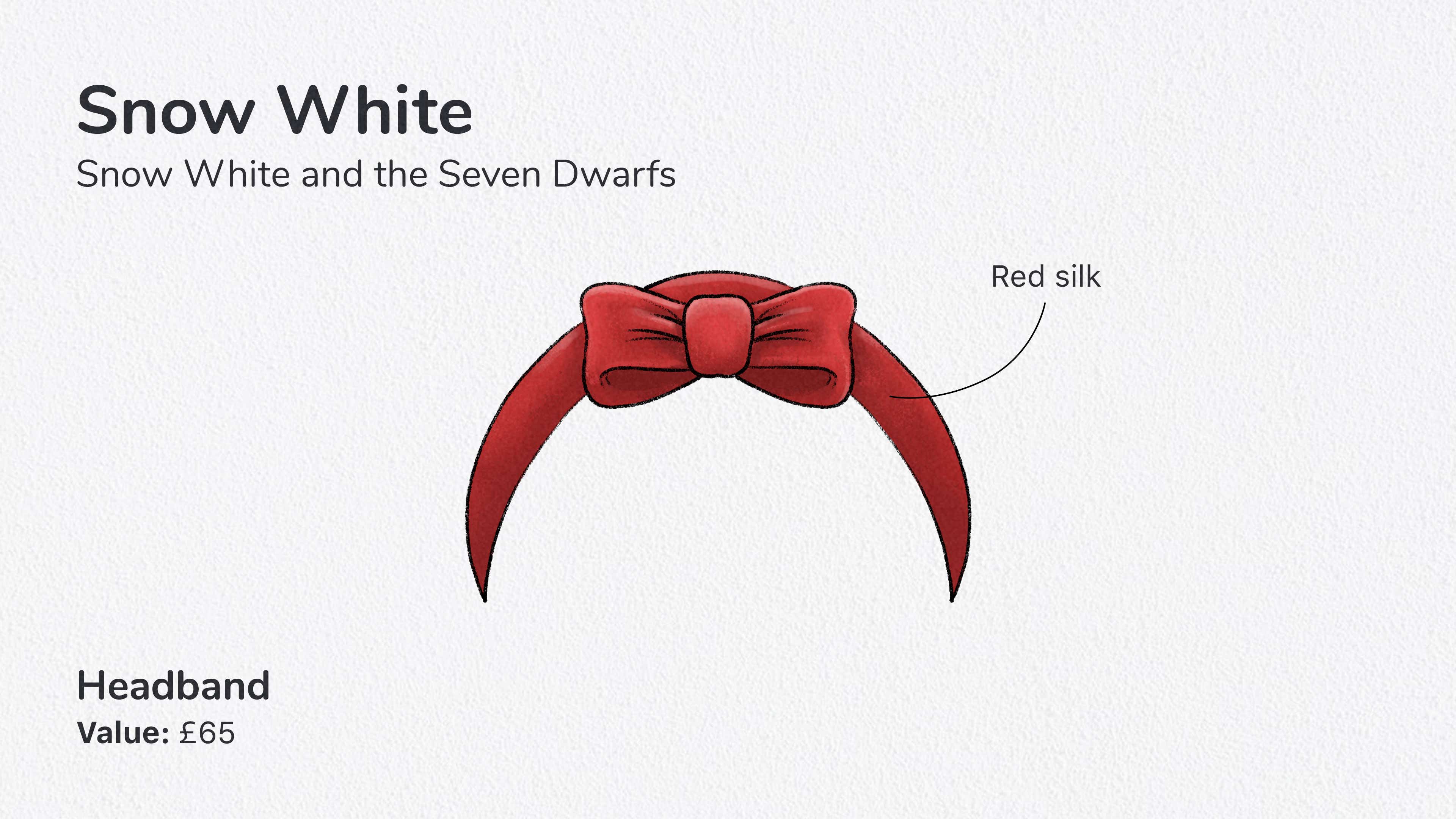 Our expert speculates that the "fairest one of all" wore only the best quality red silk headband, with an estimated value of £65. 
Despite Snow owning the cheapest jewellery on the list, the film itself was named the greatest American animated film of all time in 2008 – a prize likely worth a bit more than £65.
Anastasia – £4m
Although not an original Walt Disney animation, the 1997 film Anastasia was acquired under the Disney-Fox merger in 2019 and therefore is included in our analysis of Disney royals.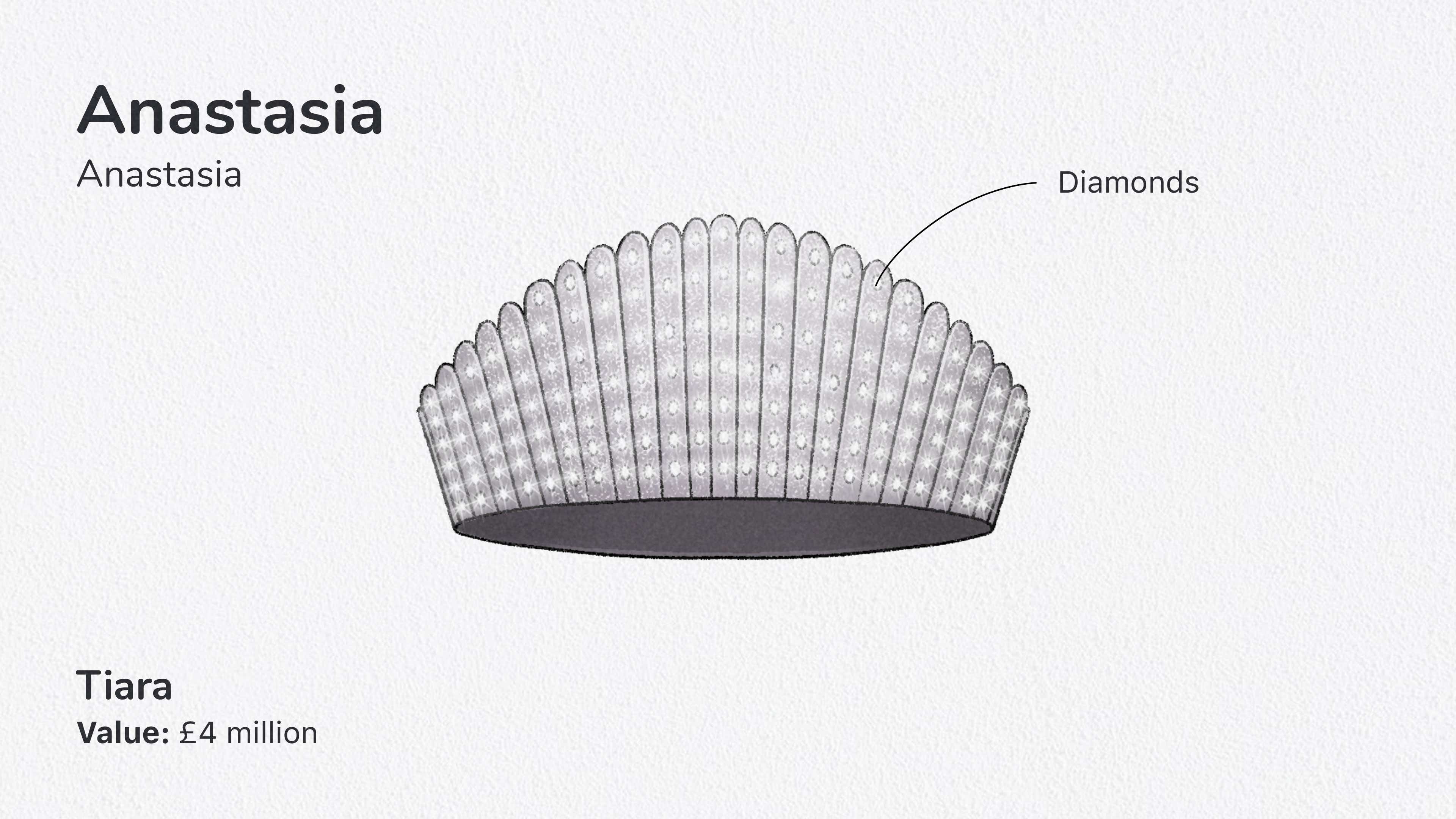 Inspired by the tale of a true princess, it will come as no surprise that this tiara is the most expensive piece on this list. An exact replica of Queen Mary's fringe tiara from the Crown Jewels of the United Kingdom, this tiara features 47 rows of diamonds and our expert estimates a value of £4 million.
Ensuring your jewels are covered by your home insurance
Unfortunately, the latest figures show that jewellery and watches are stolen from almost 1 in 3 domestic burglaries, so having a comprehensive contents insurance policy can protect you if the worst were to happen.
It's worth noting that your insurer needs to know about high-value items in your home like items of jewellery, watches, art or computer equipment. You can find out more about what is and isn't covered in our What does contents insurance cover? guide.
If you're a homeowner and own the freehold, you should try to get buildings and contents insurance on a combined policy. Not only can it be the best home insurance, UK providers often offer cheaper premiums compared to having separate policies.