Our consumer spending experts have done the maths and found out just how much the most popular subscription boxes in each category cost, weighing it up against the more traditional method of purchasing in person. 
Money.co.uk looked at the UK, the USA, Canada, Australia and New Zealand to find out which boxes offer the most value for money, so you'll never waste a penny again. We also discovered just how much you could save with subscription boxes in each country overall. How high, really, is the cost of convenience?
If you're considering making online purchases instead of heading to the shops, you may want to consider a 0% interest credit card.
The rise of subscription boxes
In the UK, subscription box customers spent almost £1.4 billion on the services in 2020. And since then, the UK subscription market has grown by 23%, while the global market reached a value of $18.8 billion in 2020. 
While the COVID-19 pandemic and everyone's need to stay at home has likely fuelled demand, society's general desire for convenience is probably the driving force for subscription services. After all, if it works out the same price (or cheaper) to get your goods straight to your door, why do it any other way?
Considering the huge market for subscription boxes, we wanted to find out the price difference between living on these, and ordering one-offs and purchasing in person.  We've compiled the costs of subscription boxes for every category you would feasibly need to live - as well as some extra luxuries:
Food

Entertainment

Music

Exercise

AudioBooks

Beauty

Razors

Deodorant

Alcohol

Tea

Coffee

Toilet roll

Plants

Sanitary products

Cleaning

Vitamins

Mental health
With the costs of all these boxes added up, how much would it actually cost to live on subscription boxes compared to the old school, leaving-your-house method of shopping?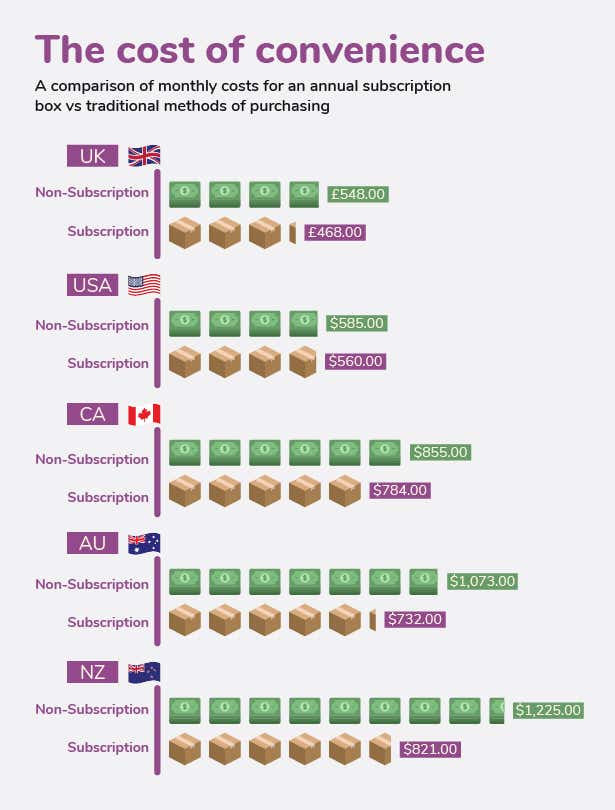 Beauty boxes are worth the spend in the UK
Choosing subscription boxes over one-off purchases will cost you £468 every month in the UK. This is the most expensive monthly subscription cost out of all the countries we looked at, but it's still a cheaper option than buying your products in a shop - this would cost £548. So, if you're looking to save pennies here and there, subscription boxes could be the way to go. But which products will you save the most on if you go down the subscription route?
If you're looking for food, entertainment, music, exercise or beauty products, a subscription could save you a lot of money in the long run - and a beauty subscription box is a great example of this. The monthly cost of a subscription to Glossybox is over 75% cheaper than if you made a one-off purchase of the box each month, so if you think you'll use all five products, then it might be worth committing to the long term subscription.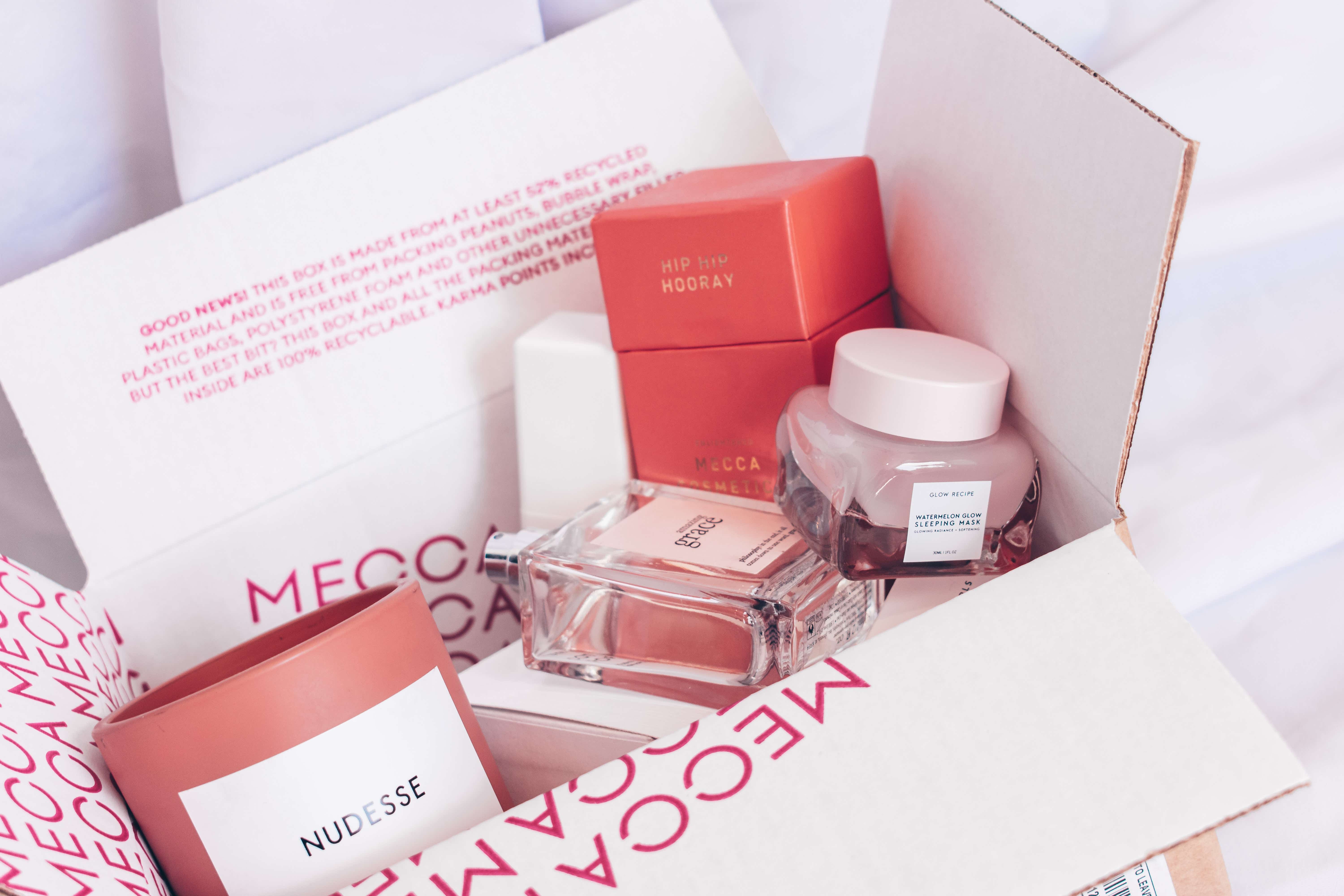 A digital library will save you dollars in the USA
It's a fairly close race between subscription boxes and one-off purchases in the USA. Having a box delivered to your home in every category would run you up a monthly cost of $560, whereas a trip to the shops to get the equivalent items or a one-off order would be $585 a month. So, if you were to live from subscription boxes for an entire year, you can expect to pay a total of $6,631.  
To save the most money in the USA, it's worth finding which subscription boxes specifically could save you the most. Out of the 18 categories, a subscription box works out cheaper than the alternative for 13 of them. The audiobook category is the one that could save you a lot, with the subscription option being nearly 45% cheaper than buying a one-off alternative. Subscriptions to vitamins also help save costs, since it's 54% cheaper than buying the equivalent products as a one-off purchase every month.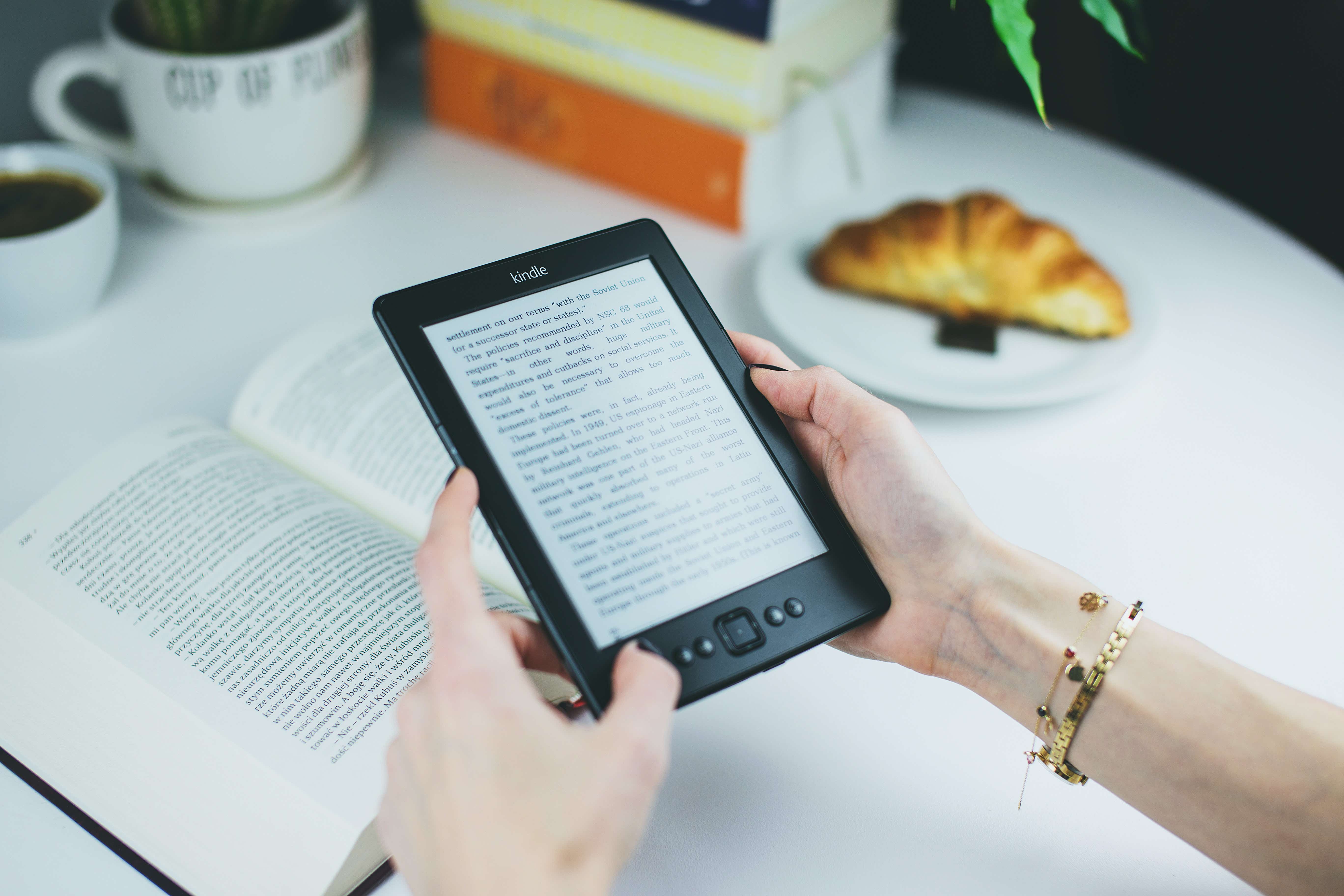 It's cheaper to subscribe to deodorant in Canada, every little helps
Canada's subscription boxes are again cheaper than the alternative, with a difference of around CA$70. To never leave your house again, you'd have to splash out CA$784 a month, whereas in-person or one-off shopping for the equivalent items would cost you CA$855 a month. If you're looking for the best deal in Canada, then it wouldn't be amiss to subscribe to all 18 boxes. Apologise to your mailman immediately.
There are 15 services that work out cheaper than their in-person alternatives in Canada, resulting in the overall savings. For the biggest savings, subscribing to Apple fitness and Netflix will save you the most money as both subscriptions are over 60% cheaper than their alternatives. Meanwhile, you could even be saving money on a deodorant subscription, which works out at 15% cheaper than buying a one off purchase every month. Saving money and good hygiene? It could be an offer too good to pass up.
Subscribing for exercise is cheaper than a gym in Australia
The price difference between subscription boxes and buying the equivalent items in store in Australia is huge. In fact, it's AU$340 cheaper to seek subscriptions for all 18 categories combined. If you were to go down this route, you'd be looking at a monthly bill of AU$732, the cheapest cost per year in our study. On the other hand, if you're a fan of venturing into the big wide world to buy your products, it would cost you around AU$1,073 a month. 
If you want to optimise your spending and only splash out on the subscription services that save you cash, then there are 14 product types that work out cheaper when bought in this way. Food, exercise, audiobooks, beauty, vitamins and news are just some of the budget-friendly subscription options. It's 85% cheaper to subscribe to Apple Fitness than to sign up for a monthly gym membership, and 43% cheaper to have a Bellabox subscription than to make a one-off purchase of this box. Even shaving can be less expensive. Subscribing to Dollar Shave Club is 52% cheaper than buying one-off alternatives.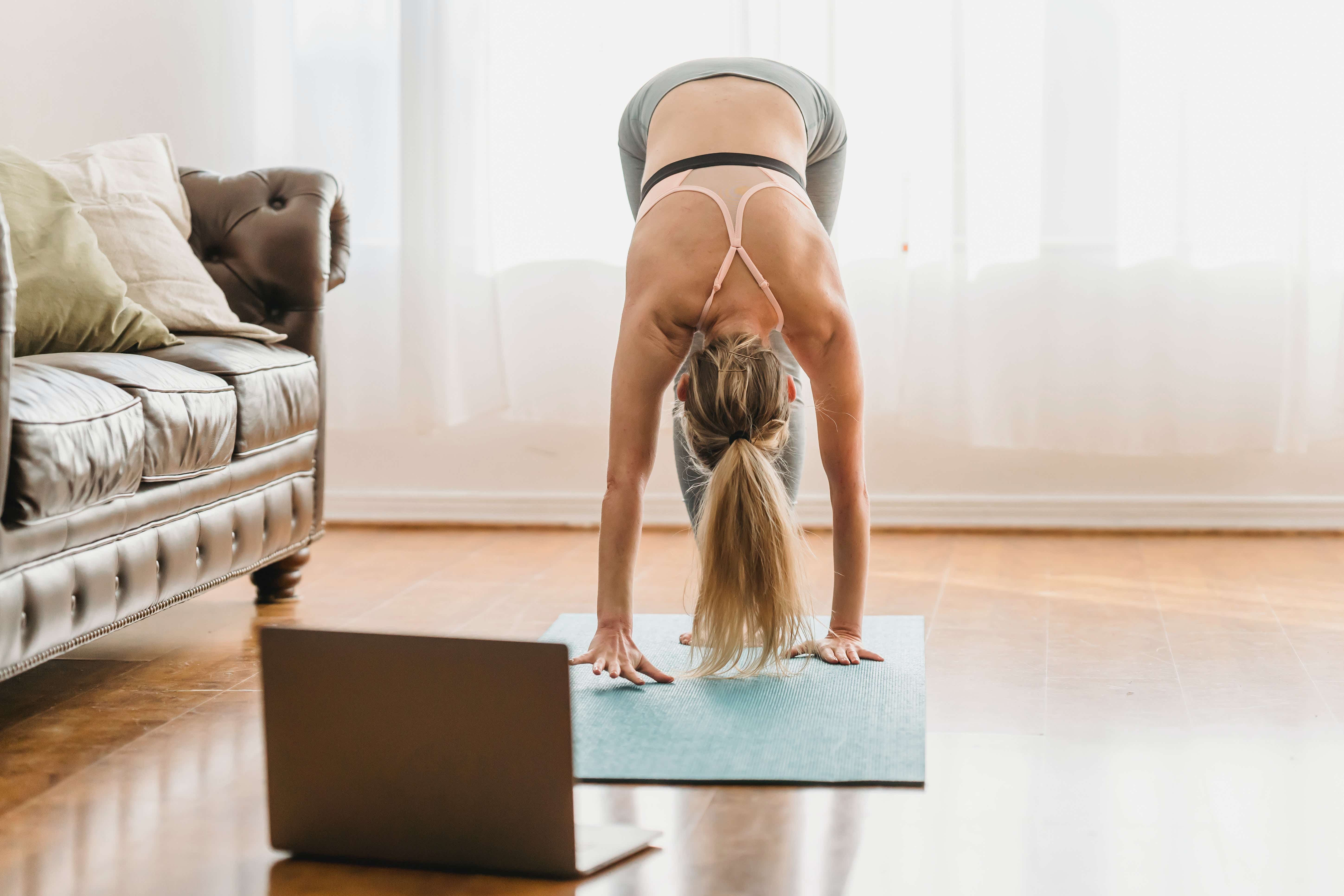 Plants and alcohol subscriptions in New Zealand are more expensive
It's over NZ$404 cheaper to subscribe to all 18 subscription services than to buy the products the old fashioned way (in a real life shop or as and when you need them) - the biggest saving of any country on our list. It would set you back NZ$821 a month to have everything sent straight to your door, compared to the monthly cost of NZ$1,225 for one-off purchases. Steep.
This price difference is substantial due to there being 15 categories out of 18 in which it works out cheaper to choose the more convenient option. If you're looking to save money on your subscriptions however, you might want to reconsider subscripting to plant and alcohol products. 
Plant Baby is 33% more expensive than buying an equivalent sized plant and pot bought individually per month. Likewise, buying a craft beer subscription could cost you 36% more each month than buying it from your regular supermarket. However, these products can be considered more of a luxury item and you may not mind splashing a little more cash for the experience a subscription box can offer.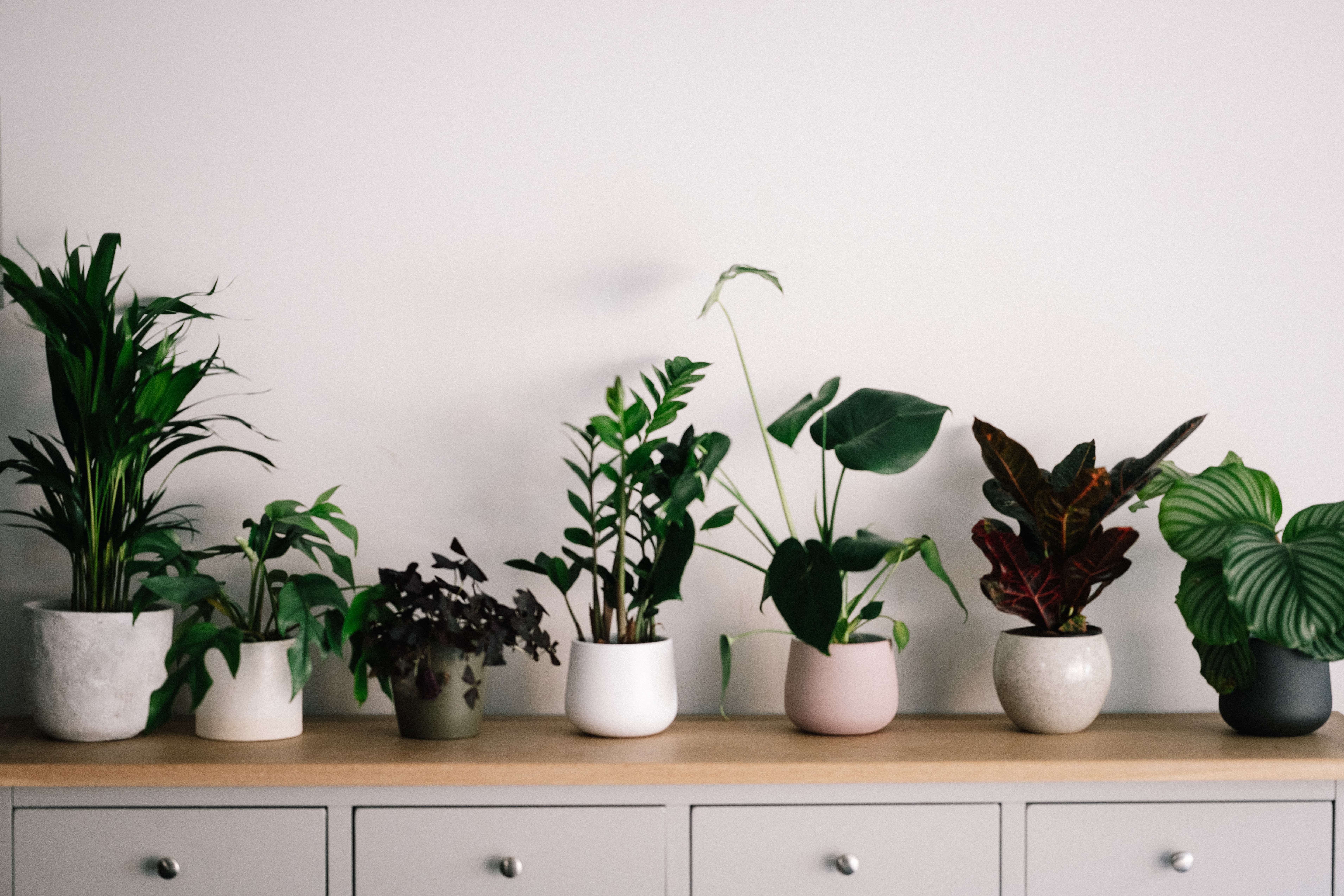 What's worth subscribing to?
When it comes to comparing prices, it's worth considering what you actually get out of the subscription service to determine its true value. For example, a monthly Audible subscription will set you back £7.99 a month. While you may be able to buy a single audiobook for less than this, Audible has a huge library of authors that you can access at this monthly cost. So, if you are planning on reading more than one book a month, the best option is clear.
Another service that might be worth the price is a music streaming subscription. Spotify, for example, costs £9.99 a month and gives you access to a seemingly infinite amount of albums and songs that you can listen to endlessly. Making a one-off digital purchase of a CD, however, could cost up to £8.99 (as the new Adele album does on iTunes), so if you want to listen to more than one album a month, a subscription is definitely the way to go.
When considering subscribing to any of the boxes out there, it's worth remembering that these services often offer premium products. As a result, they will tend to be more expensive than shopping for the most basic versions of these items IRL. Additionally, many people find that they do not end up using everything in their subscription boxes by the time the next one arrives, so if you don't need much of an item, then it may not be worth the cost. The amount of flexibility you want in the items you choose will also have an effect on deciding whether or not to use a subscription box. Some of these boxes may not let you choose everything that arrives, while others are completely customisable. Make sure you know what you're signing up for before you commit!