Cities can be shaped by many things, food culture, the music scene, plentiful shopping options, and even the nightlife, but nothing shapes a city quite like its architecture.
But despite having a hand in designing our homes, workplaces and tourist attractions, the architects behind these buildings are often unnamed and underappreciated. 
Whether your dream home is a new build, a terrace, or something a bit more bespoke, compare mortgage deals to find the best options for you.
However, every now and then someone designs something so eye-catching that people are forced to take notice - but who are the world's most loved architects?
The most Googled architect by country
We analysed Google search volume data to find the most searched for architects around the world whose work puts even your best Sims build to shame.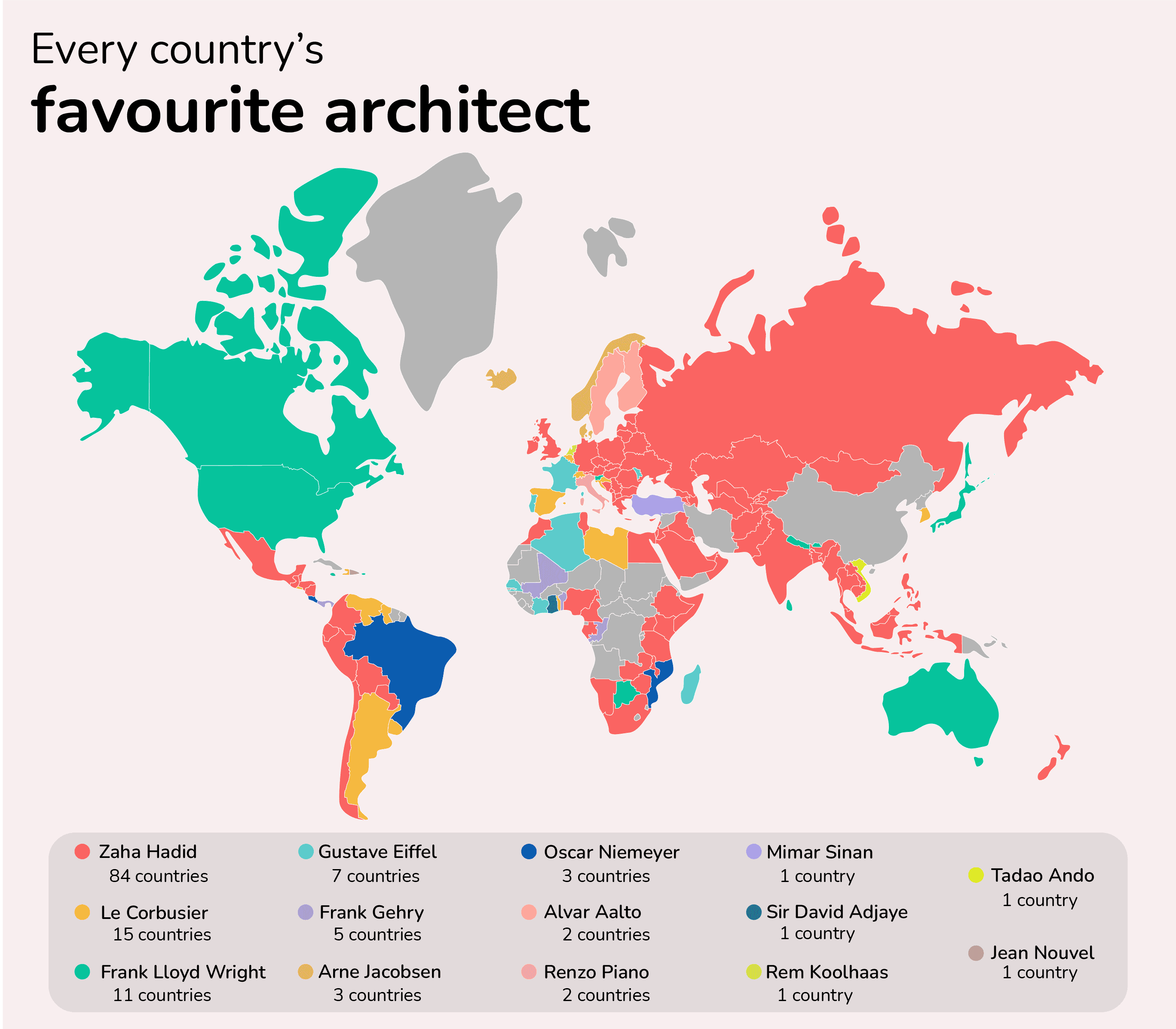 Zaha Hadid
Heydar Aliyev Centre - Baku, Azerbaijan.
When you look at her list of achievements, it's really not that hard to see why Dame Zaha Hadid is the most popular architect in the world.
Nicknamed the 'queen of the curve', Hadid's futuristic designs and use of geometric shapes have made her one of the best-known names in architecture, and was once described as having "liberated architectural geometry, giving it a whole new expressive identity".
Over the course of her career, Hadid won numerous awards for her work, including being the first woman to receive the Pritzker Architecture Prize, as well as the first woman to be individually awarded the Royal Gold Medal from the Royal Institute of British Architects.
Other achievements include winning the UK's most prestigious architectural award, the Stirling Prize, in both 2010 and 2011. In 2012, she was made a Dame by Queen Elizabeth II for services to architecture
Some of her most notable works include the MAXXI Museum of contemporary art and architecture in Rome, the Bridge Pavilion in Zaragoza, and the Heydar Aliyev Centre in Baku.
Top 10 most popular Zaha Hadid designs on Instagram
Heydar Aliyev Centre - 36,272 hashtags

MAXXI: Museum of XXI Century Arts - 19,443 hashtags

Messner Mountain Museum - 18,838 hashtags

One Thousand Museum - 13,812 hashtags

Phaeno Science Centre - 10,537 hashtags

Antwerp Port House - 9,405 hashtags

Wangjing SOHO - 8,777 hashtags

London Aquatics Centre - 7,436 hashtags

Guangzhou Opera House - 7,056 hashtags

Bergisel Ski Jump - 6,101 hashtags
Le Corbusier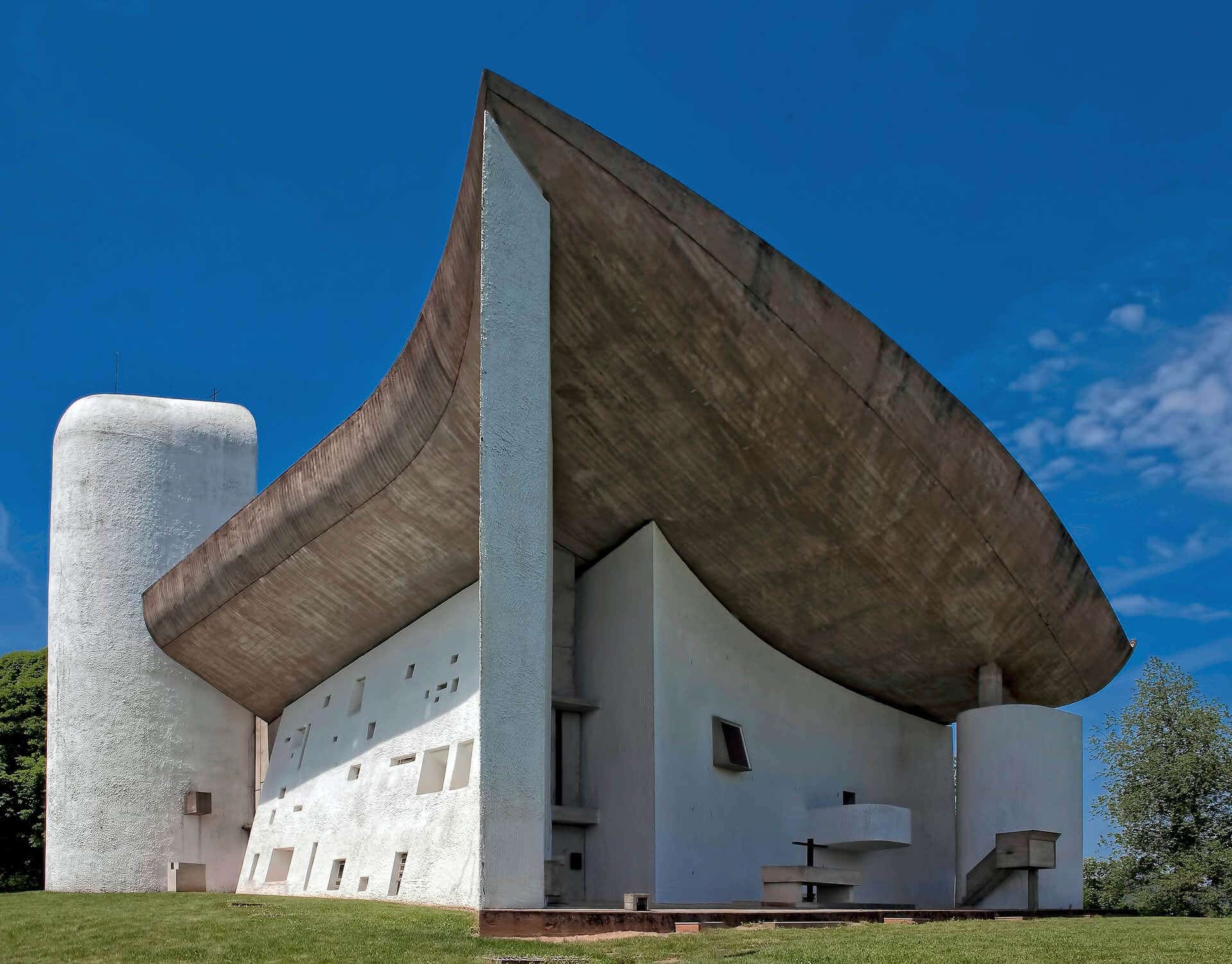 Notre-Dame du Haut - Ronchamp, France
A pioneer of modernist architecture, Le Corbusier, also known as Charles-Édouard Jeanneret, was a pioneer of modernist architecture.
His designs are recognisable by their open floor plans with supporting pillars, the use of materials like concrete and steel, and they were often raised above the ground with the use of stilts.
Not content with being one of the world's most renowned architects, Le Corbusier was also known for his work as a designer, painter, urban planner, and writer.
Some of Le Corbusier's best known works include Esprit Nouveau Pavilion in Paris, the chapel of Notre Dame du Haut in Ronchamp, and Villa Savoye in Paris.
Top 10 most popular Le Corbusier designs on Instagram
National Museum of Western Art - 67,924 hashtags

Villa Savoye - 42,886 hashtags

Unité d'Habitation, Marseille (La Cité Radieuse) - 38,583 hashtags

Notre-Dame du Haut - 32,641 hashtags

United Nations Secretariat Building - 16,014 hashtags

Sainte Marie de La Tourette - 9,002 hashtags

Villa La Roche - 7,137 hashtags

Maisons de la Weissenhof-Siedlung  - 6,852 hashtags

Curutchet House  - 6,156 hashtags

Unité d'Habitation, Berlin (Corbusierhaus) - 5,236 hashtags
Frank Lloyd Wright
Fallingwater - Mill Run, Pennsylvania
Probably one of the best known modern architects, Frank Lloyd Wright believed buildings should be in harmony with their environment and developed a philosophy he called organic architecture.
Nowhere is this philosophy more evident than in his most famous building, Fallingwater, which features large rectangular balconies floating over the waterfall that's been incorporated into the house.
Other famous works include The Guggenheim Museum New York City, and the Imperial hotel in Japan.
Find the most popular architect in your country using the table below, or scroll down for a closer look at each continent.
Top 10 most popular Frank Lloyd Wright designs on Instagram
Solomon R. Guggenheim Museum - 228,595 hashtags

Fallingwater - 111,643 hashtags

Taliesin West - 22,714 hashtags

Taliesin - 19,440 hashtags

Darwin Martin House - 15,394 hashtags

Hollyhock House - 10,794 hashtags

Robie House - 10,486 hashtags

ASU Gammage Auditorium - 9,184 hashtags

Kentuck Knob - 5,904 hashtags

Millard House (La Miniatura) - 5,532 hashtags
The most popular female architects
While Dame Zaha Hadid topped our study of the world's most searched architects, she was the only female architect to appear on the list - despite many women having made significant contributions to the industry.
We looked at the average monthly search volume and the number of Instagram hashtags for notable female architects to find and rank 20 of the best-known women in architectural history.
| Rank | Name | Average Monthly Searches | Hashtags |
| --- | --- | --- | --- |
| 1 | Zaha Hadid | 337,000 | 517,156 |
| 2 | Charlotte Perriand | 38,000 | 165,945 |
| 3 | Lina Bo Bardi | 32,000 | 78,706 |
| 4 | Neri Oxman | 50,000 | 5,440 |
| 5 | Eileen Gray | 24,000 | 37,893 |
| 6 | Maya Lin | 19,000 | 13,340 |
| 7 | Kazuyo Sejima | 9,300 | 17,408 |
| 8 | Florence Knoll | 6,200 | 19,680 |
| 9 | Tatiana Bilbao | 12,000 | 4,031 |
| 10 | Frida Escobedo | 9,300 | 5,513 |
| 11 | Julia Morgan | 5,300 | 10,038 |
| 12 | Jeanne Gang | 7,200 | 6,368 |
| 13 | Amanda Levete | 2,800 | 8,904 |
| 14 | Odile Decq | 5,000 | 3,404 |
| 15 | Helene Binet | 2,500 | 4,833 |
| 16 | Denise Scott Brown | 3,600 | 2,897 |
| 17 | Alison Brooks | 2,800 | 1,808 |
| 18 | Anna Heringer | 3,000 | 1,130 |
| 19 | Gabrielle Bullock | 3,500 | 22 |
| 20 | Yvonne Farrell | 2,000 | 1,090 |
Most popular female architects
Zaha Hadid: 1950 - 2016

Unsurprisingly, Zaha Hadid was the most popular female architect in our study.

Born in Iraq before moving to London in 1972 to study at the Architectural Association, Hadid's innovative approach and futuristic designs helped her become one of the most famous names in an industry that hadn't always been willing to acknowledge the contributions of women.

For example, when Robert Venturi was awarded the Pritzker Prize in 1991, his wife, Denise Scott Brown (16th) was not named co-winner despite the two having been work partners for more than three decades. Scott Brown was also told by an architect whose work she had reviewed that 'We at the office think it was Bob writing, using your name'.
Charlotte Perriand: 1903 - 1999

Both an architect and a designer, Charlotte Perriand believed that better design could help create a better society, and that good design should be both affordable and functional.

Although she famously worked with Le Corbusier, their relationship didn't exactly get off to the best start.

After applying to work at the Le Corbusier studio, she received a dismissive response saying "We don't embroider cushions here". However, a month later, Le Corbusier came across some of her work on display at the annual Salon d'Automne, realised his mistake, and hired Perriand on the spot.
Lina Bo Bardi: 1914 - 1992

Although born in Italy, Bo Bardi is best known for the work she completed following her move to Brazil in 1946.

While her work could be considered modernist as a result of the use of materials like concrete and glass, she also adopted more traditional materials like mud and straw into her designs.

Although best known as an architect, Lina Bo Bardi was also a political activist, furniture designer, set designer, editor, writer, and exhibition curator.
The most popular architecture styles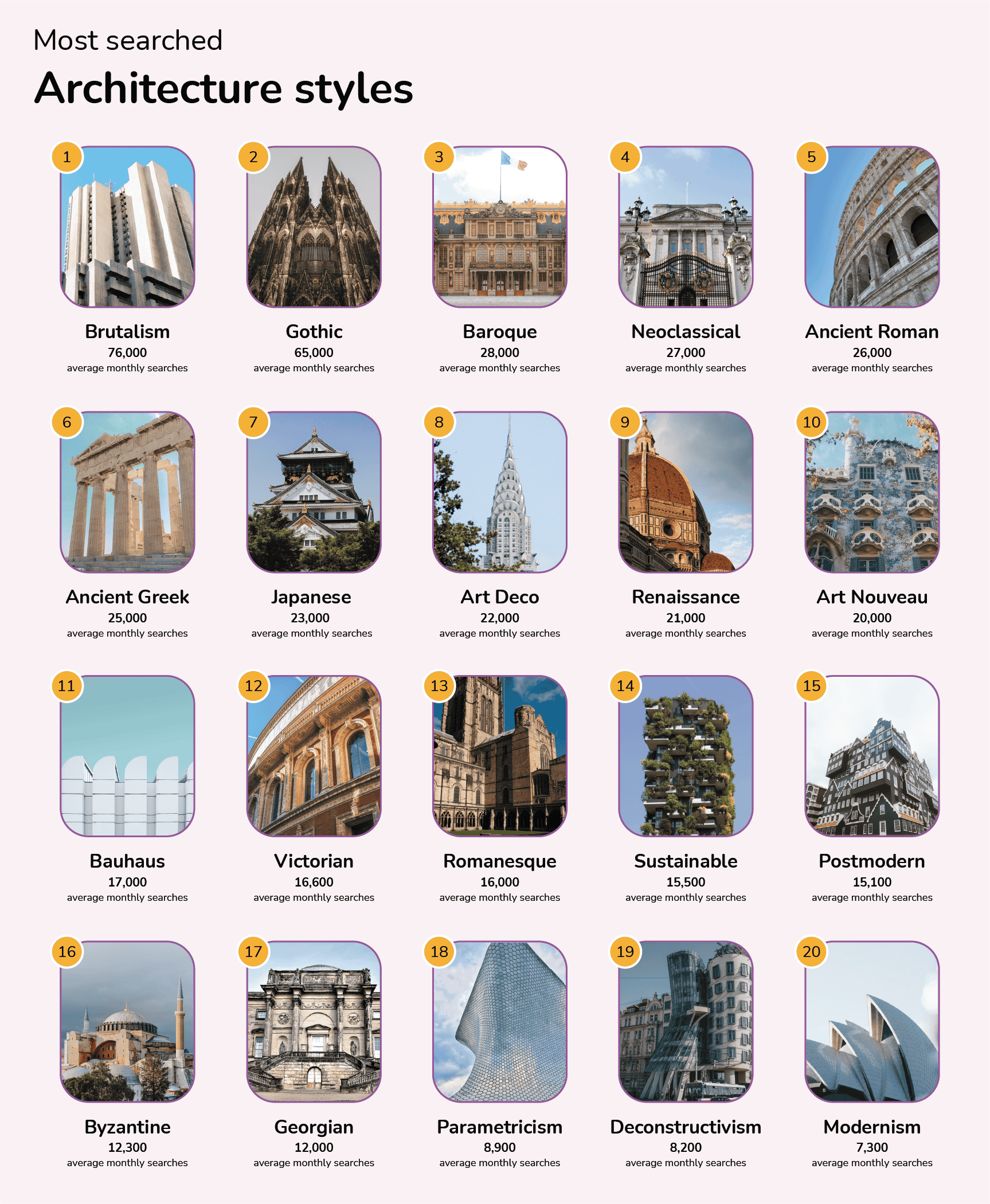 Brutalism
One of the more polarising architectural styles, Brutalism stems from the modernist movement and was at its peak between 1951 and 1975.
Prioritising function over form, Brutalist designs can be spotted by the use of raw construction materials like reinforced concrete and steel, and their large often block-like structures.
Gothic
Originating in Europe around the 12th century and remaining popular up until the 16th century, Gothic architecture is characterised by tall structures with pointed arches, flying buttresses, and stained glass windows.
The Gothic style was used extensively in the design of many churches and cathedrals.
Baroque
Grand and theatrical in style, Baroque architecture originated in Italy in the 16th century where it was predominantly used to represent the glory of the Roman Catholic Church.
Rather than viewing buildings as boxes with squared walls, Baroque architects saw them more as large sculptures, replacing typically straight lines with elliptical or curved forms that featured twisted columns, grand stairways, high domes, decorative sculptures, and gold ornamentation. 
Most Googled architectural designs in the world 
Some buildings are so impressive that they become celebrities in their own right, and their notoriety can even overshaddow the designers behind them.
We looked at the world's most well-known architectural designs to find the skyscrapers and landmarks that we can't get enough of and the architects responsible for bringing them to life.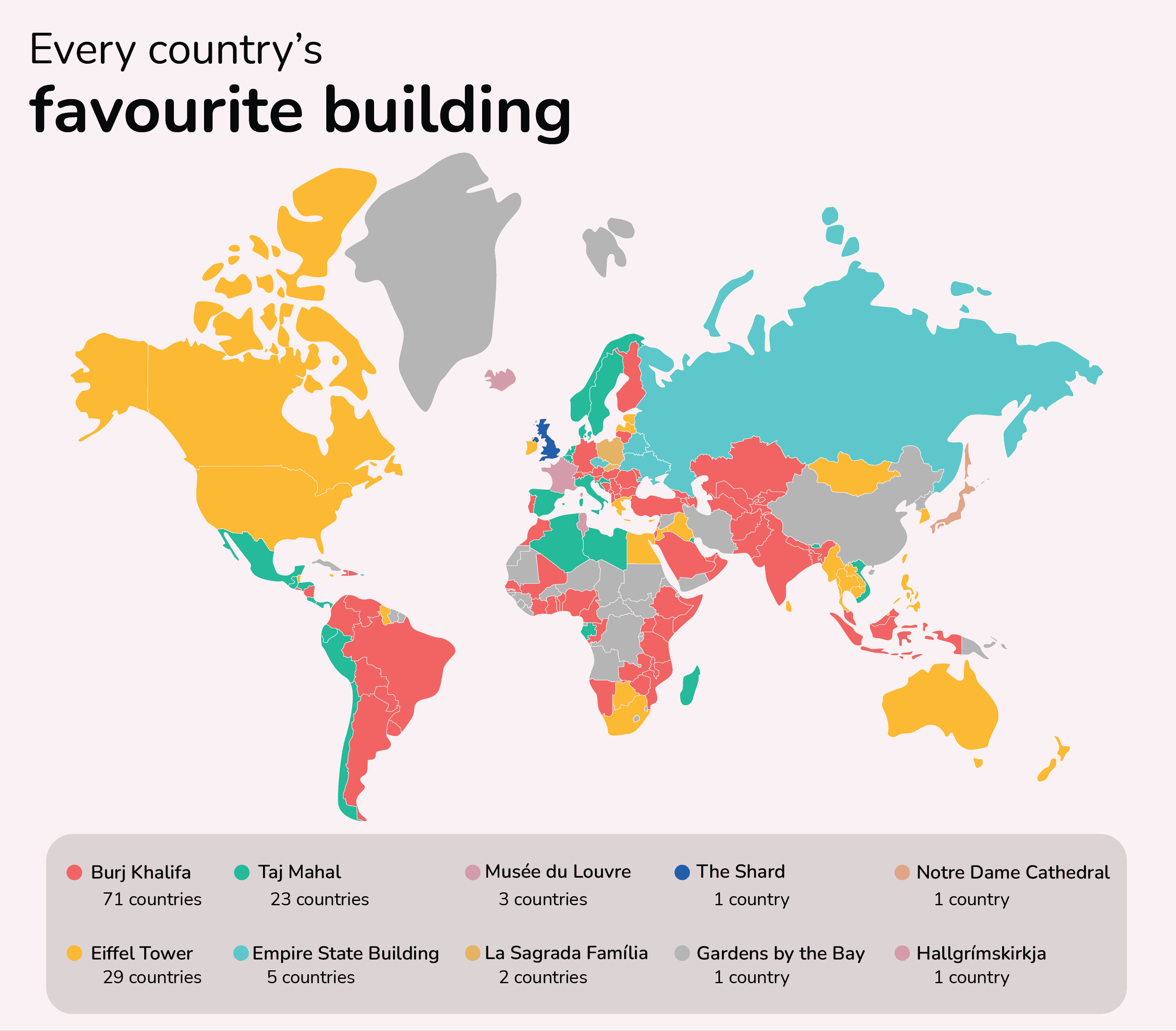 Burj Khalifa (Adrian Smith) - 71 Countries

Eiffel Tower (Stephen Sauvestre) - 29 Countries

Taj Mahal (Ustad Ahmad Lahouri) - 23 Countries

Empire State Building (Shreve, Lamb and Harmon) - 5 Countries

Musée Du Louvre (I. M. Pei) - 3 Countries

La Sagrada Família (Antoni Gaudi) - 2 Countries

The Shard (Renzo Piano) - 1 Country

Gardens by the Bay (Grant Associates) - 1 Country

Notre Dame Cathedral (N/A) - 1 Country

Hallgrímskirkja (Guðjón Samúelsson) - 1 Country
*Designs with equal scores were ranked by average global search volume.
 1 - Burj Khalifa
Topping the list of most searched buildings as well as that of the world's tallest buildings, Dubai's Burj Khalifa stands at a staggering 2,717 ft (828 m) tall.
A marvel of modern engineering, the Burj actually broke a number of records on it's completion including being the tallest free-standing structure, having the highest occupied floor, having the world's longest elevator, as well as the highest outdoor public observation deck.
Currently sitting as TripAdvisor's third best thing to do when visiting Dubai, the Burj Khalifa is searched more that 1.5 million times a month on average, with a good portion of those searches likely coming from people looking to book tickets to the observation decks for their next visit.
The 163-floor tower cost $1.5 billion to build, features more than 1,000 pieces of art, and even had a starring role alongside Tom Cruise in Mission: Impossible - Ghost Protocol.
2 - Eiffel Tower
Second on our list is the Eiffel Tower, and while you'd think that Gustave Eiffel, the fourth most popular architect in the world, was behind the mind behind the Eiffel Tower, the chief architect on the project was actually Stephen Sauvestre.
While Eiffel kept the naming rights, the initial design was drawn up by two men who worked at his company, who then teamed up with Sauvestre on the project.
3 - Taj Mahal
Commissioned in 1632 by Emperor Shah Jahan, The Taj Mahal took some 20,000 workers almost 20 years to complete.
Now a major tourist attraction and one of the Seven Wonders of the modern world, it was initially designed as a mausoleum for the Emperor's wife.
The most Googled architect by continent
The most Googled architects in Europe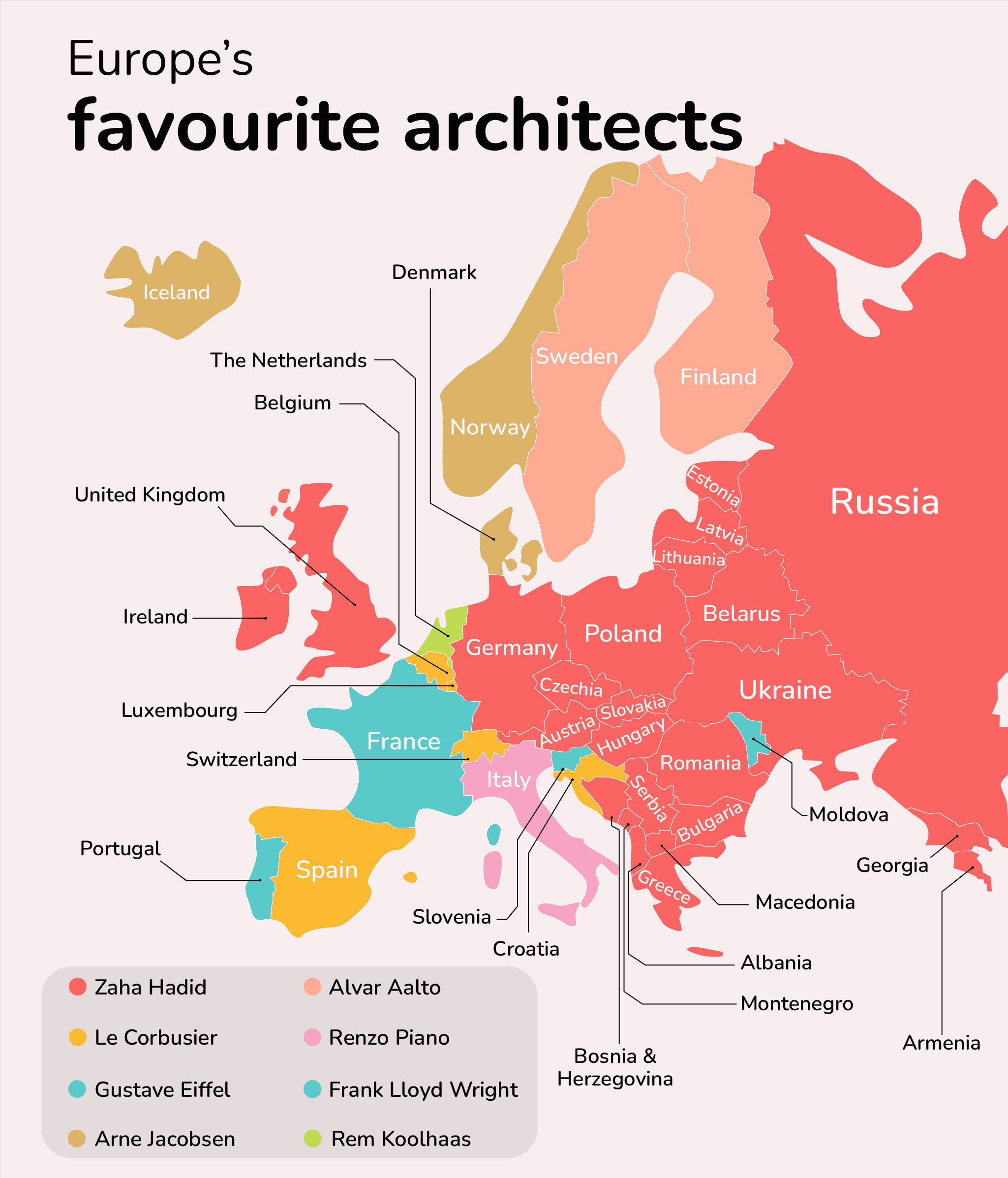 List of countries

Zaha Hadid - 24 countries

Albania, Armenia, Austria, Bosnia & Herzegovina, Bulgaria, Germany, Georgia, Hungary, Lithuania, Montenegro, North Macedonia, Romania, Serbia, Cyprus, Estonia, Greece, Ireland, Latvia, Belarus, Czechia, Ukraine, Poland, Slovakia, United Kingdom.

Le Corbusier - 5 countries

Luxembourg, Switzerland, Belgium, Croatia, Spain.

Gustave Eiffel - 3 countries

Moldova, Portugal, France.

Arne Jacobsen - 3 countries

Iceland, Denmark, Norway.

Renzo Piano - 2 countries

Malta, Italy.

Alvar Aalto - 2 countries

Finland, Sweden.

Rem Koolhaas - 1 country

The Netherlands.

Frank Lloyd Wright - 1 country

Slovenia.



The most Googled architects in North America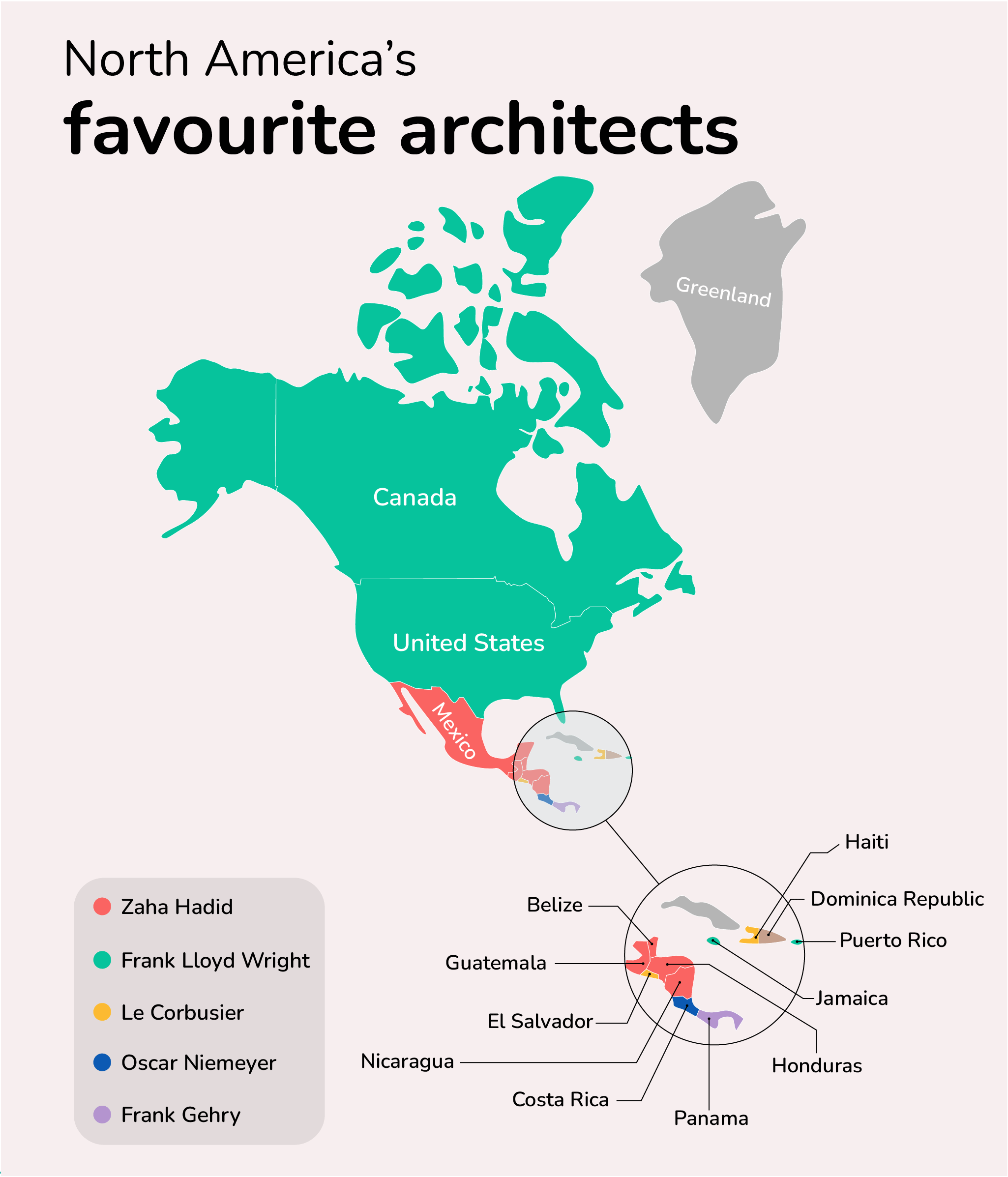 List of countries

Zaha Hadid - 6 countries

Nicaragua, Belize, Jamaica, Guatemala, Honduras, Mexico.

Le Corbusier - 3 countries

El Salvador, Haiti, Guadeloupe.

Frank Lloyd Wright - 3 countries

Canada, United States, Puerto Rico.

Oscar Niemeyer - 1 country

Costa Rica.

Jean Nouvel - 1 country

The Dominican Republic.

Frank Gehry - 1 country

Panama.
The most Googled architects in South America
List of countries

Zaha Hadid - 6 countries

Bolivia, Colombia, Paraguay, Chile, Ecuador, Peru.

Le Corbusier - 4 countries

Argentina, Uruguay, Venezuela, Guyana.

Oscar Niemeyer - 1 country

Brazil.
The most Googled architects in the Middle East and Central Asia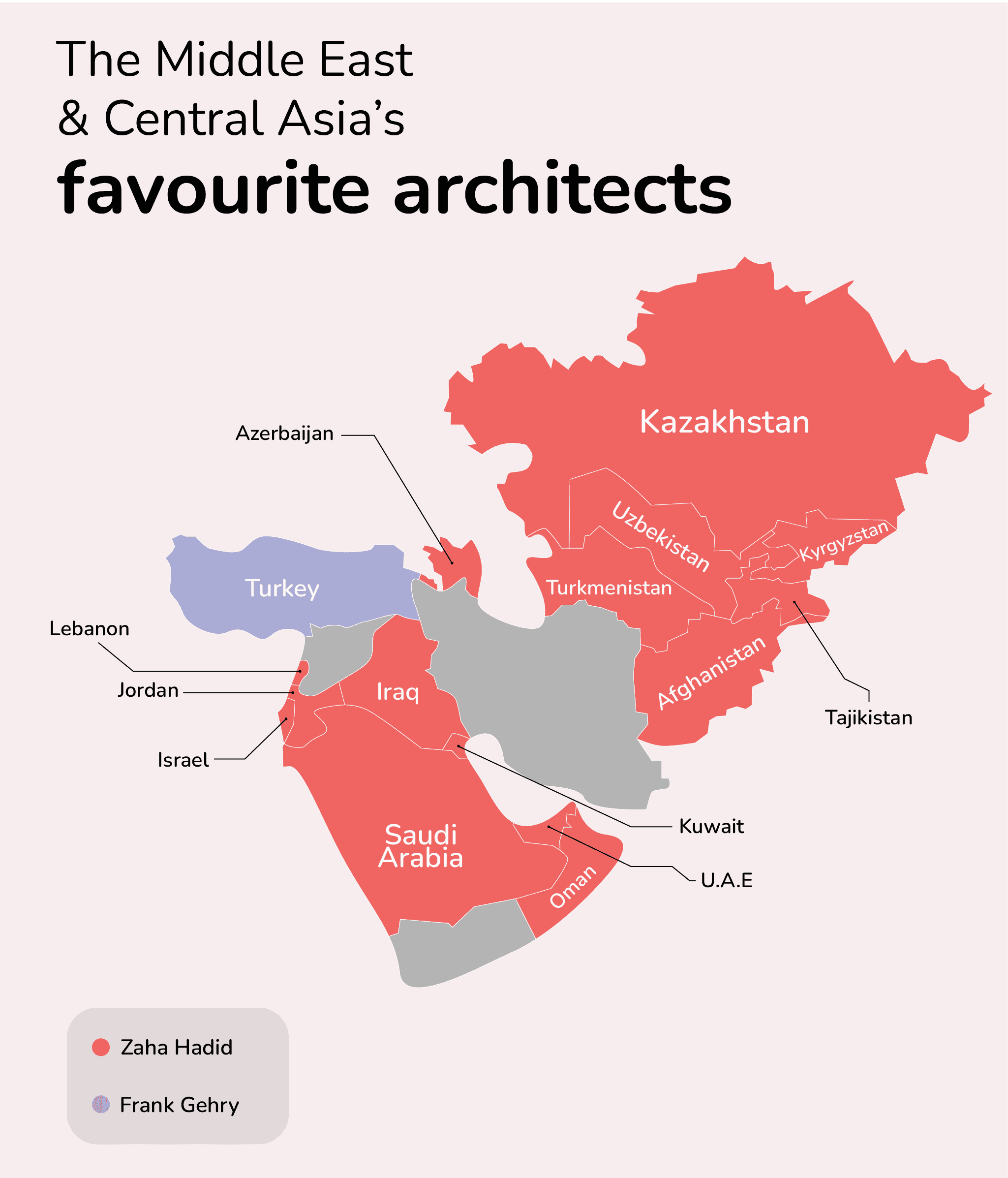 List of countries

Zaha Hadid - 15 countries

U.A.E, Afghanistan, Israel, Kyrgyzstan, Kazakhstan, Lebanon, Oman, Saudi Arabia, Tajikistan, Turkmenistan, Uzbekistan, Iraq, Jordan, Kuwait, Azerbaijan.

Mimar Sinan - 1 country

Turkey.
The most Googled architects in the rest of Asia and Oceania
List of countries

Zaha Hadid - 17 countries

Bangladesh, Indonesia, India, Malaysia, Pakistan, Qatar, Brunei, Hong Kong, Cambodia, Laos, Myanmar, Mongolia, The Philippines, Thailand, Taiwan, Russia, Singapore.

Frank Lloyd Wright - 4 countries

Nepal, Sri Lanka, Japan, Bhutan.

Le Corbusier - 1 country

South Korea.

Tadao Ando - 1 country

Vietnam.
The most Googled architects in Africa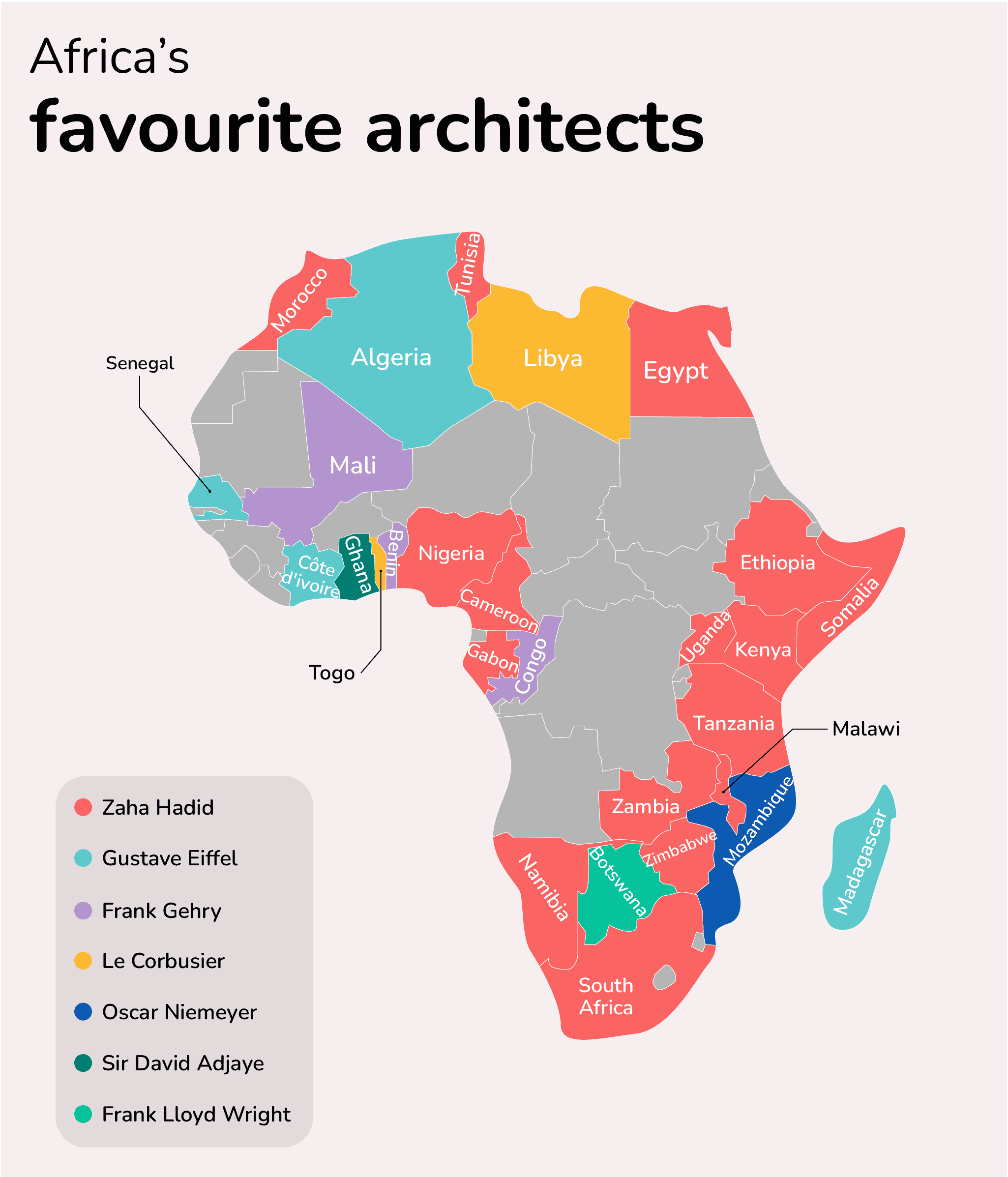 List of countries

Zaha Hadid - 16 countries

Cameroon, Ethiopia, Kenya, Morocco, Malawi, Namibia, Nigeria, Somalia, Tanzania, Uganda, Zambia, Zimbabwe, Egypt, South Africa, Tunisia, Gabon.

Gustave Eiffel - 4 countries

Côte d'Ivoire, Senegal, Algeria, Madagascar.

Frank Gehry - 4 countries

Benin, The Congo, Cabo Verde, Mali.

Le Corbusier - 2 countries

Togo, Libya.

Sir David Adjaye - 1 country

Ghana.

Oscar Niemeyer - 1 country

Mozambique.

Frank Lloyd Wright - 1 country

Botswana.
FAQ's
Do I need an architect?

If you're thinking about renovating your home, you might be wondering whether or not you need to hire an architect.

The good news is that there's no legal requirement to employ an architect and whether you do so or not is completely up to you.
When should I hire an architect?

Whether you decide to hire an architect or not will likely depend on your individual circumstances, such as your experience undertaking renovation projects, the size of the job, or your familiarity and trust in the builders you've hired to carry out the work.

If you're considering making changes to the structure of your home, an architect will be able to help with making sure that the building remains structurally sound and is not in breach of any building rules or restrictions. 

You'll also want to consult an architect if your home is a listed building, or you live in a conservation area, a flood zone, or near a site of archaeological interest.
Why use an architect?

As a highly trained design professional, an architect will be able to help with refining the vision for your home so that you end up with a more polished result.

They'll also be able to advise on how to make the most of the space that you have and how to make your home work better for you, such as ensuring that there's plenty of natural light, changing the layout of your home, or incorporating innovative storage solutions.

An architect will also consider the finer details that builders might overlook, like which way should doors open, the position of windows and lights, as well as where to place any piping or vents that may need to be moved or installed during construction.

For anyone living a busy lifestyle or who has little experience with renovation works, an architect can also manage the entire project on your behalf, ensuring that works stay on time and within budget.
What type of architect do I need?

Hiring a design professional will increase the cost of your renovation, so it's important to hire the right person for the services you need.

Architect

An architect has to be registered with the Architects Registration Board (ARB) and will be trained in any drawings or technical elements that might be required for your renovation.

With design playing a significant role in qualifying as an architect, they should also be comfortable with leading on any creative decisions.

Architectural technologist

As a member of the Chartered Institute of Architectural Technologists (CIAT), an architectural technologist will be fully qualified in the structural elements of architecture, but may not have as much experience or focus on the creative side.

If you have a strong idea of what you want and are simply looking for someone to prepare technical drawings for your builder, then an architectural technologist will likely be more affordable than an architect.

Structural engineer

If your plans involve removing a wall, then you'' have to consult a  structural engineer to ensure it's safe to do so.

If you're working with an Architect or Architectural technologist, then they'll likely have a structural engineer that they can recommend.

Architectural designer

Often used on smaller projects that only need help with specific aspects such as planning applications. 

While there are many great architectural designers out there, it's worth remembering that they aren't governed by a professional body so you might want to see examples of their work or references from previous clients.

Interior designers

As the name suggests, interior designers primarily focus on the interior of your home and can be helpful with advising on the overall flow and layout.

While they may not be able to help with the more technical aspects, they'll likely have a good network of contractors, structural engineers, architects and architectural technologists to lean on, and can help with ensuring a high-end finish to your renovation.

When hiring any design professional, it's a good idea to look at any images of previous work that they may have shared on their website or social media, or ask to see their portfolio to ensure that their style is a good match for what you're trying to achieve.
How much does an architect cost?

The type of design professional you hire, the services you require, and the size of the project will all have a significant impact on the cost. 

There are also different ways they may choose to charge depending on the work they're undertaking.

A flat fee for the whole of the project.

An hourly fee.

A percentage of overall construction costs, typically between 5 - 12% depending on the size of the project.

While hiring an architect will add to the cost of your renovation, factoring in those costs at the start of a project could help save you money in the long run. 

Working with the right architect could help increase the chance that planning applications are approved, they can recommend good and competitively priced contractors, ensure that works run on time and on budget and that no mistakes are made along the way that you may need to pay to rectify.
Methodology and sources
Google Keyword Planner worldwide search data analysed by money.co.uk in February 2022.

A seed list of more than 100 famous architects was created by collating architects that appeared in articles such as "20 of the most famous architects of all time".

A seed list of more than 100 famous buildings was created by collating those that appeared in articles such as "The 20 Most Famous and Iconic Buildings All Around The World".

Countries with low search volumes were excluded.

Architects that were better known for other pursuits such as art, sculpture or politics were excluded - e.g Thomas Jefferson.

Ruins and Ancient wonders were excluded - e.g The Colosseum. 

Instagram hashtag data correct as of May 2022

A seed list of female architects was created by collating the names of those that appeared in articles such as "The 10 Most Overlooked Women in Architecture History"

Google Keyword Planner worldwide search data for female architects and design styles correct as of May 2022.







About James Andrews 
James is our senior personal finance editor and has spent the past 15 years writing and editing personal finance news. He has previously written for ReachPLC, was money editor of Mirror Online and Yahoo Finance UK, and has recently been quoted in City AM, Liverpool Echo and Daily Record as well as featured on national radio shows TalkRadio and the BBC. 
View James Andrews' full biography here or visit the money.co.uk press centre for our latest news.