But if you're considering a move, where are the cities that offer the greatest quality of life for UK residents looking to move abroad? Last year we launched the Relocation Report, analysing a number of major cities on factors such as the weather, salaries and amenities.
Here's how the world's most popular destinations stack up this year.
If you're planning to relocate in the future, you could access funds from your property by remortgaging.
Make sure to compare remortgages to ensure that you're getting the best remortgaging deal possible.
Best places to relocate in the world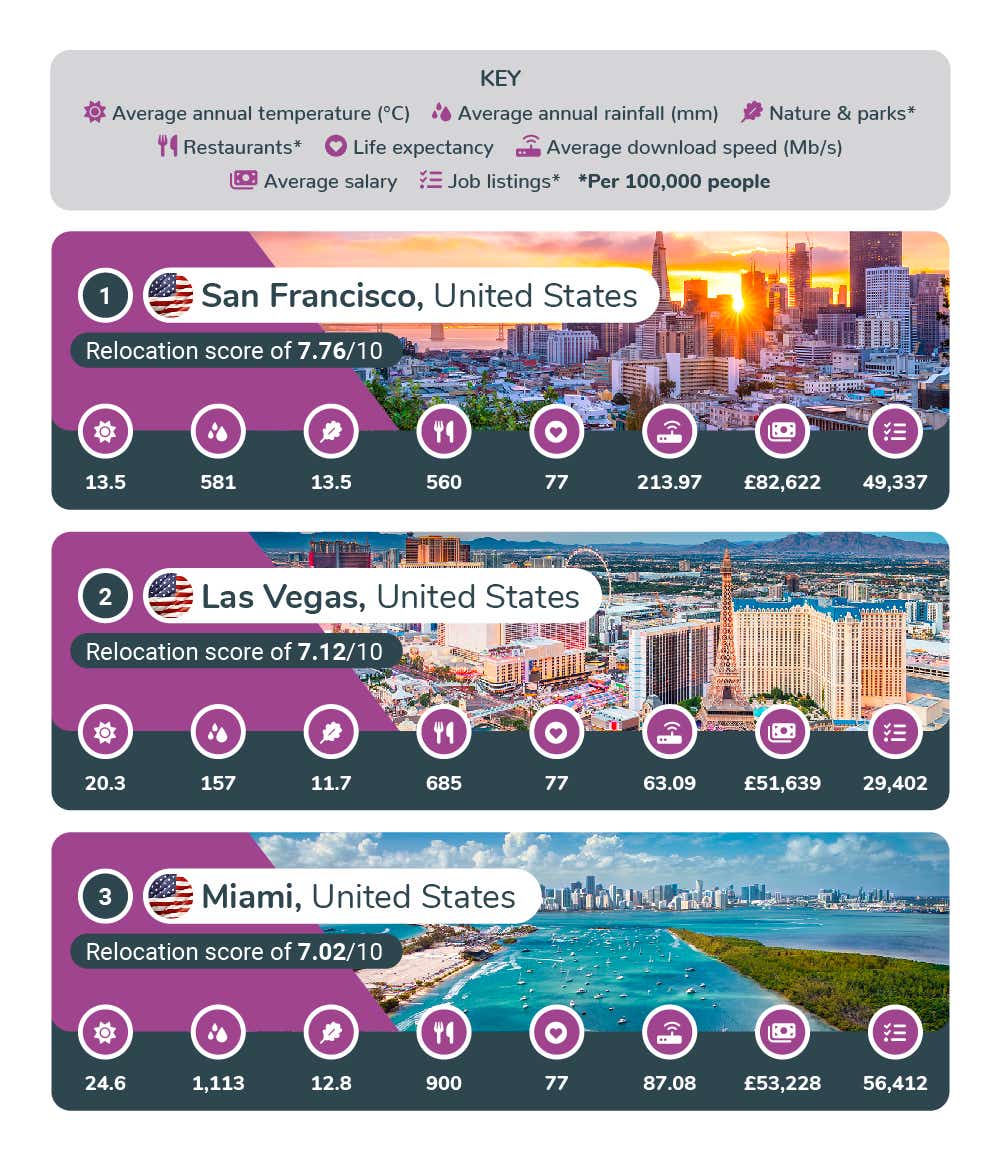 1. San Francisco, United States - 7.76/10 relocation score
In first place for 2022 is San Francisco, California. San Francisco is one of the most popular destinations in the States with a thriving economy and of course, the beautiful Californian weather.
The city was the highest-ranking when it comes to potential earnings, with the average salary standing at £82,622, as well as for its average internet speed.
It's not exactly a cheap place to call home, with a high cost of living, but if you can secure a job here, you'll enjoy some of the best quality of life in the world.
2. Las Vegas, United States - 7.12/10 relocation score
People know Las Vegas as the Entertainment Capital of the World, but it could also be a great place to relocate to.
Aside from the famous Strip that everyone knows, Vegas has a number of pleasant suburban areas and is a fast-growing city.
It was among the highest-scoring cities we looked at for its restaurants and parks per capita, as well as its weather.
3. Miami, United States - 7.02/10 relocation score
Each of our three top destinations to relocate to can be found in the USA, with Miami taking third place.
Miami is known for its tropical climate, so while it scores highly for the average temperature, it does also experience a lot of rainfall too.
However, it was among the highest-scoring cities for its number of restaurants per capita, as well as for job opportunities too.
The relocation destination with the warmest weather

Dubai, United Arab Emirates - 28.2°C
Given it's surrounded by desert on three sides, it's no surprise that Dubai in the UAE is the warmest place to relocate on this list, with annual temperatures averaging 28.2°C. Dubai enjoys sunny blue skies right through the year with slightly cooler winters.
The relocation destination with the least rain

Abu Dhabi, United Arab Emirates - 42mm
Unsurprisingly, just down the coast from Dubai another Middle Eastern destination has the lowest annual rainfall. Abu Dhabi receives just 42mm of rain a year, making it among the driest places in the world.
The relocation destination with the most parks

Seattle, United States - 16 per 100,000 people
Having somewhere to relax and unwind from city life is important, and the city with the highest number of parks and nature attractions is Seattle, Washington. Notable examples include Green Lake, Discovery Park, Myrtle Edwards Park and Seward Park.
The relocation destination with the most restaurants

Miami, United States - 900 per 100,000 people
The city with the most restaurants is Miami, Florida, with 900 per 100,000 people. With a diverse population, Miami's cuisine draws from Caribbean and Latin American food, and it's also known for its seafood due to its location on the Atlantic Ocean.
The best-connected relocation destination

San Francisco, United States - 213.97 MB/s
A strong and reliable internet connection is vital, especially if you're planning to work remotely after relocating. The city with the fastest broadband connection, by some distance, is San Francisco, with an average download speed of 213.97 MB/s.
The best relocation destination for earnings

San Francisco, United States - £82,622
Knowing that you'll be able to make a decent living is a hugely important factor when deciding whether to relocate or not. In this regard, the city with the best-earning potential (based on average) is again San Francisco. However, it's worth noting that the cost of living is also high here.
The best relocation destination for job opportunities

Atlanta, United States - 65,781 listings per 100,000 people
As well as earnings, it's important to know that you're actually going to be able to find a job once you do relocate. The city with the most current openings per person is Atlanta, which has one of the largest and most diverse economies in the US.
The best coastal cities to live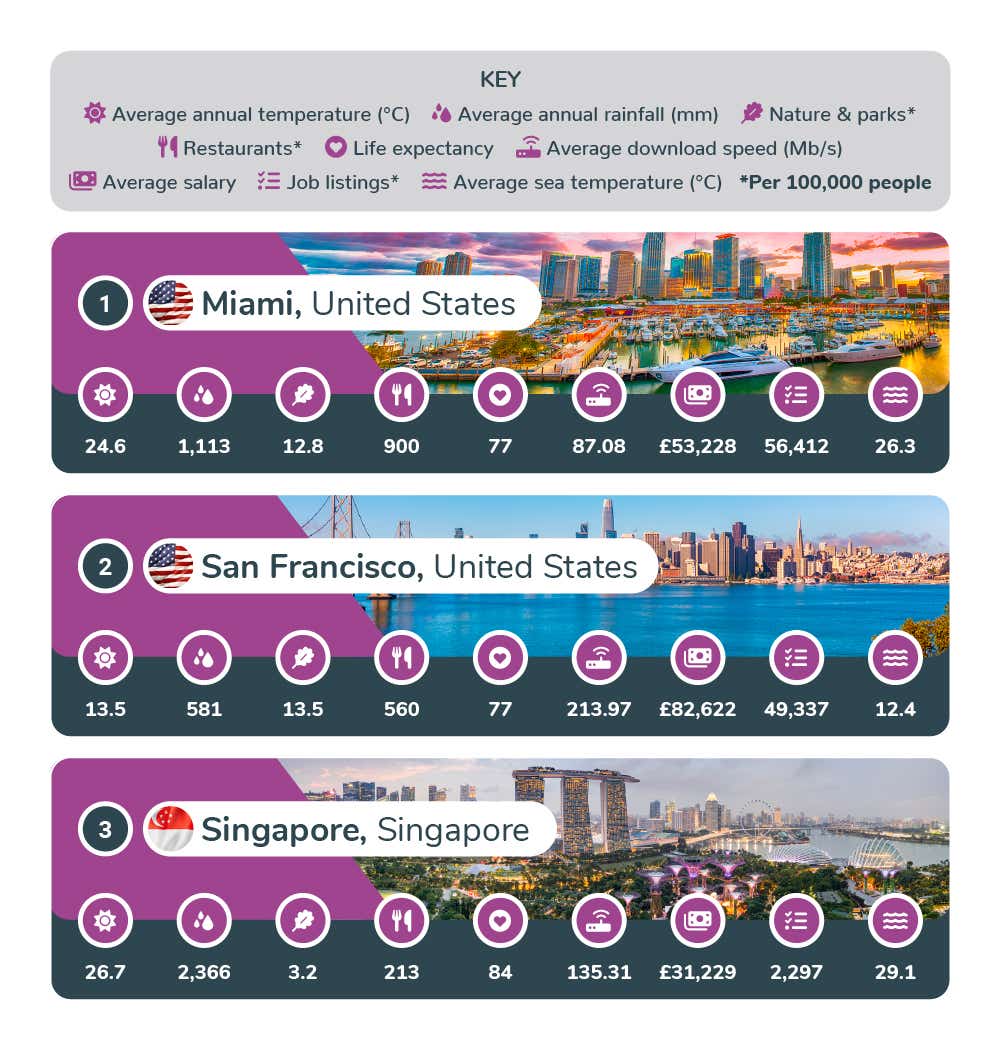 1. Miami, United States
If you want to relocate somewhere where you can enjoy the fresh sea air, then Miami just pips San Francisco. Miami is named the best coastal city to live. Known for its gorgeous beaches and the average sea temperature here is 26.3°C, giving it the edge over the colder waters of California.
2. San Francisco, United States
San Francisco comes in second here, as the city itself isn't particularly known for its beaches and climate, with cooler winds than Miami. However, it's still a great coastal destination, topping the rankings for nature & parks and download speeds.
3. Singapore
In third place is the city-state of Singapore, which has the warmest average sea temperatures of any city in this ranking at 29.1°C. Singapore is very diverse and has a thriving expat community with many Brits now living there.
FAQ's
What is the best place to move abroad from the UK?

According to the factors that we've analysed above, the best city destination for British citizens moving abroad is San Francisco in the USA.

The high earnings and year-round good weather are what make San Francisco such a popular option with British expats.
How to move abroad from the UK

If you're moving abroad from the UK there are lots of things that you need to remember to do. The first thing to do is ensure that your passport is valid. If it's due to expire within the next year or so you'll probably want to get it renewed before moving abroad. 

You'll also have to thoroughly check the entry requirements of the country you're moving to, to check whether you need a work permit or visa.

Other pieces of admin you'll need to do include letting the tax office know that you're moving abroad, organising how you're going to ship your belongings, and setting up a bank account in your new home.

You'll also need to tidy up loose ends here in the UK such as paying off any bills and redirecting your post.
How to get a job abroad before moving

It helps to secure a job before moving abroad, but doing so can be tricky. You obviously need to spend a lot of time preparing and seeking out roles, as well as preparing a solid CV and cover letter. 

You also need to make sure that prospective employers know that you're serious and committed to relocating by giving them specific dates that you'll be ready to start work.

It's also important to know that you might need to be realistic about your salary expectations and that you may end up having to take a pay cut.
If I move abroad what happens to my pension?

If you move abroad then your personal and workplace pensions can still be paid to you wherever you move to and you'll still get any built-in annual increases.

However, it's important that you still let your pension provider know that you're moving abroad as they may have issues paying into a foreign bank account or may charge you to do so.

In terms of currency, your pension will still be paid in pound sterling so will be subject to any changes in currency rates.

Your state pension can still be paid if you are abroad, but you might lose out on the annual increases. If you return to the UK it will be reset to the current level.
How to move your dog abroad

There are specialist companies that will help you to move a dog abroad and can arrange for them to be picked up and checked through all of the necessary customs and border checks before being delivered to your new home.

It might be a good idea to crate train your dog ahead of the move to help acclimatise them and ensure that they're relaxed during the move, as well as checking any local vaccine requirements.