In their 2020 annual audit, The British Association of Aesthetic Plastic Surgeons (BAAPS) revealed that nearly 27,000 surgical procedures had taken place in 2019 in the UK, with breast augmentation, breast reduction and abdominoplasty being the three most popular.
Using Google's Keyword Planner and AdWords platforms, we built out search terms used around different cosmetic surgeries and gathered the monthly average search volume from the last 12 months for each European country. This revealed the average search volume for each procedure in total, as well as which procedures each country is individually searching for.
If you are planning to borrow money to finance your cosmetic surgery, you could consider and compare 0% credit cards or a personal loan. Both options require regular repayments and can accrue interest if you do not pay back the full amount within the promotional period.
The most searched for surgeries in Europe
With 34,410 total monthly searches, rhinoplasty is the most searched for surgical procedure in Europe. This is followed by 'boob job', in second place and 'penis enlargement' in third with 28,690 and 24,450 monthly searches respectively.
For non-surgical procedures, face & skin "tweakments" are seemingly the most popular, with 'microdermabrasion' receiving 70,870 searches per month and 'hyaluronic acid' in second place with 66,940. 'Lip fillers' round off the top three, with 62,200 monthly searches across Europe.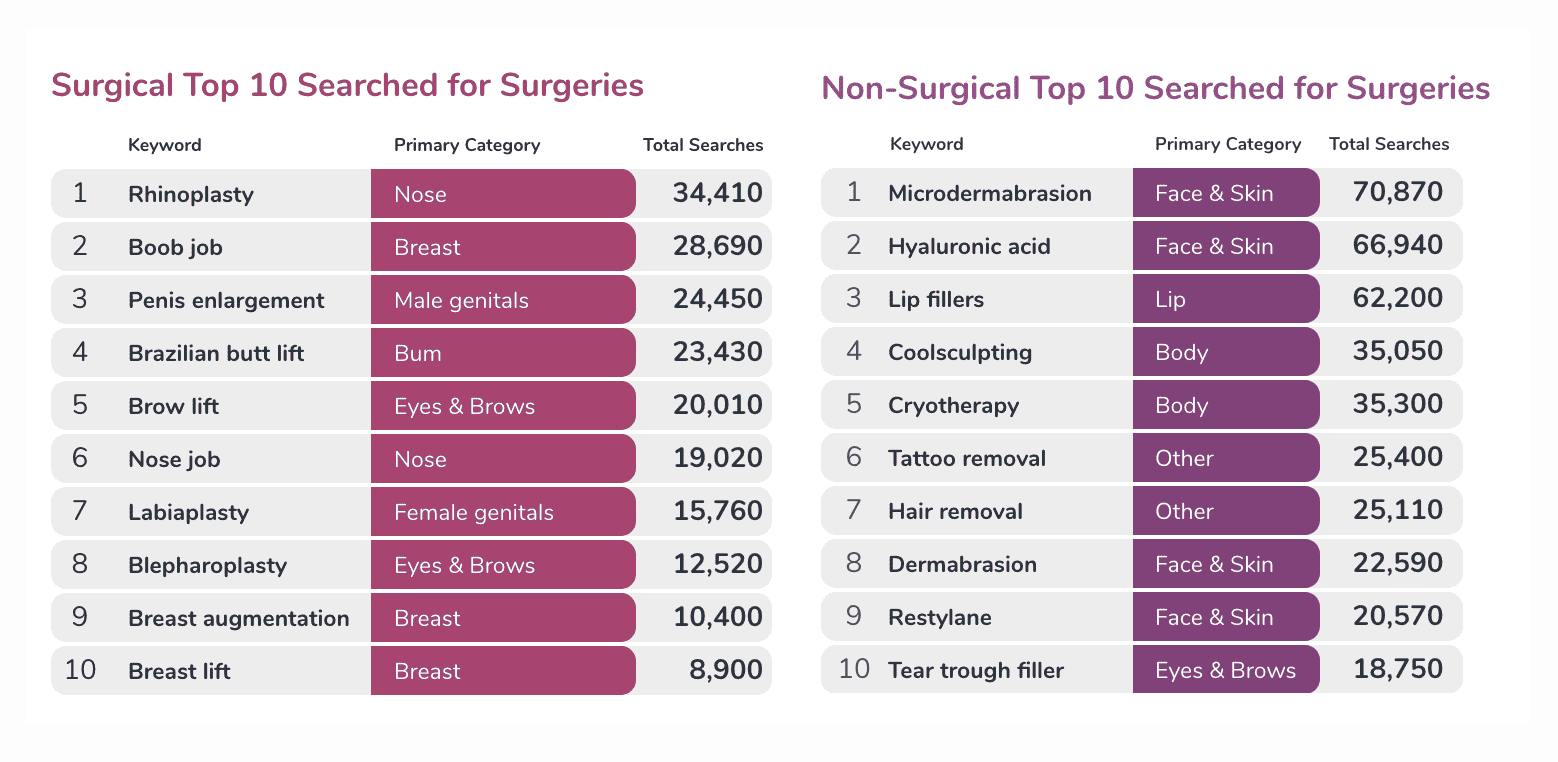 The most popular procedures by country
'Rhinoplasty' topped the list in 10 of the 31 countries analysed, followed by 'boob job', which is the number one most searched for procedure in eight countries, and 'Brazilian butt lift', which topped the list in seven countries.
Click on the individual countries below to find out their top six most searched for procedures, based on average monthly search volume.