As more Brits plan on taking a staycation than ever before*, the consumer spending experts at money.co.uk have created the 2020 Safecation Report, which identifies the best locations in the UK for a socially distanced holiday.
With open spaces being such a priority at the moment, the report takes a list of the UK locations that are home to the largest public parks (according to Ordnance Survey) and compares them against the UK's most-visited staycations destinations to reveal the safest staycations in the whole of the UK, based on the following criteria: 
The safecation criteria included:
Space (km2)

Contactless payment availability

Free activities

Dog friendliness 

Number of beaches within a 50km radius

Number of caravan parks/camping sites within a 50km radius

Crime rate for April 2020

Visitors per year to the county

Park entry fee

Car parking charges 
Forget crushing into overcrowded beauty spots and head to hidden gems dotted around the UK that are perfect for social distancing. 
Table: New vs Traditional Destinations Ranked out of 100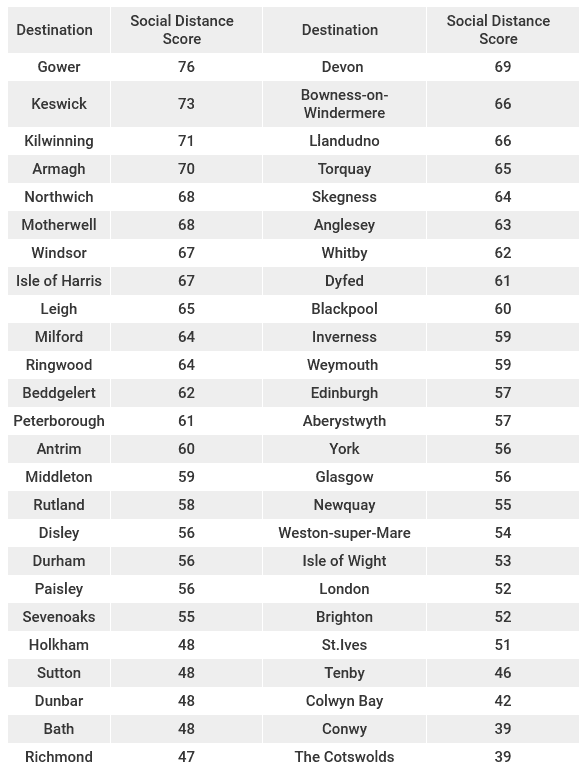 Gower, West Glamorgan in Wales has topped the list for the best new destination for a socially distanced staycation in the UK. With only 149,089 visitors per year to the county, the remote location offers plenty for those looking for a crowd-free option. 
The study revealed that the Rhosili and South Gower Coast could accommodate up to 2,230,410 visitors whilst maintaining a one metre distance. 
Devon took the top spot for the most popular traditional UK staycation destination, but with over 2,510,000 visitors to the county each year it is a hotspot for overcrowding - 10 times as many visitors per year when compared to Gower. 
Bowness-on-Windermere is another tourist honeypot with 1,510,000 visitors to the county each year. Outdoor attraction Brockhole on Windermere could only occupy up to 34,491 visitors with everyone maintaining a one metre distance. 
Windsor Great Park scored highest for social distancing. The park has 28.53Km² of space for 8,200,207 visitors to explore when maintaining a one metre distance. 
In comparison, The Japanese Garden in Newquay could only host 1,150 visitors in its 0.004Km² grounds - that is just 0.04% of Cornwall's annual visitors. 
There has been an increased focus on using contactless payments since the beginning of the pandemic. So, for a safe UK staycation this summer the 2020 Safecation Report reveals the destinations helping us pay safely and those that haven't quite made the mark. 
When it comes to budgeting, Armagh in Northern Ireland came out on top for the new cheapest staycation destination with Slieve Gullion Forest Park offering walking trails, a scenic drive, an Adventure Playpark, Giant's Lair children's story trail and courtyard with coffee shop. Plus with no admission fee or car park charges the attraction is the perfect spot for an open space day out. 
With the government urging us to take our 2020 summer holiday here in the UK, excited Brits have been rushing to book their getaways. But, as money.co.uk's consumer spending expert Salman Haqqi explains, this could lead to overcrowding and difficulty adhering to social distancing rules. 
"Campsites, holiday parks and hotels all over the nation are ready and waiting to welcome guests back, but even with strict social distancing guidelines in place, overcrowding can still be a problem in tourist honeypots. 
"Our report shows that a destination like Glasgow can only host around 8% of the usual annual visitors to the area taking one metre social distancing into account, whereas there is plenty of space for everyone in Gower. 
"It's not just wide open spaces that need to be considered when booking, the report found that 52% of the new destinations had contactless payment options available for parking, food and drinks, shopping and leisure activities."
*https://news.sky.com/story/coronavirus-one-booking-every-11-seconds-as-brits-scramble-to-buy-staycations-12013892
**https://www.ordnancesurvey.co.uk/news/britains-100-biggest-parks 
press@money.co.uk