The DNA of Banknotes
Our analysis revealed the most common colour used on banknotes is in fact green, with currencies including the aforementioned US Dollar, as well as the Swedish Krona and Uruguayan Peso all featuring various shades.

When it comes to the famous people featured on banknotes, their occupations vary greatly depending on the currency and value of note they appear on. However, our analysis of 1,383 banknotes featuring a person revealed 547 political figures, 320 royals and 153 writers. 
Perhaps unsurprisingly, Queen Elizabeth II is the most popular figure on banknotes, having featured on 45 different note designs across 11 countries.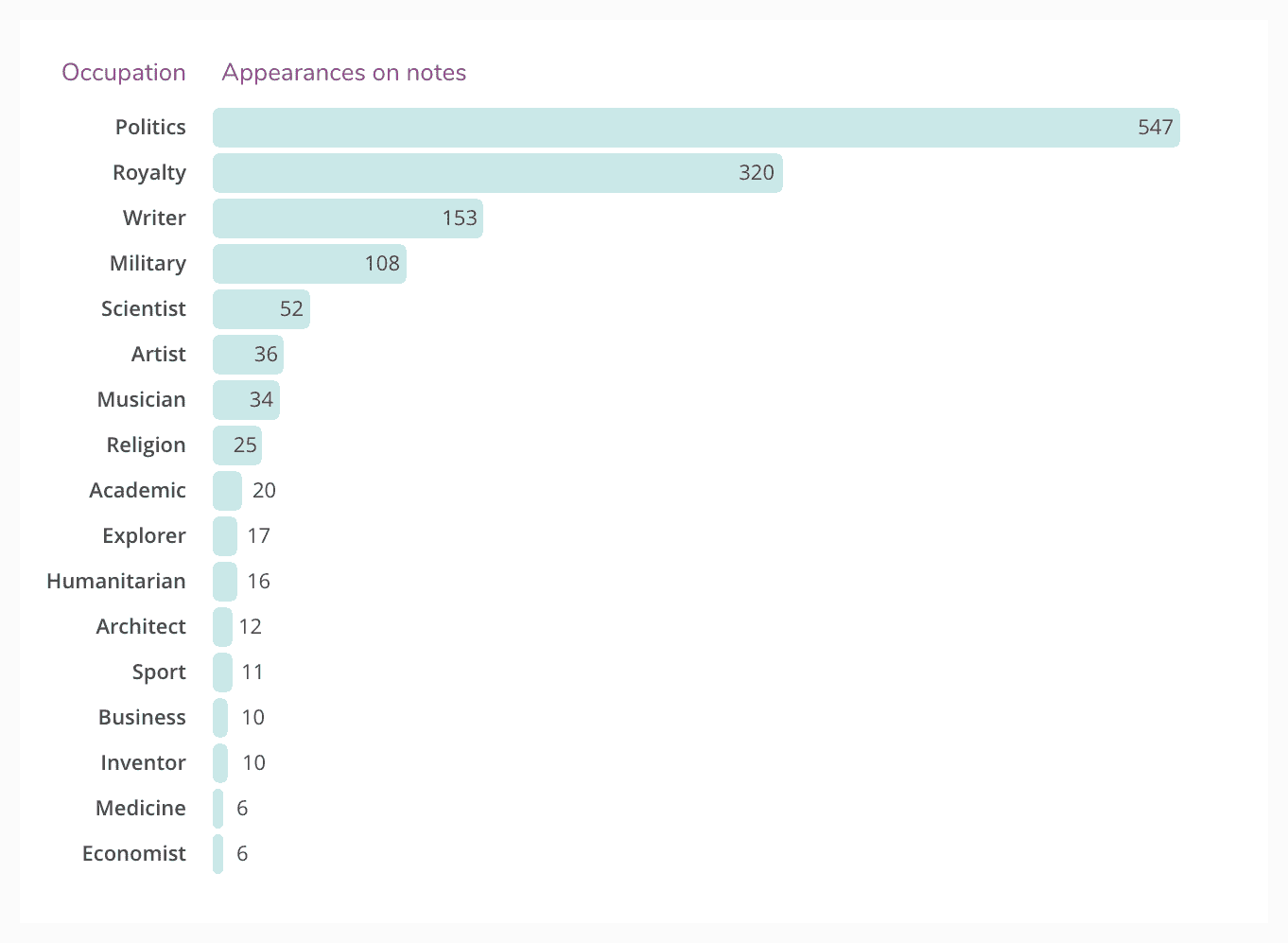 Queen Elizabeth II may be the most popular figure featured worldwide, but our study revealed a clear lack of gender representation across banknotes, with just 7% of the notes analysed featuring a female figure. 
In fact, only Jersey, the UK and Australia have a balanced or female favoured gender profile, with all other currencies predominantly featuring males
Back in 1988 Australia issued the first polymer note, to coincide with their bicentennial year and since then over 30 countries (25%) have either completely switched or began to introduce polymer notes into general circulation.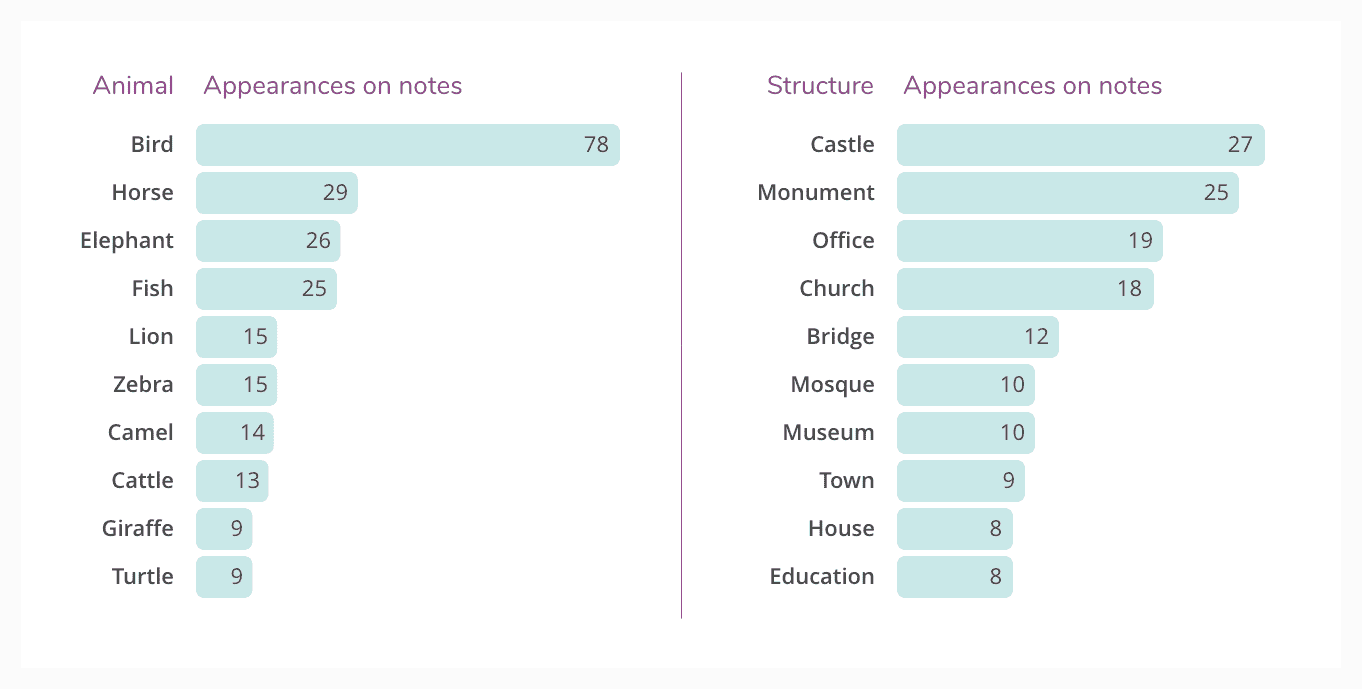 Following people, both animals and buildings also feature regularly across banknotes worldwide, with 315 notes featuring 35 different types of animals, including 13 variations of birds and 212 notes featuring a variety of buildings. 
Birds, more specifically eagles, were the most popular animals - appearing on 41 designs around the world. Castles were the most popular building to be depicted on banknotes, followed by monuments and then churches.  
The Global Note 
Whilst its clear banknote designs differ greatly around the world, our study got us thinking, what could a global note potentially look like? 
Taking into consideration our learnings and the commonalities found in all of the 157 currencies, we've created the 'Globos', a fictional currency featuring the most popular component found in each stage of our analysis including: 
The colour green – the dominant colour for 23% of all banknotes 

A male figure – 93% of all people featured on banknotes are male

A politician – 39% of people depicted are political figures 

An eagle – 25% of all animals featured were a bird and 46% of those were eagles

A castle – 12% of all buildings depicted on banknotes were castles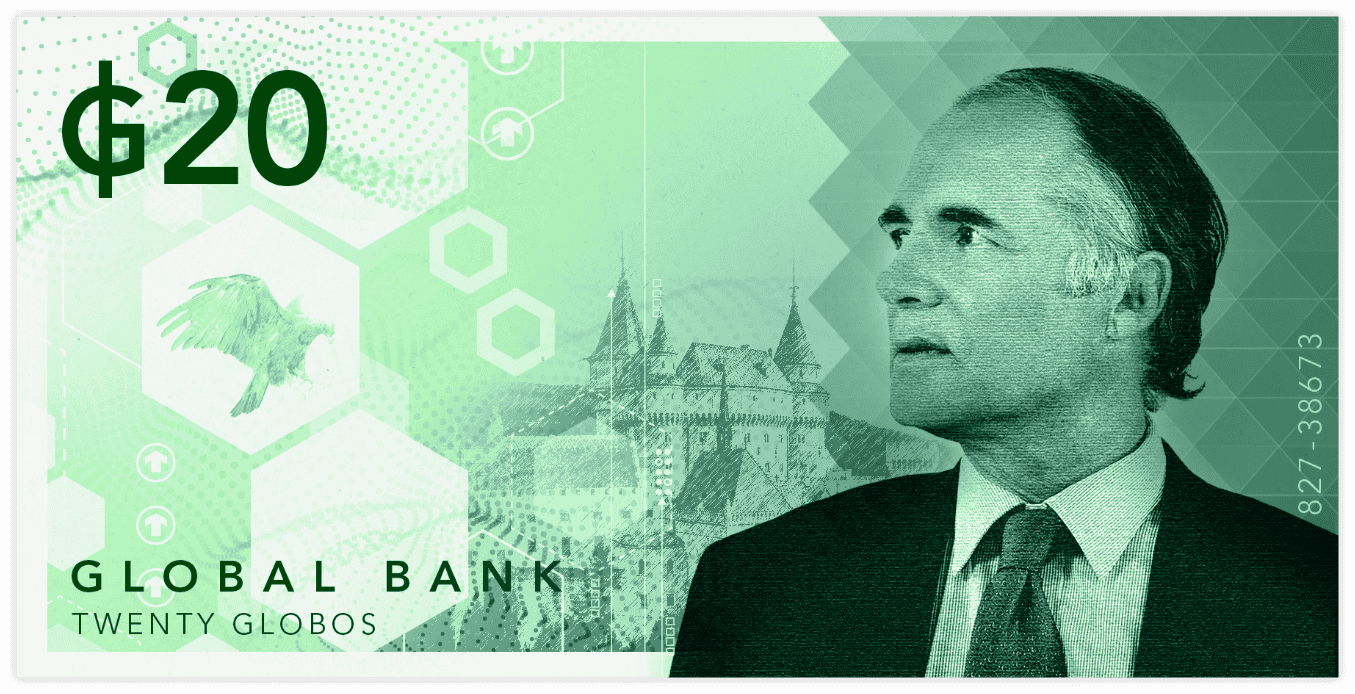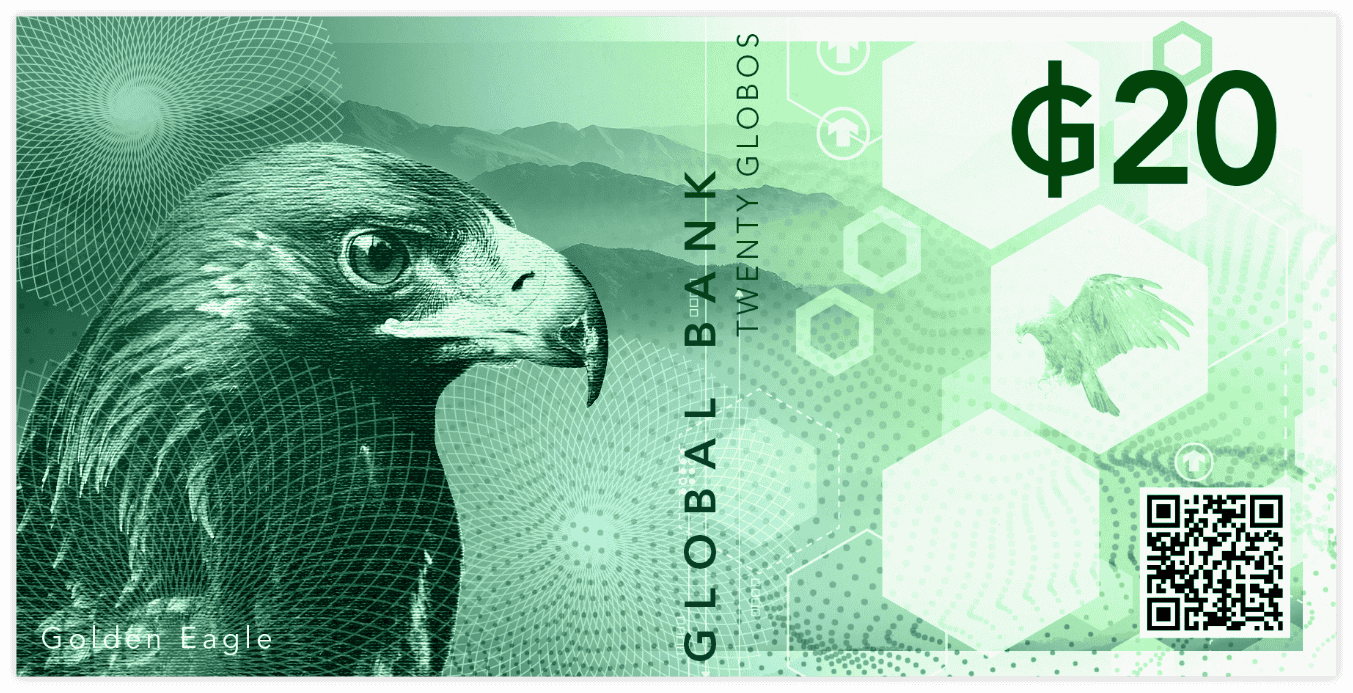 Looking for a new place to store your money? Compare the top ten current accounts and savings accounts and find the best option for you.

Data Methodology
We conducted desk research to build a list of currencies currently in circulation around the world, we then used a number of sites including Wikipedia, government resources, travel sites and archives to map out key components of notes such as professionals, gender representation and the appearance of buildings & animals on banknotes.
To ascertain the HEX codes of each currency, we first downloaded an image of either the most popular note in each country, or the denomination closest to a £20 note (which is currently the most widely circulated note in the UK). We then fed all images through HEX Picker software, Colour Thief, and matched that to colour names using script from Colour-blindness.com.
Data Caveats
Data includes currencies that are currently in circulation and all past iterations thereof. Where a currency is now no longer used (as is the case in many countries in the EU), the previous currency (i.e. the French Franc) has not been analysed. The analysis only covers banknotes and doesn't cover coins or other forms of currency.