A contents insurance policy will protect your personal belongings, whether you own or rent your home. Here is what home contents cover can protect you against.
When you apply for home insurance, you'll come across contents insurance, which protects your belongings in your property, and buildings insurance which covers the structure of the building. This guide looks at exactly how content insurance works and how to get the best policy.
What is contents insurance?
Contents insurance is an insurance policy that covers personal items in your home if they are damaged, destroyed or stolen.
Contents insurance is available as or as part of a combined home insurance policy with buildings cover.
Case study – Fatema's story
"I have no issue switching providers if I can find a better deal elsewhere. Depending on what you are switching, your new provider may take care of it for you, which I have found a stress-free experience.
"Keep an eye out for those annual renewal letters – check if the premiums have increased and then see if there are better deals elsewhere."
Fatema, West Yorkshire
Do you need contents insurance?
Contents insurance is not a legal requirement, but it's worth having if you wouldn't be able to replace your possessions if they were lost or damaged for some reason, such as a fire or burglary. 
Bear in mind that if you rent, your landlord may insist that you have cover in place as part of your tenancy agreement. It will be your landlord's responsibility to arrange buildings insurance.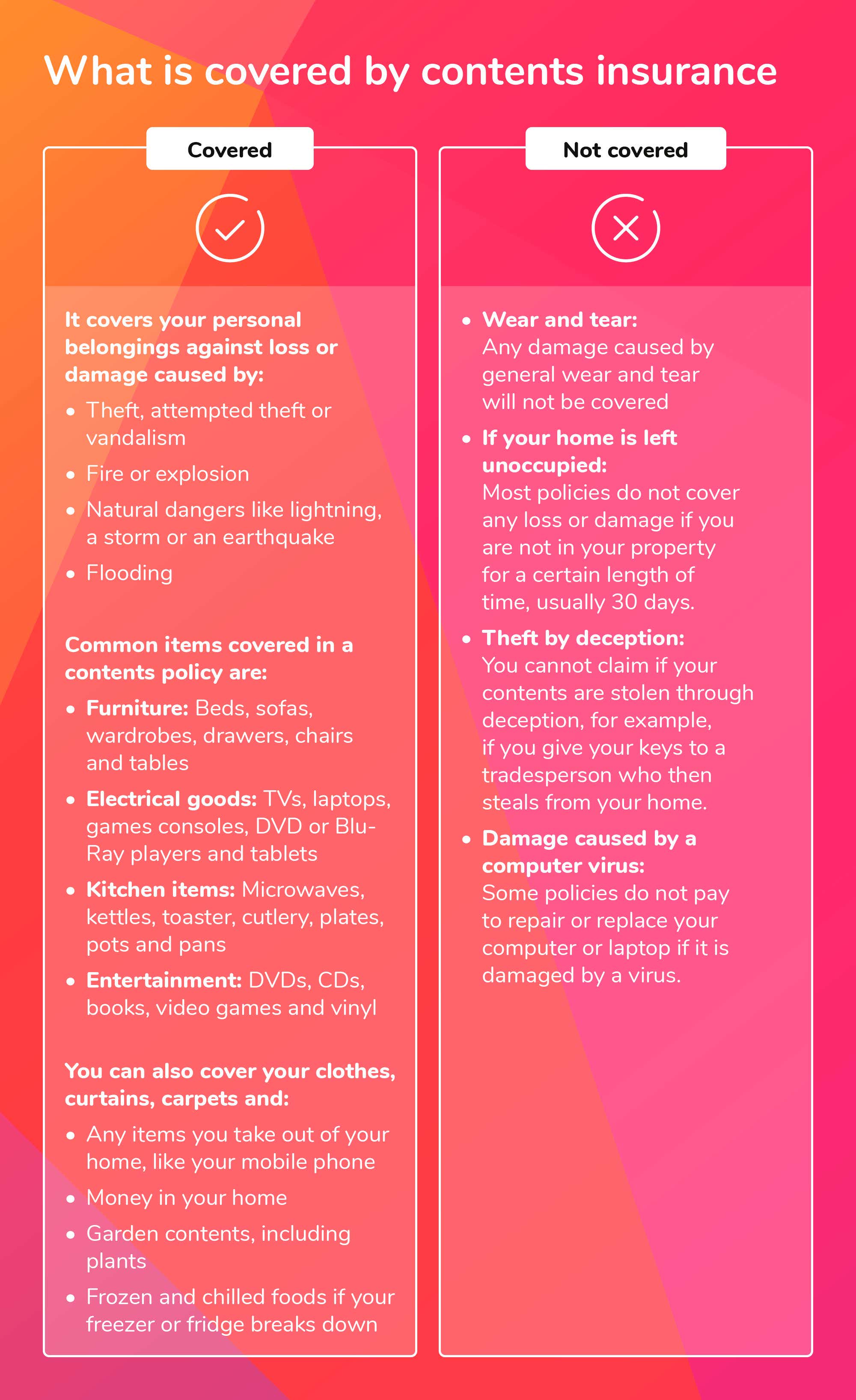 New for old cover
Many home insurance policies offer to replace your contents on a new-for-old basis. This means that if an item has been damaged or stolen, it will be replaced with a brand new one.
If the exact item is no longer available, your insurer should pay out enough for you to buy a new, similar model.
New for old cover usually excludes items like clothes, bedding and curtains because they tend to be more prone to wear and tear than other items.
Some policies take away the cost of wear and tear when they pay to replace or repair your belongings. This is called indemnity cover.
Accidental damage cover
Accidental damage cover protects your belongings against accidental damage, such as spilling wine on your carpet or knocking over your TV.
Some policies offer accidental damage as standard for certain items – for example, damage to television sets, non-portable games consoles and mirrors.
Check the policy terms and conditions before buying to determine what is covered and what you will need to add.
If you're after a more comprehensive contents insurance policy, most insurers let you add extra benefits to enhance your level of cover, such as:
Personal possessions cover: this protects belongings you take outside your home, like jewellery and mobile phones. Most policies can cover you anywhere in the UK and if you go abroad, although this may be limited to certain countries only.

Garden cover: this covers items kept in your garden, including plants, furniture and gardening equipment. Some policies also cover the cost of landscaping if your garden is damaged.

Bicycle cover: most home contents insurance policies do not cover bikes kept outside the home as standard. However, some policies let you protect your bicycle if it's locked up in your garden or outside the home.

Home emergency cover: this will provide cover for emergencies, such as a boiler breakdown.
Anything you add to your policy will increase the cost of your insurance, but the extra expense could be worth it if you need to make a claim.
Most policies will exclude money, fragile items and bicycles when you're moving home.
What won't be covered?
All contents insurance policies have a list of exclusions that will not be covered, so make sure you read each policy document carefully before you buy. Typical exclusions include:
Damage caused by wear and tear

Faulty workmanship

Theft through unforced entry – for example, if you left a window or door unlocked

Damage caused by pets

Misplaced or lost belongings
Cover for high-value items
If you want to protect your valuable items, you need to find a policy that offers this cover.
Most insurers define valuable items as:
Works of art

Jewellery

Watches
Valuables are covered by a single-item limit, which is the amount your insurer will pay out per item. This is usually around £1,500, but some policies offer a higher limit. Any items worth more than this must be listed separately.
Make a list of all of the valuables you want to be covered before looking for your policy. Some but not all insurers may ask for proof of value, especially for jewellery.
Most policies also set a total valuables limit, which is the maximum you can claim to cover the loss of several valuable items together. This is often a percentage – for example, 30% – of the total contents sum insured.
So, if your total contents cover is £50,000, you could only claim up to £15,000 for multiple valuables.
How much cover do you need?
Many insurers offer a set total claim limit to cover all your contents based on the size of your home, say £50,000.
You may be given the option of increasing the cover when you apply for a quote if your contents are worth more than the set claim limit. Most insurers can also increase your cover during the policy term if you make an expensive purchase.
The best way to calculate how much cover you need is to work out how much it would cost to replace all the belongings in your home.
You can do this by going through your home and adding up how much your contents cost in each room.
You can use an online contents insurance calculator to do this or make your own list.
If you're insuring costly items such as jewellery, it is worth getting them valued regularly so that your estimate is as accurate as possible. 
Protect your home and belongings for less by comparing home insurance policies to cover a range of property types and individual circumstances.