The Innovation Investment Index analyses the amount of government business support is provided in the world's most powerful economies to determine if this has a meaningful impact on patents approved in the country. 
If you are interested in investing you could compare share dealing accounts that could help you to add value to your portfolio whether you are a new or experienced trader. 
Our investment experts developed the index based on the following six factors:
Number of startup companies /10

% of businesses that are startups /10

Businesses per head /10

Number of government grants offered /10

Total amount of grant money (£) /10

GDP (2019) /10
Each country can score a maximum of 10 points for each of the following categories, giving us a top innovation score of 60. 
Innovation Investment Index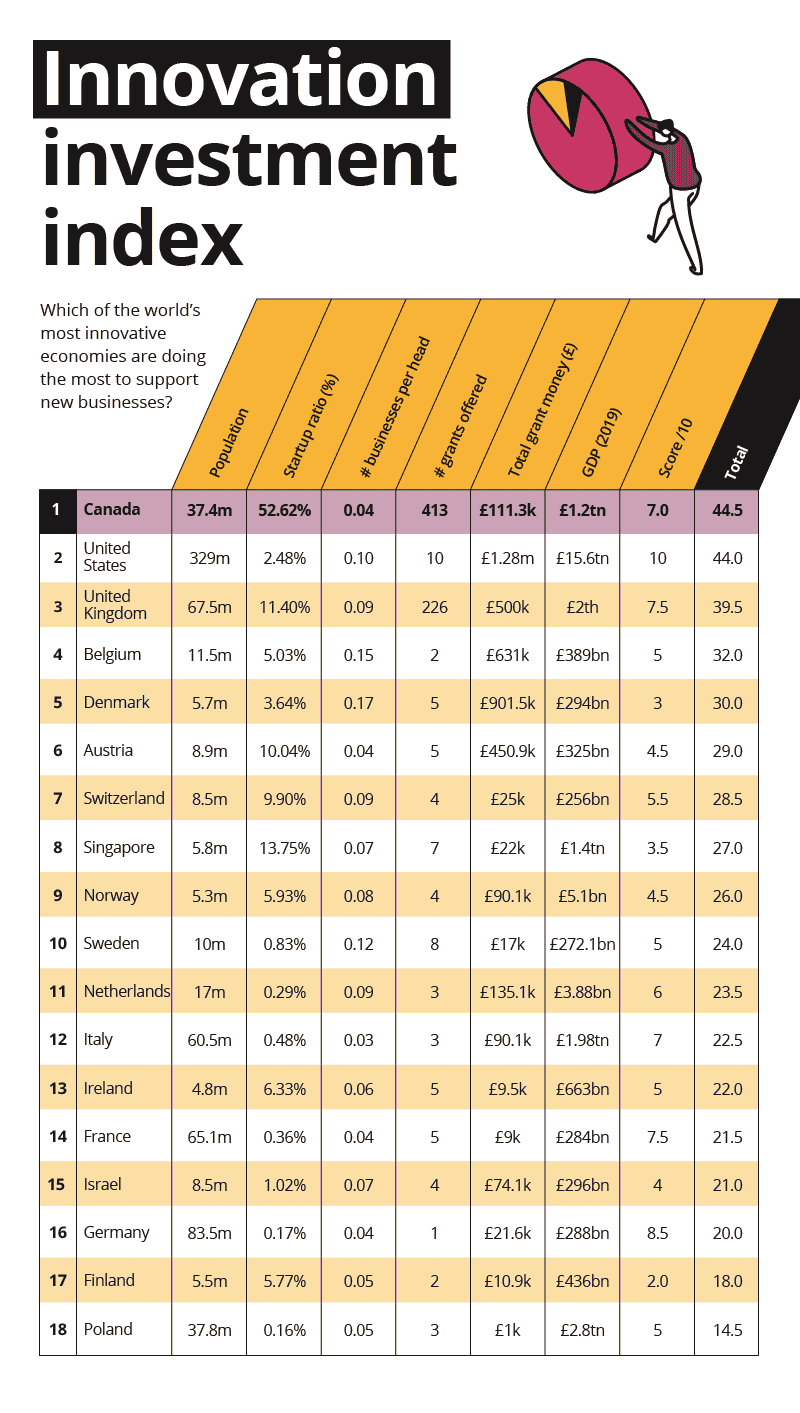 Canada is driving the most innovation
Scoring 45.5 out of 60 points, Canada tops the Innovation Investment Index, making it the nation with the most support to keep its businesses flourishing into 2021.
And it appears to be working. Almost half of all businesses registered in Canada are startups (52.6%), and with 413 new business grants offered by the government it's easy to see why the Canadians are ahead of the pack. 
Who's spending the most on innovation?
Here's how much some of the wealthiest economies are spending on business innovation across all available grants. The US has the highest amount available overall, at £1.2m ($1,640,928), followed by Denmark with £901k and Belgium with £631k.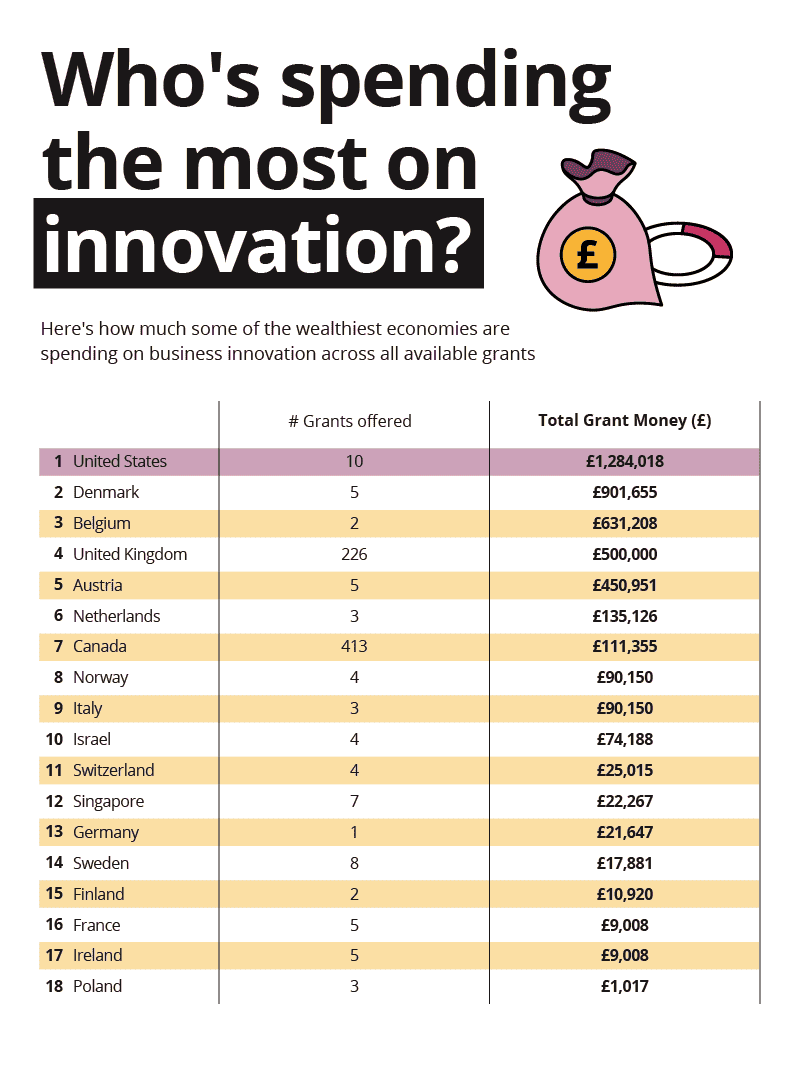 Denmark - an innovation hotspot
Denmark leads the way in industries such as biotechnology, telecommunications, IT and design. In fact, some of our most-used tech has been developed in Denmark, including Skype, Google Maps and popular programming language C++. 
Where can entrepreneurs access the most cash?
Belgium tops the list of nations with the most valuable grants for new businesses. In Belgium entrepreneurs and innovators can apply for two different grants, worth an average of £315.6k each - one of the highest in the world.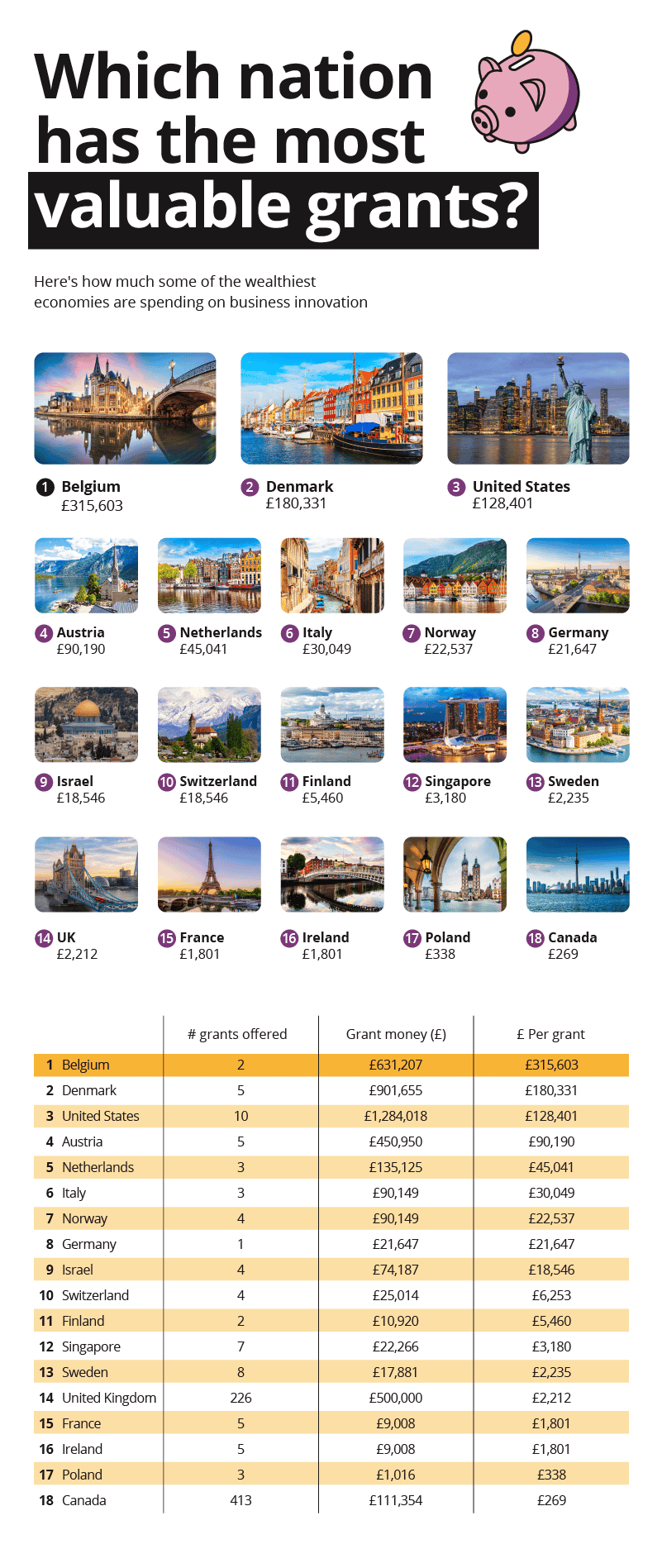 Ideas fuel powerful economies: our innovative countries ranked by patent approvals
How are the world's most innovative economies taking advantage of the funding on offer? 
Patents play an increasingly important role in innovation and economic performance. 
Economists have found that patents foster innovation, meaning that they encourage inventions based on the prospect of profit.  
The Innovation Investment Index can reveal that there were 13 times more patents approved in 2019 compared to 2010 (681,783 in 2010 vs 8,990,441 in 2019), that's a 1,200% increase over nine years for the countries in our index. 

Israel tops the list, with an average year-on-year patent approval rate of 12.4%, followed by Ireland with 12.08% and Austria rounding out the top three with 8.1%. 
When comparing patents pending vs patent approvals, 2017 was the most innovative year, with more than half of all patents pending granted approval (56.35%). 
On a country-level, Italy has the highest patent-pending vs approval rate, with 70.4% of patents approved since 2019. 
Patents pending vs patents approved between 2010 and 2019, here's the approval rates of the world's most powerful economies: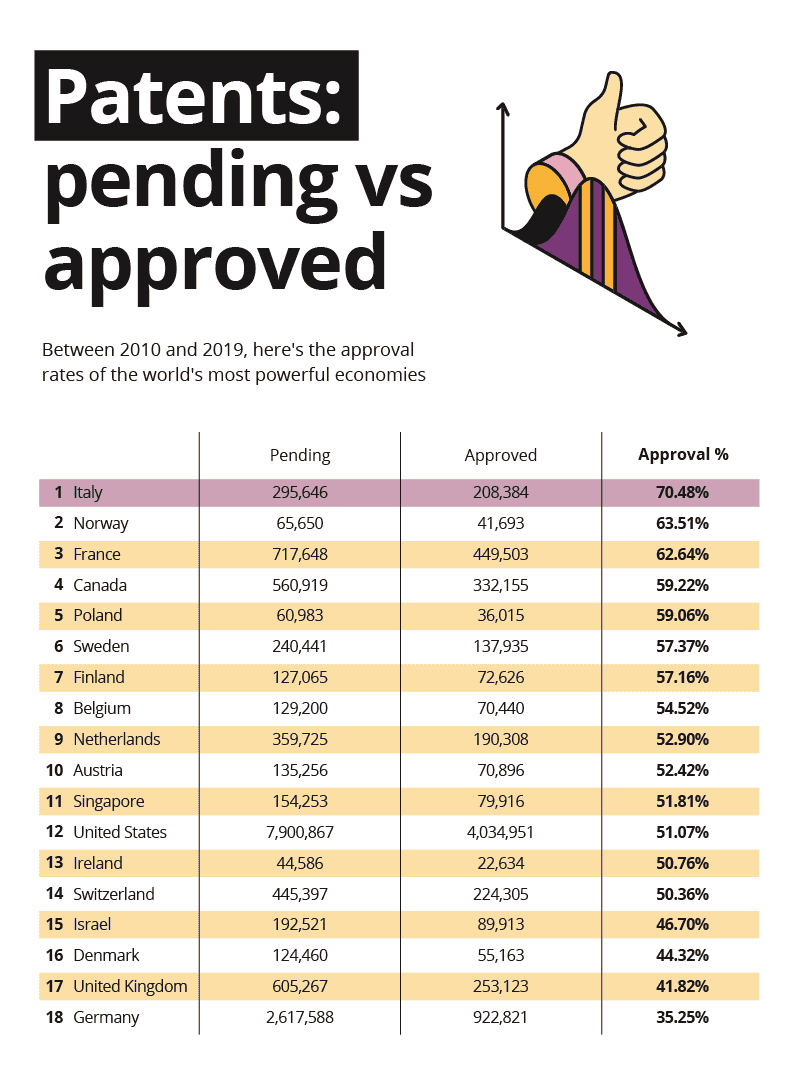 Even with one of the highest numbers of overall patents, just over two in five patents in the UK have been approved (41.5%) and that's just slightly higher than Germany where it's just over a third (35.2%).  
What can the Nobel Peace Prize tell us about the state of innovation? 
Since 1901, the Nobel Peace Prize has been awarded to those who have done the most or best work to encourage nations working together or for promoting peace and innovation.  
As part of the Innovation Investment Index, we've explored which of our most innovative nations has received this accolade most often.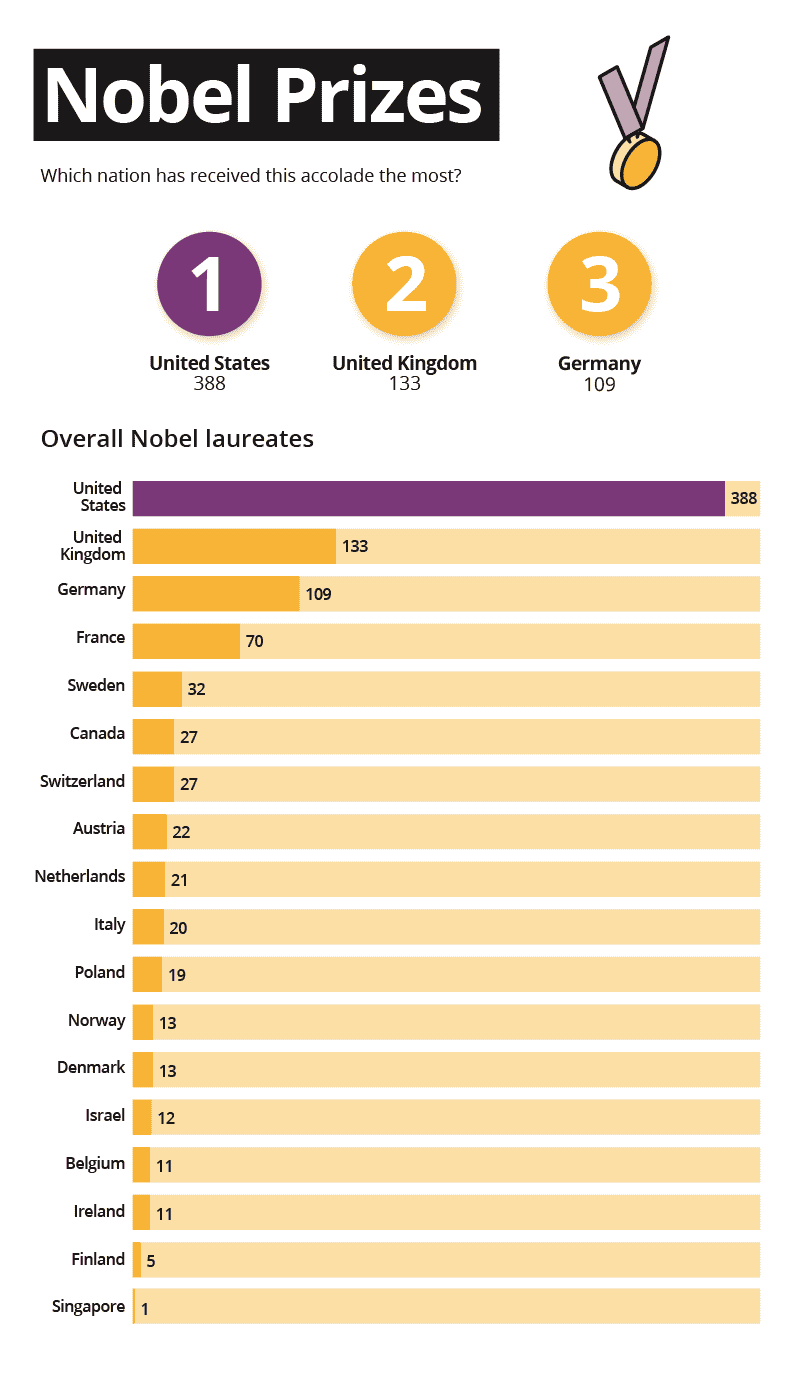 The average age of a Nobel Laureate is 61, meaning that if you were born in 1960, then 2021 could be your year to take home this notable accolade!
The Nobel Gender Gap
Our research reveals that 94.5% of all Nobel Peace Prizes were awarded to men with just 5.5% awarded to women. 
Poland has the smallest Nobel gender gap, with almost a third (26.6%) of their prize winners being female, followed by Ireland with 22.2% and Norway with 18.18%. 
Commenting on the results of the Innovation Investment Index, money.co.uk's personal finance expert, Salman Haqqi explains why small businesses will play a vital role in each economies financial recovery from the pandemic: "Innovation is key to the success of any business, particularly those who are in the startup or scale-up phase. Small businesses play a significant role within the supply chains of even the largest economies. 
"For innovation to have a positive impact on the economy, support measures must be put in place, which includes increased spending on grants that allow for research and development, as well as investing in education. 
"On a more individual level, small businesses themselves can drive innovation by investing in their employees and encouraging R&D to take place."
Compare business bank accounts
If you're a business or thinking about starting one, you may want to consider comparing our business bank accounts.
If you want to invest your money you could consider share dealing. A share dealing account could help you to add value to your portfolio whether you are a new or experienced trader.
Methodology and Sources
Taking Bloomberg's list of the most innovative countries in the world, we discovered which of the world's most innovative economies had the best infrastructure in place to support innovation, based on: 
Volume of individual businesses per country
How many businesses there are in each country and what percentage of those could be classed as startups, taken from the most recent data available. 
Sources include: Statcan.gc.ca | Statista | Icecube.asia | Gov.uk | tradingeconomics.com | oecd-ilibrary.org | yrittajat.fi | bizjournals.com | cbs.nl | german-way.com | fundsquire.ca | edb.gov.sg | investinaustria.at
Government grants per country
How many government grants are available for businesses and how much they can claim
Sources include: mentorworks.ca | techinasia.com | entrepreneurhandbook | erionet.org | epfl.ch | accountantonline.ie | infofinland.fi | pmv.eu | tt.dtu.dk | uschamber.com science.co.il | verksamt.se | support.stripe.com | yecommunity.com | askwonder.com | gov.pl
GDP per country
Total GDP per country sourced via Wikipedia.  
Patents Pending and Patents Approved between 2010 and 2019
The latest patent data available sourced via WIPO.int 
Nobel Peace Prize Information
https://en.wikipedia.org/wiki/List_of_Nobel_laureates_by_country
https://en.wikipedia.org/wiki/List_of_female_Nobel_laureates
Raw data and individual source data can be found here: [GOOGLE DOC] 
The countries included in the index are: Canada | South Korea | Singapore | United Kingdom | Austria | Switzerland | Ireland | Norway | Finland| Belgium | Denmark | United States | Israel | Sweden | Italy | France | Netherlands | Germany | Poland | Czech Republic
Please note: where full data was not available for Czech Republic, South Korea and Australia, they were omitted from the calculations but included where data was available.