The Celebrity Investments Index analysed 30 celebrities based on their business investments to determine which showbiz stars are the most prolific investors and in what investment areas. 
Our investment experts have discovered which celebrities are the most business savvy based on the following five factors:
Net worth /30

Number of investments (personal and partner investments) /30

Highest investment sums /30

Estimated total amount of funding /30

Average investment sum /30
Each celebrity can score a maximum of 30 points for each of the following categories, giving us a top celebrity investor score of 150.  
Jay-Z is the most prolific celebrity backer
To discover which celebrities are the most successful investors, our report considers $11.9bn of total investments made by the showbiz stars across 339 different investments.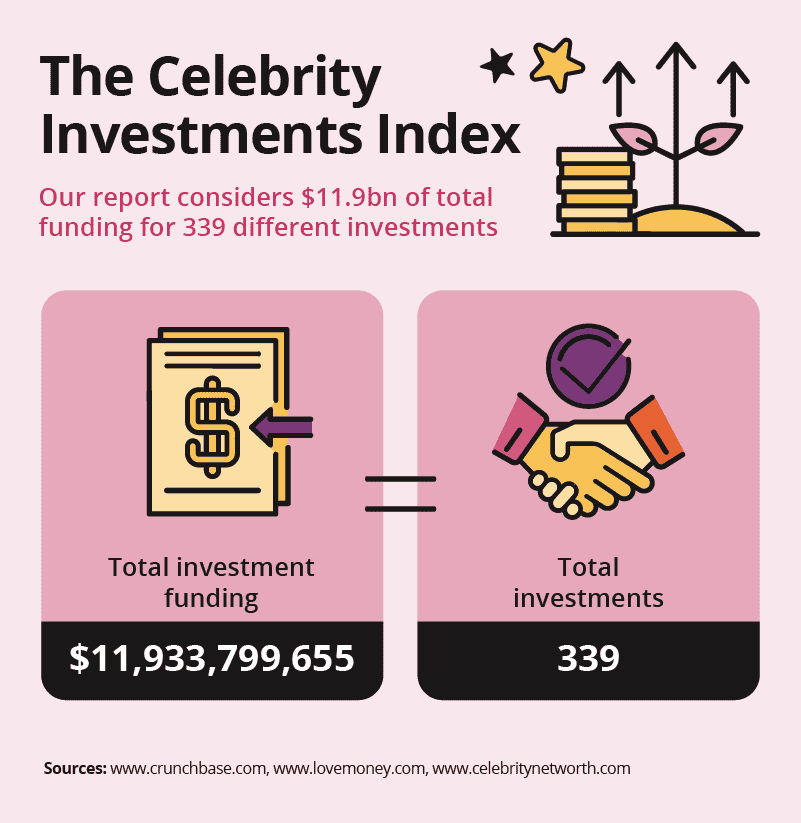 Scoring 132 out of 150 points, hip-hop star Jay-Z tops the Celebrity Investments Index, making him the most successful celebrity backer. The rapper has earned millions from sellout tours and chart-topping albums over the course of his music career, but music is far from his only money-making venture. 
Over the years, Jay-Z has made several profitable investments following his success in the hip-hop world and boasts an extensive resume as an entrepreneur. His ventures include entertainment labels, tech, and upscale alcohol brands.
With an estimated fortune of $1bn, the music star has 11 personal and partner investments with a total investment sum of $983m with tech and champagne being his biggest investment areas. 
Taking second place is Ashton Kutcher, a former model who rose to fame as an actor in the 1990s. But lately, the star has been earning a reputation as Hollywood's most experienced and active Silicon Valley investor. 
With a whopping 81 personal and partner investments to date, Kutcher has invested a total sum of $3.1bn in mostly tech and start-up companies. 
Celebrity stars Bono, Oprah Winfry and Jared Leto, round out the top five investors ranked in our index. 
Which celebrities are investing the most? 
Ashton Kutcher has invested the highest total funding amount
Although Jay-Z takes the top spot in the overall index, Ashton Kutcher takes the lead for the most amount of money invested into businesses overall at $3.1bn. Starting his investment portfolio as a cash-rich angel investor, Kutcher has since co-founded two venture capital funds: A-Grade Investments and Sound Ventures. He has also invested a whopping $300m single investment in financial service company Affirm. 
In second place for the total amount of money invested is Musician Nasir Jones, the rapper, better known as Nas, is the co-founder of Los Angeles based Queensbridge Venture Partners, which has funded companies such as RapGenius, Dropbox, and Walker & Company. 
Nas is known for his tech investments and our report calculates that he has invested $1.4bn in total. With the highest individual amount of $30m funding MakeSpace an on-demand storage company. 
In third place is Paul David Hewson, better known by his stage name Bono, with his five investments totalling an estimated $886m. His highest investment sum was in the mobile banking business Varo Money with a whopping $241m fund. 
The top three stars together have a combined total investment fund of $4.9bn on 97 deals based on their highest investment sums. 
A third of the celebrities in our report have invested over $100m in a single business investment, and overall one in 10 have invested a staggering $500m in a single investment fund. 
$38m: Average celebrity-backed investment
The Celebrity Investments Index can reveal that on average, stars in our report invest $38.5m per investment, with pop sensation Katy Perry leading the way with the highest average fund amount of $265m spread across her four investments. 
Music stars Bono and Will.i.am are in second and third positions with $177m and $143m invested on average across all their business interests. 
Celebs backing the most brands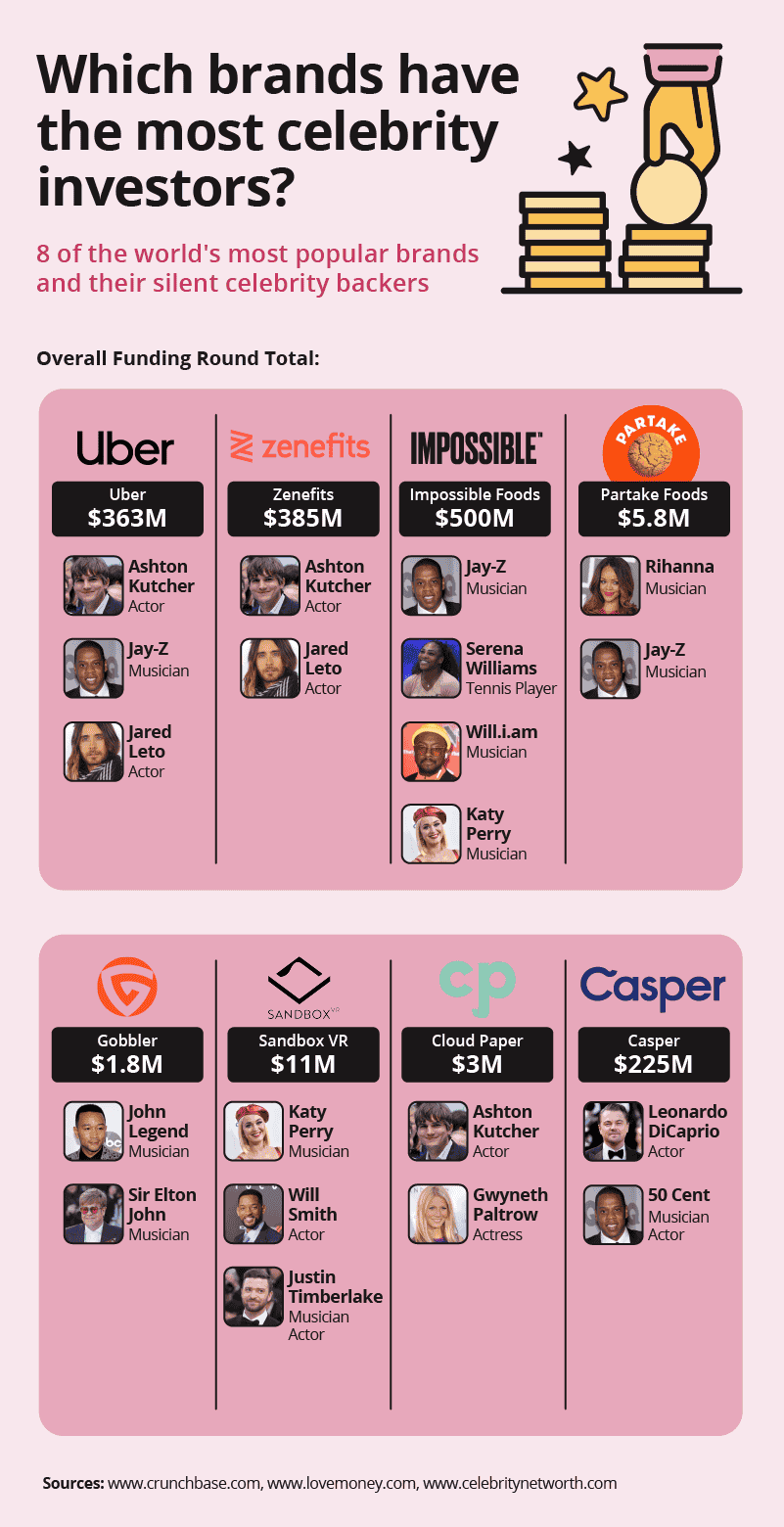 Actors, athletes, and musicians can get paid a lot of money and while it's easy for them to pour their money into property, new cars or a crystal-studded bathtub, the most savvy celebrities know that material items aren't the only place to invest their cash.
And you might be surprised at just how many celebrities have a stake in some of the most well known brands around the world today. 
Ashton Kutcher is well known for turning a $30 million fund into $250 million in just six years, by making early investments in Uber, Airbnb and Spotify, but Jay Z and Jared Leto also invested in Uber back in the brand's early days, cementing the stars as savvy investors. 
Hollywood stars Ashton Kutcher and Jared Leto are also behind the funding of software company Zenefits that helps companies manage their human resources. 
Impossible Foods, creators of the world-famous 'Beyond Burger', develops plant-based substitutes for meat products. The futuristic food company has the most celebrity backers in our report, with Jay Z, Serena Williams, Will.i.am, and Katy Perry all funding the company with a total investment round of $500m. 
Top celebrity-backed business categories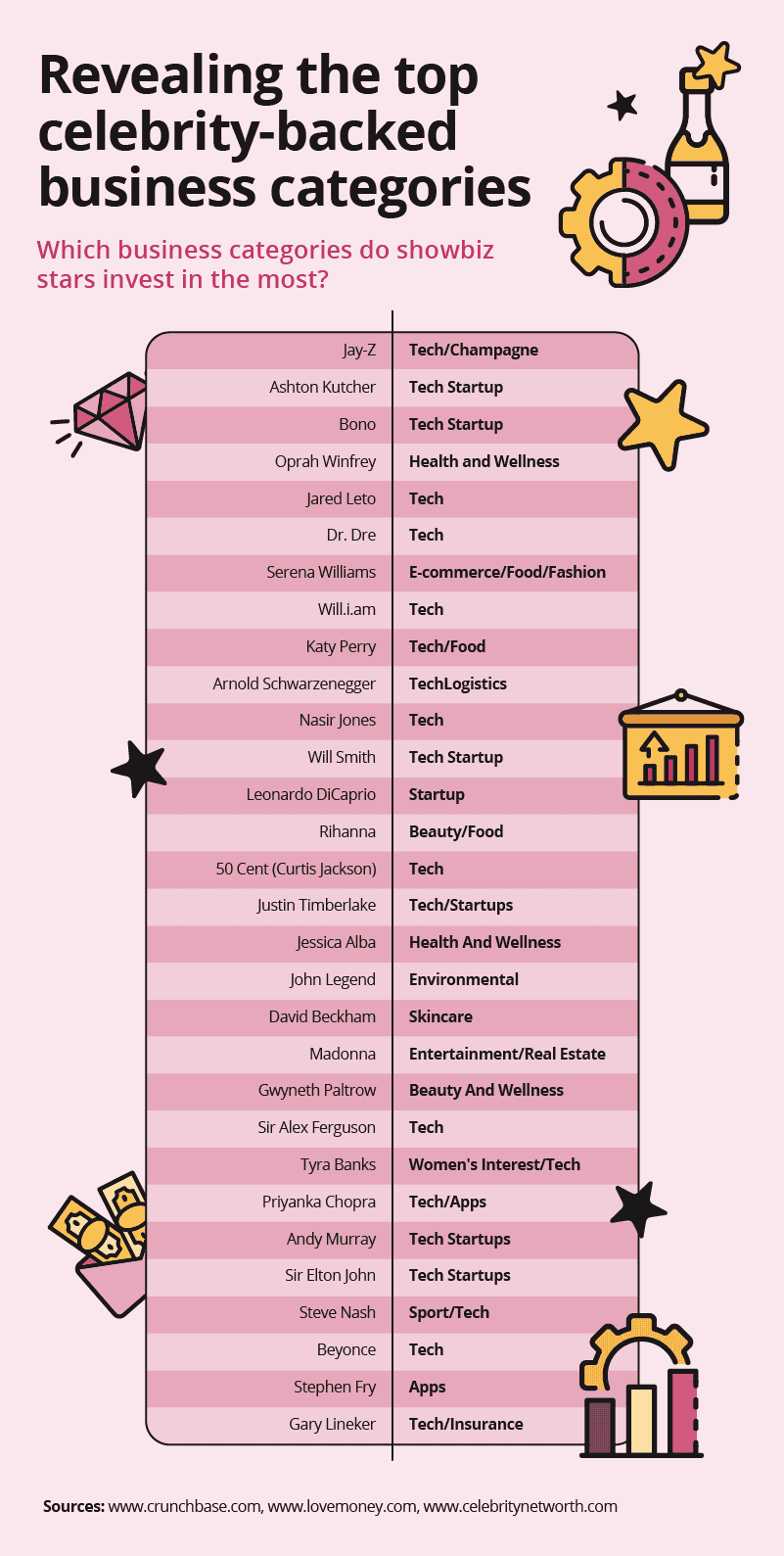 A-listers are hooking up entrepreneurs with investment capital to support their businesses, but what business niches do celebrities participate in the most? 
If you're looking for capital investment for a tech or app business, then the Celebrity Investment Index can reveal that 66% of celebrities in the index invest the most in this type of business - making it the most-invested niche for celebrities. 
Jay-Z has invested in everything from tech to alcoholic beverages with much of his net worth tied up in stocks of companies such as Alchemy Insights, Therabody and Impossible Foods. We all know Jay-Z for his music, but his savvy investments have turned his millions into billions.
Wellness and health brands have the most female backers. Over a fifth (23%) of female celebrities in the report have a wellness brand in their investment portfolio, with Saie and Headspace enticing the most funds from celebrity backers. Oprah Winfrey, Jessica Alba, Gwyneth Paltrow, and Tyra Banks are the most fruitful wellness investors with 16 brands in their portfolios. 
Often, celebrities will invest in a business they already know or a business niche they feel passionate about.
Gwyneth Paltrow launched her wellness brand Goop in 2008 and following her brand's success she has since invested her net worth in stocks of companies. Paltrow now has shares in Saie, a toxic free cosmetics beauty brand and Real, a digital therapy model based on member-centered care. 
Ashton Kutcher credits his calling for tech investments stemming from his passion to improve people's standards of happiness through technology. 
Commenting on the results of the Celebrity Investment Index, money.co.uk's personal finance expert, Salman Haqqi explains how celebrities are making money outside of their Hollywood roles: 
"Venture capitalists and corporates aren't the only ones funding new startups. Our report reveals that a lot of celebrities are now investing their wealth in new businesses and entrepreneurs looking for business capital. 
"Many celebrities have made millions through investing and have made more money away from their day jobs and generated wealth from their diverse investment portfolio. 
"Just under half of the celebrities in our report hail from the music industry, while others have made a name for themselves in TV, movies, and sports. Stars on the list have backed some big names including the likes of Uber, Spotify, Airbnb, Houzz and Skype. 
"Like all investors, celebrities need to be savvy when investing their hard earned cash. Investing in stocks and shares is a high risk activity, and it's important to remember that you may get back less than you originally invested."
Making the best decisions to help grow your investments 
Investing can be a high risk activity, but the right investments could earn you greater returns than any savings account. That is why it is important to consider where you invest and what you invest in, to maximise your chances of making a profit.
There are many different types of investment options which makes working out what type fits best with your financial objectives is the first, and possibly the most important, step.
Once you have investigated your investment options you can pick an investment account that is right for you. 
One option is to buy and sell shares in publicly listed companies. If you're considering this, then you may want to consider a share dealing account.
Whatever option you choose, it's important to double check that you are happy with the charges that apply, comfortable with the way your investment will be managed and confident that you have made the right choice for your circumstances.
If you have any doubts then you should always speak to an independent financial adviser who will be able to help you further before you make any financial commitment.