If an overseas home move, or even just a visit, is on the cards in 2021, the mortgage experts at money.co.uk have ranked 20 of Europe's most densely-populated cities, based on the things that matter most to owners of furry, scaly or feathered friends.
Compare mortgages to find the best deal for you and your pet.
Can you travel on public transport together? How many pet-friendly properties can you pick from? How many vet surgeries are there to compare? These are just some of the factors that pet owners should consider as part of any relocation plans. 
So, how did Europe's biggest cities stack up when it comes to their pet-friendly credentials?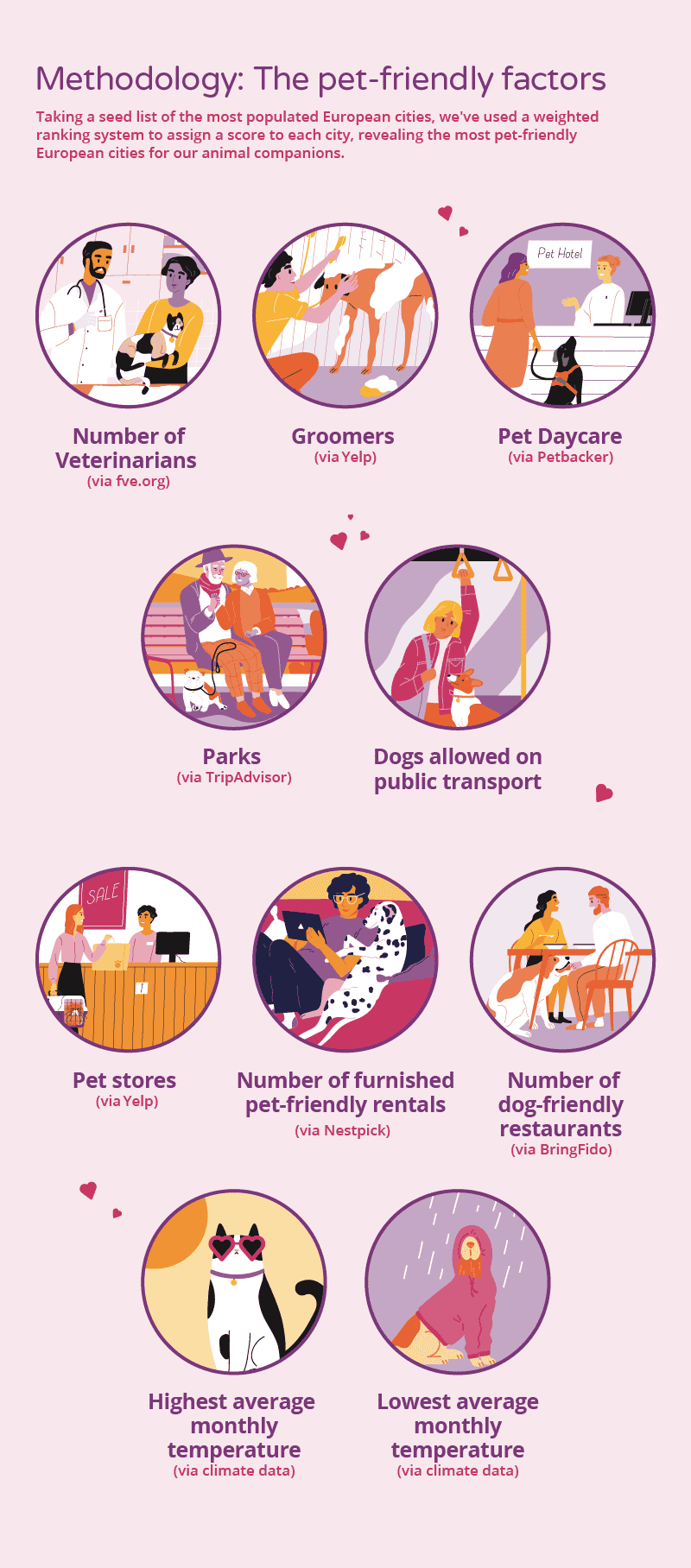 It's a dog's life: Europe's top cities for pet owners revealed
Front of the pack: London, UK - 82.5 
Taking into account all 10 of the pet-friendly elements, London tops the list as Europe's most pet-friendly city. 
If Chicago is known as the 'Windy City' then London should be known as the 'Leafy City'. With green space covering around half of Greater London, it's the perfect location for dog owners to pick. 
Pet ownership is big business in London. The city has 240 pet stores and 172 options for pet daycare, so you know you'll always be able to provide for your pet, no matter where you live in the city. 
You can even travel on public transport with your four-legged friend in tow. Last year, the London Underground was crowned the most dog-friendly public transport system in the world.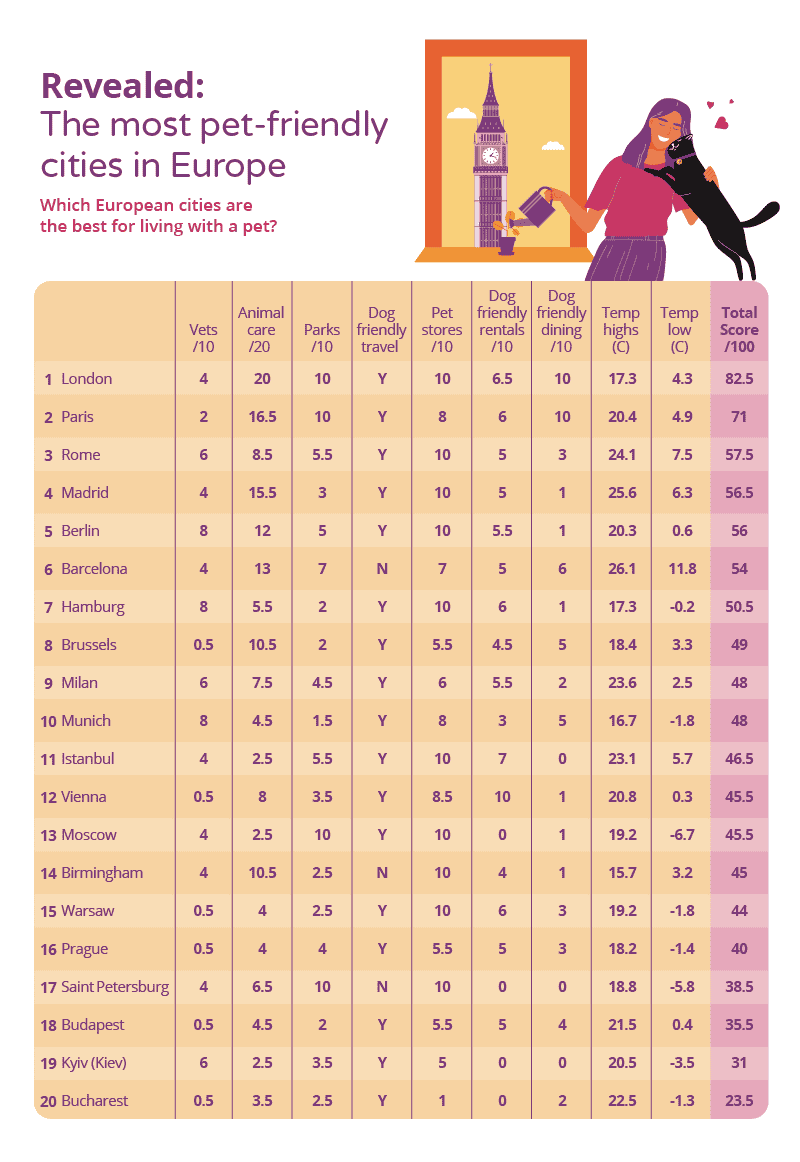 Hot on their tail: Paris, France - 71
Paris is one of Europe's most pet-centric cities, and similar to London, it scored high on almost all of the pet-friendly credentials, coming in second place with all pet-friendly credentials considered.
Pets in Paris have the run of the city, often accompanying their owners on daily errands nestled between shopping bags for the journey. But, up until last year, just 16% of Paris' public parks allowed dogs, but our research found that dogs are now welcome for walkies in 163 of them, scoring the city top marks for it's green space.   
The French city is widely regarded as the fashion and beauty capital of the world, so it's no surprise that the same goes for Parisian pets, too. Pampered pets in Paris have 207 groomers to pick from to ensure they are trimmed and smelling fresh.  
Ruff luck: Rome, Italy - 57.5
Rome rounds out the top three pet-friendly cities in the index, scoring 57.5 out of 100. Throughout history, the Italian capital has been famed for its eclectic choice in pets, including ferrets, parrots and of course the Italian Greyhound.   
The city has 39 groomers, 29 pet daycare centers, a whopping 129 pet stores to shop for all your pet essentials, and you and your pet can hop on and off public transport, as buses and metros are pet-friendly.
Spoiled fur choice: Europe's most pampered pets
Not only do we like spending time with our furry friends, we want to spoil them too and the index reveals the cities across Europe offering the best care from nose-to-tail. 
Brushing up on grooming appointments
Booking regular grooming appointments for your pets not only keeps them looking great, it keeps them healthy and happy too. Grooming treatments help to maintain coat and skin health, and regular nail trims can help to reinforce healthy foot structure and posture. 
London offers the most options for grooming (240) in Europe. Paris, and Birmingham take joint second place for the number of groomers with over 207 grooming businesses situated in the cities. While Madrid achieves third place with over 59 pampering pet grooming establishments to try. 
Pet sitting and daycare
In addition to grooming, pet daycare centres can provide exercise and socialisation for pets in a safe sanctuary while busy owners work or run errands. 
London also offers the most options for pet daycare (172) in Europe, followed by Madrid with 114 centres to choose from. Followed by beautiful Barcelona in third place with 97 pet daycare centres within the city.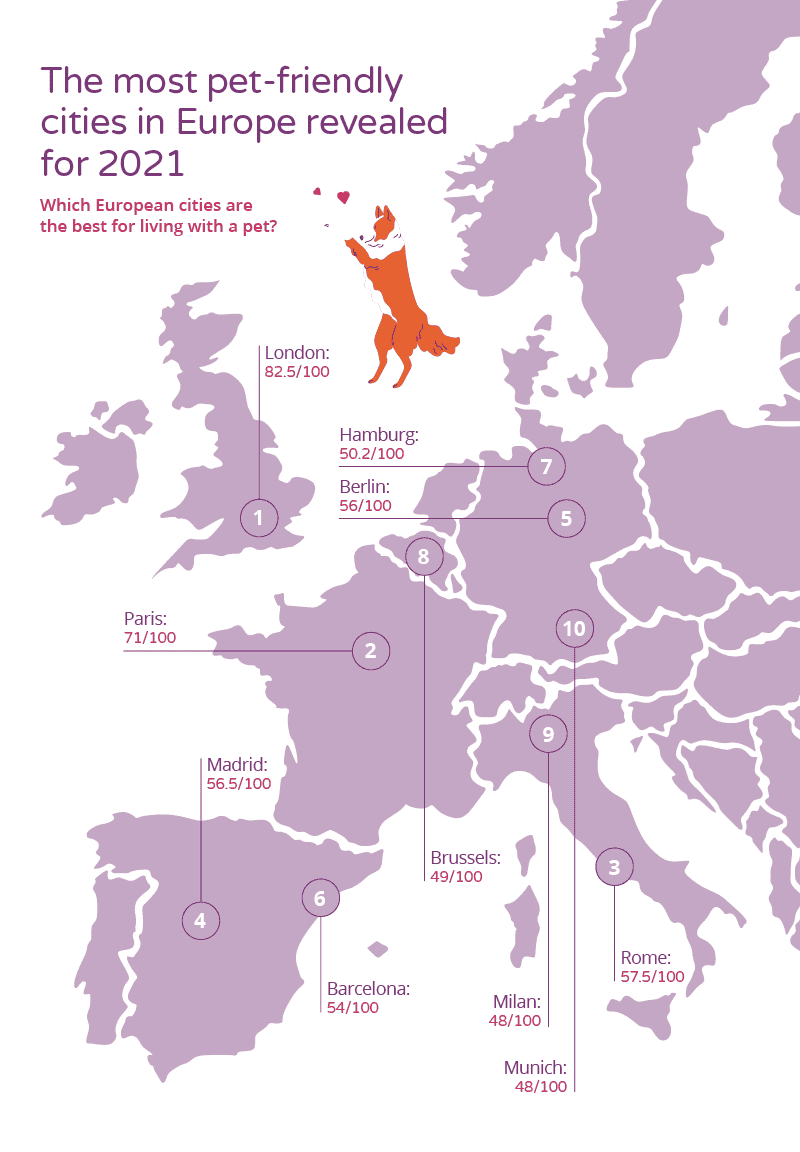 Lets with Pets: How many properties can you pick from?  
A recent study determined that European countries have the highest rental to homeowner ratio, with the UK, Ireland, Denmark, Greece, Slovenia, Spain, Slovakia, and Finland all seeing an increase in renters since 2010. 
New research from YouGov and Mars Petcare reveals that two-thirds of private renters live under strict no-pet tenancy agreements. Some campaigners have argued that this is contributing to the UK's loneliness epidemic and have called for tenancy agreements to be relaxed to accommodate pets too.  
But which cities from our study have the most choice when it comes to pet-friendly rentals? 
Vienna takes the top spot with the 169 fully-furnished pet-friendly rentals within the city, followed by Istanbul with 71 and London comes third with 69. 
Pick up your pet essentials 
If you are looking to pick up the essentials for your pets then Moscow is the place to be, the city takes the number one spot for the number of pet shops, with 307 to choose from. 
St Petersburg in Russia takes second place with 252 pet stores for your everyday essentials and treats. Istanbul and Birmingham take joint third positions with 240 stores to pick up your pet supplies. 
Revealing the most popular pets across Europe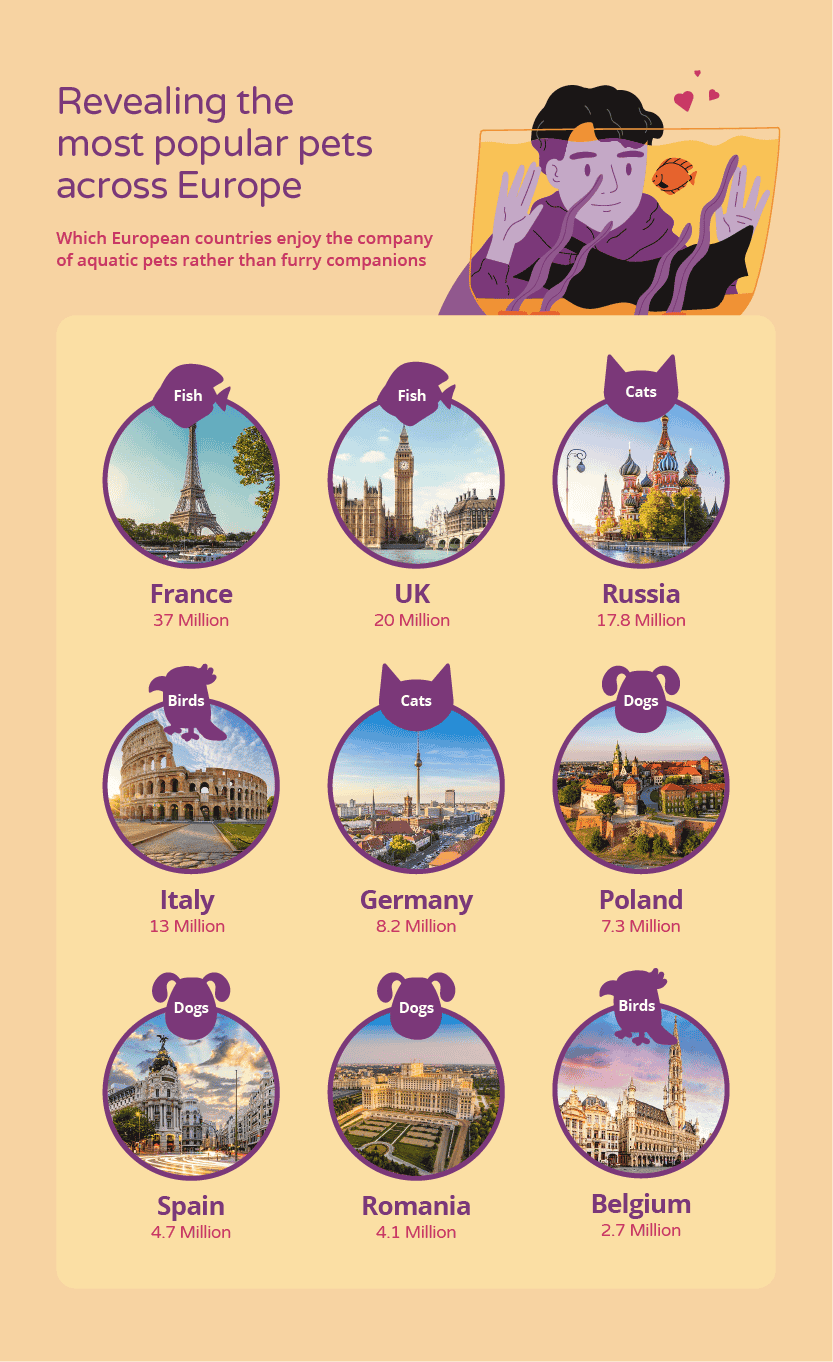 There are many health benefits of owning a pet as they can encourage us to exercise more, get outside in some fresh air and socialise with other pet owners. As well as this research has suggested that regular walking or playing with pets can decrease blood pressure, cholesterol levels, and triglyceride levels. 
Our study reveals the pet popularity across 11 European countries including UK, France, Germany, Italy, Russia, Belgium, Austria, Spain, Poland, Romania, and Hungary and finds that cats are the most popular pet with 69,830,100 of them owned across these countries. 
Recent research by The Economist reveals that UK citizens spent a whopping $93 per person on pet care for their loving companions as opposed to pet lovers residing in France that spent $87 per person.
The countries with the most cats are Russia with 17.8m and Germany with 8.2m households featuring feline family members. 
However, for man's best friend, Poland (7.3m), Spain (4.7m), Romania (4.1m), and Hungary (2.8m) are home to the most canine companions. 
Salman Haqqi, personal finance expert at money.co.uk, said: 
"Our pets are part of the family. They provide us with endless amounts of companionship and help reduce our stress levels and increase our social activities.
"But before making the commitment to care for a pet, you must factor in the costs of owning one. Factoring in the lifetime cost of a cat or dog will set you back on average between £16,000 and £33,000. 
"These figures include the cost of food, toys, bedding, pet insurance, vet bills, grooming, and flea and worming. For cats and dogs, the average cost of food per year is between £200 and £400. Large dog breeds will cost more to feed and the price of food differs based on the quality. Whereas, hamsters, mice and other small pets cost significantly less to feed.
"When it comes to pet insurance, it is more cost effective to take out a yearly policy while your pet is young. This will however start to get more expensive as your pet reaches the more senior years of their life. Be careful with this as many insurance providers will not cover your pets when they get older, therefore in the long run a lifetime policy may be more beneficial if you are adopting an older rescue animal. 
"These are all factors to consider when choosing whether to buy or adopt a pet. Make sure you calculate whether your finances can cover the cost of the type of animal you are looking to bring home." 
If you're thinking about relocating in the UK to one of the more pet-friendly cities, you might want to read our guide on buying a house. If you're ready to move home, you may want to compare mortgages to see what deals are available for you.