You plan it for months, maybe even years. It's finally here and your big day is everything you dreamed it would be.
It's a celebration of your love with the people you love most in the world — whether that's in person or remotely. Plus it's the perfect excuse for a great party!
However, one thing that can make or break a wedding party is the choice of wedding music. There are the classic love songs, the nostalgic throwbacks to your youth, the tunes full of heart bring a tear to your eye… But nothing gets a party started like a good old dance classic!
What makes great wedding music?
Getting people up and moving on the dance floor at weddings can be tough. When you've been on your feet all day and eaten a mountain of canapés, it can be a struggle to find the motivation — even after the drinks are flowing!
However, there are certain dance songs that seem to hold a mysterious power. After just a couple of beats, everyone is on their feet.
So what is it about certain music that makes you instinctively move? We wanted to put together the perfect wedding music playlist that will be sure to fill the dance floor, so we decided to look at the science behind it and work out what actually makes the perfect wedding dance floor song.
The formula behind the perfect dance floor filler
We figured that once we know what makes the perfect dance song, we could work out which song is most likely to get the blood pumping, shoulders shaking and feet tapping — ready for a raucous wedding party! 
To do this, we got our best music researchers to analyse data from Spotify, looking through more than 3,500 songs from playlists including the phrase 'dance floor filler' to find the top 50 songs that appeared most frequently.
Our music researchers then looked at the most common key, time signature and average beats per minute (BPM) across all of those songs, in order to work out the musical formula that makes up an ideal dance floor filler.
Once we had worked out the ideal characteristics of a dance floor hit, we applied this formula to the top 50 songs to find which best matched the musical blueprint.
The Ultimate Floor Filler Formula is: 
Key: B
Tempo (BPM): 124 
Time signature: 4/4
This matched one song exactly: Nightcrawlers' 'Push The Feeling On'.
Songs of this nature are proven to get people moving, so should feature early on wedding playlists. Right after the first dance song would be perfect, just when you need to get people straight onto the dance floor!
Revealed: The top 10 wedding dance floor fillers
Include these songs in your wedding party playlist for a guarantee to get people moving.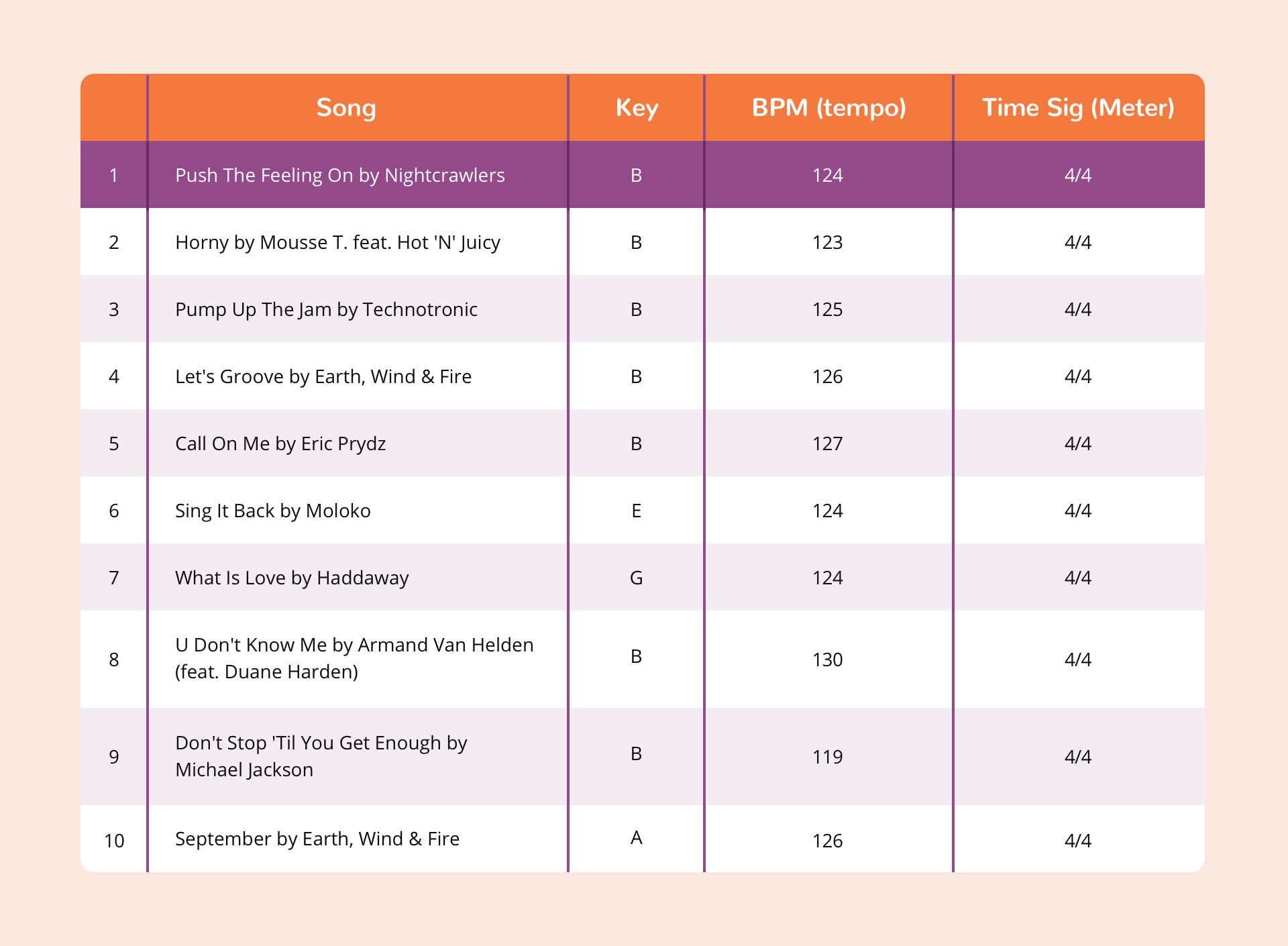 If you are planning your wedding and need to explore how you will finance it, check out our best deals on 0% Purchase Credit Cards, Loans and Savings.