As the world's culinary experts consolidate their traditional TV slots and expand their brands onto Instagram and beyond, it's fair to say that the top cooks are seeing their bank balances benefit from their exploits beyond the kitchen.
Choose a 0% interest credit card that could save you money on purchases you make, by offering a long interest free period and low APR.
From Nigella to Jamie, our personal finance experts have crunched the numbers to reveal which celebrity chefs are the most successful. 
Taking a seed list of the top ranking UK, European and foodie influencers, we've used a weighted ranking system to assigned a score to each chef in the report, revealing the most successful celebrity chefs.
The success factors:
Net worth

Number of published cookbooks

Michelin Stars

Social media influence

TV appearances 

TV career length
The 25 most successful celebrity chefs in the UK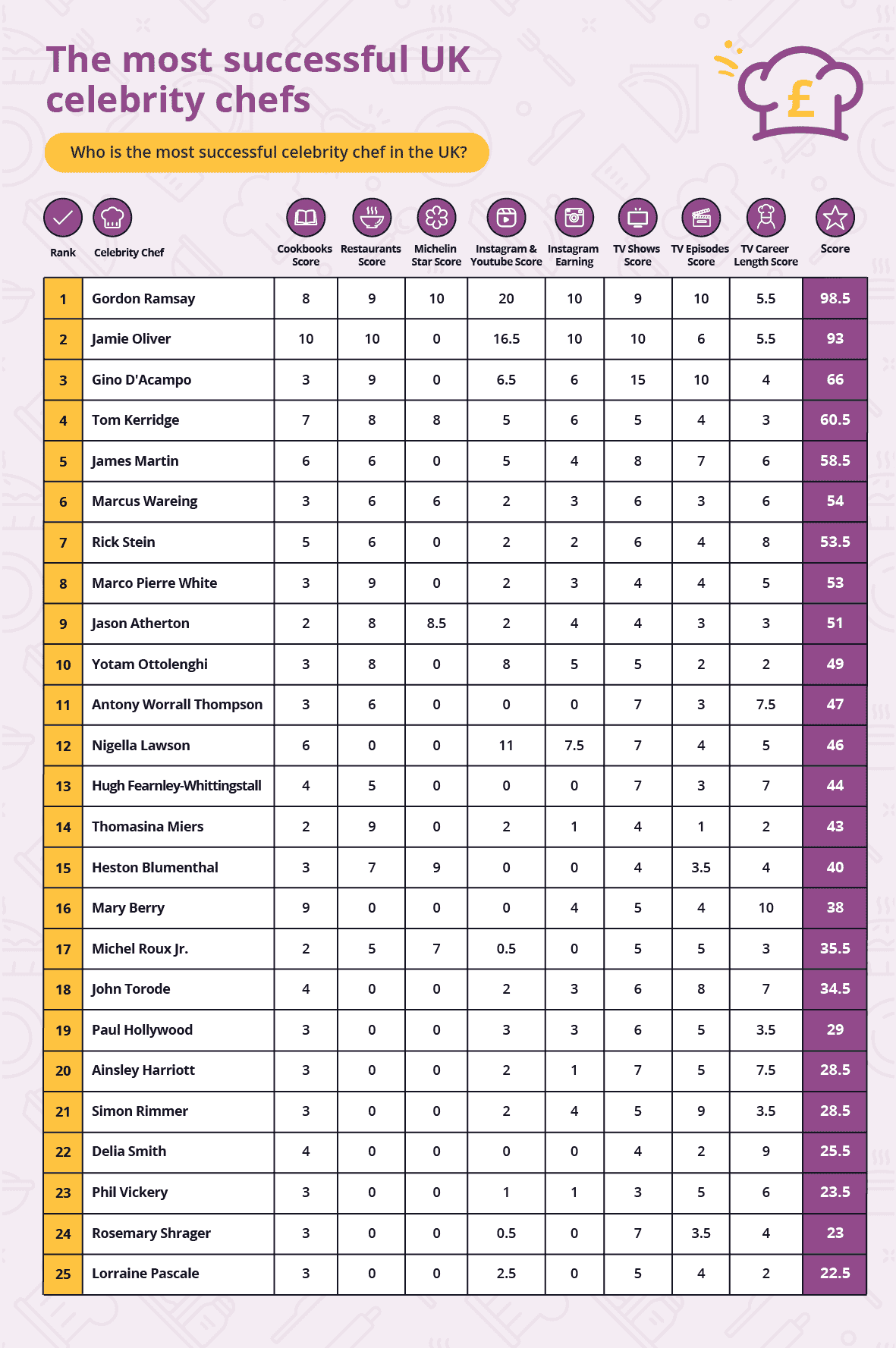 Sitting proudly at the top of the list is Gordon Ramsay, who takes the number one spot as the most successful chef in the Celebrity Chef Credit Report, scoring 98.5 out of 120. 
Despite his fearsome reputation, few can argue against the relentless work ethic the 53-year-old applies to his culinary pursuits and business dealings. 
To date, Ramsay's restaurants have been awarded an extraordinary 16 Michelin Stars in total (7 of which have been retained). In addition to his incredible success in the kitchen, Gordon Ramsay has captured TV audiences across the world, thanks to appearing in 32 TV shows and featuring in around 640 episodes. With his fiery personality and exceptional skills in the kitchen, it's no surprise that the chef is estimated to be worth over £171 million. 
Essex cheeky chappie Jamie Oliver takes the second position, scoring 93 out of 120. With an impressive career spanning over 21 years the chef has made his fortune from a series of successful cookbooks and TV shows earning him over £233 million - topping the earnings of Gordon Ramsay. 
Despite his significant earnings, Oliver scored slightly less than Ramsay due to his lack of Michelin stars and lower social media presence. 
In third place is chef and funny man Gino D'Acampo, scoring 66 out of 120. D'Acampo rose to fame in the UK with his Italian inspired recipes and dishes, regularly appearing on ITV's This Morning and Celebrity Juice. 
The charismatic chef has 12 cookbooks to his name, 37 restaurants and a TV career spanning over 18 years, resulting in a whopping £7,787,500 fortune. His restaurants are also moderately priced with the most expensive main course on the menu costing £29.50. 
Top 10 most successful celebrity chefs in Europe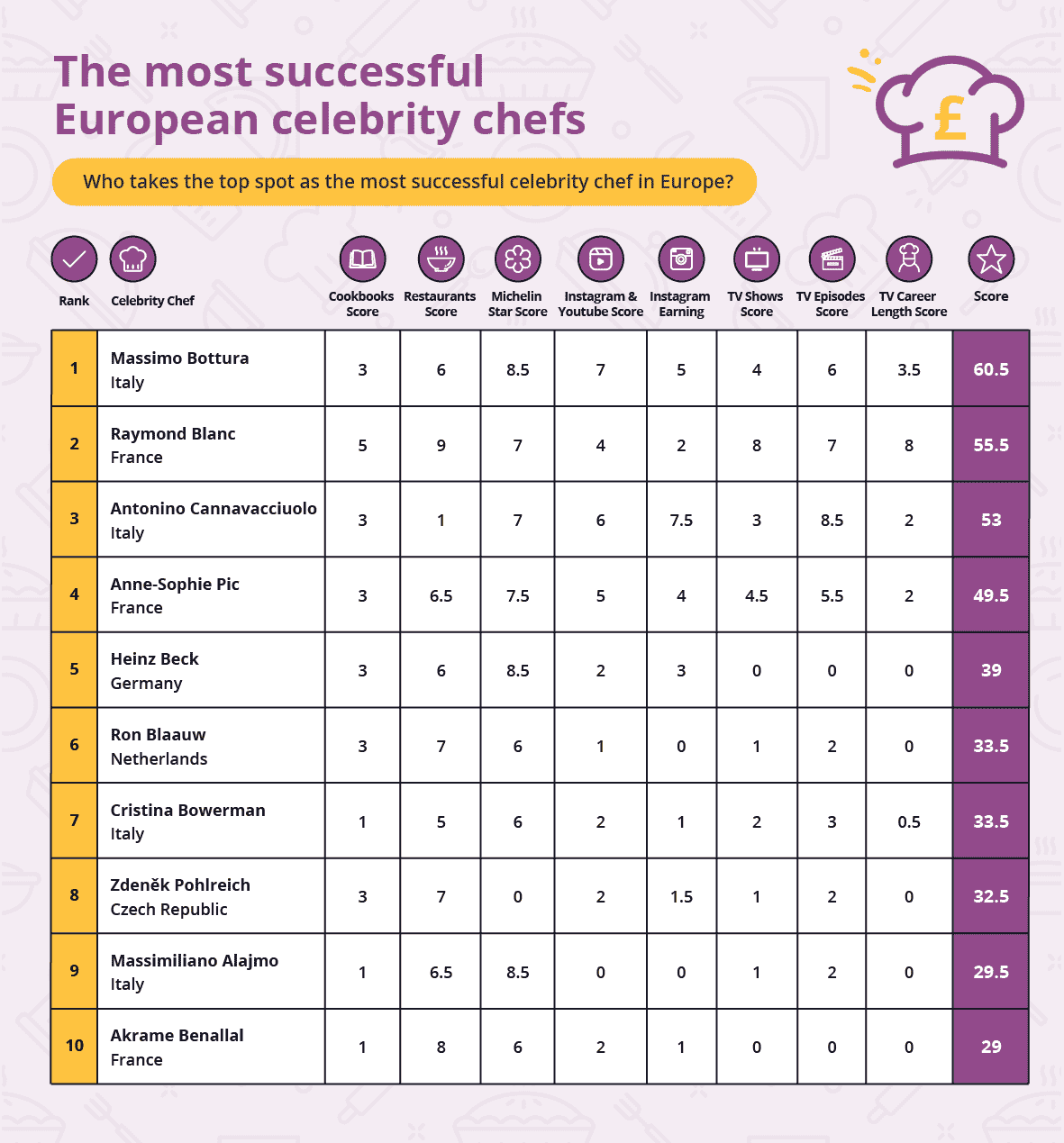 Taking our study into Europe, Massimo Bottura takes the top spot as the most successful European chef, scoring 60.5 out of 120. As the chef behind the hugely successful restaurant Osteria Francescana in Modena, Italy, Bottura is a force in a culinary revolution. 
With 15 cookbooks, six restaurants, four Michelin stars - Bottura is estimated to be worth an impressive £183,094,375.
Raymond Blanc takes the second position in our study, scoring 54.5 out of 120. Blanc is the chef patron at Belmond Le Manoir aux Quat' Saisons that boasts two Michelin stars. The restaurant's seven course set menu will set you back £194.00. He also has 30 cookbook releases to his name and has appeared in 25 TV shows spanning over 30 years.  
In third place is two Michelin starred chef Antonino Cannavacciuolo, scoring 53 out of 120. 
Cannavacciuolo combines the dishes of north and south Italy at his restaurant Villa Crespi. He is one of Italy's most well known chefs, thanks to his seven year television career.
With eight cookbooks released and an avid social media following of 2.8 million it is no surprise Cannavacciuolo has racked up a £4,908,992 net worth. 
Top foodie influencers around the world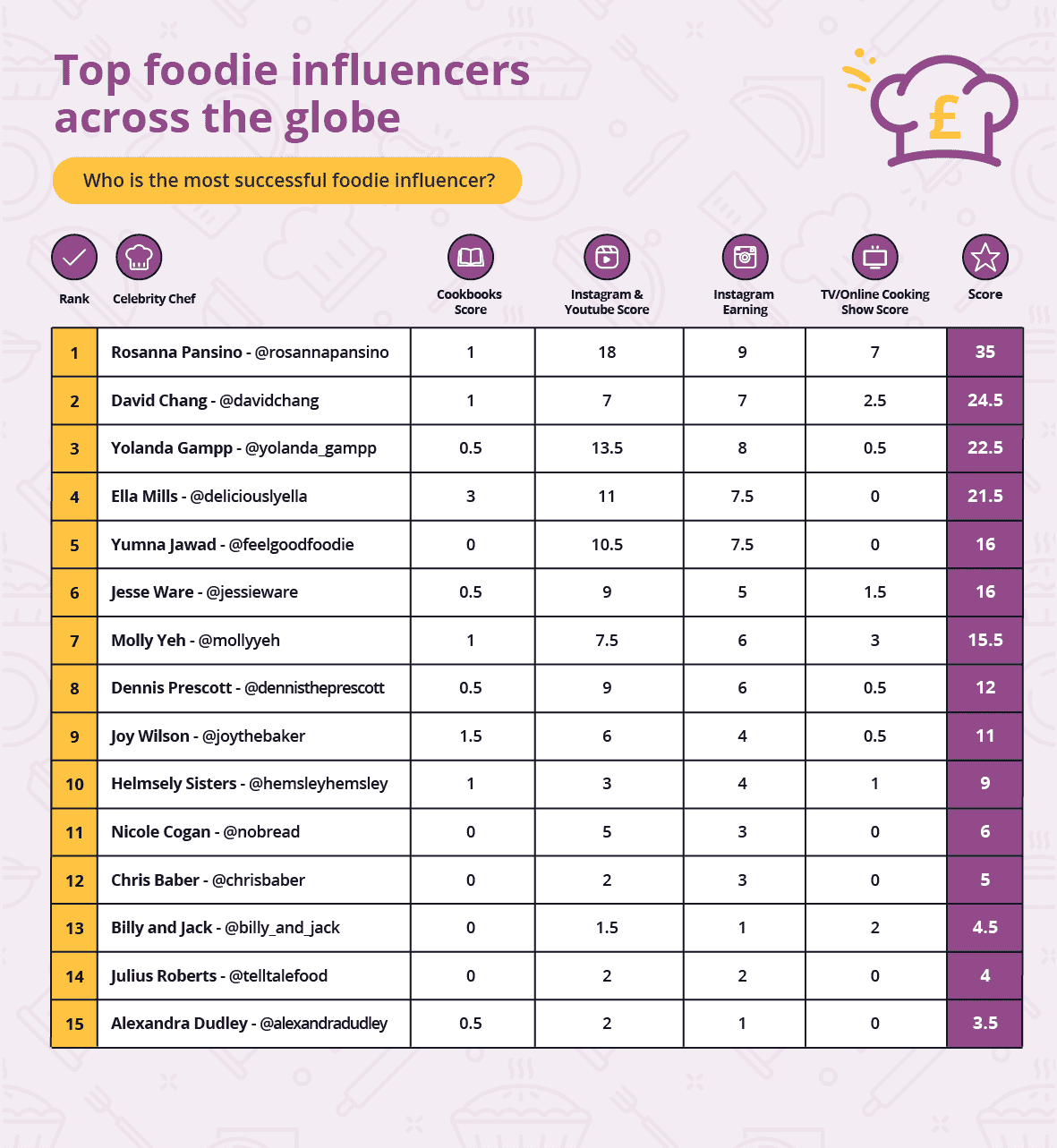 Following food bloggers and influencers on social media can inspire you to get creative in the kitchen and our study ranks the top 15 around the globe. 
Taking the top spot for the most successful food influencer is Rosanna Pansino, scoring 35 out of 50. Pansino started the cooking series Nerdy Nummies, which has become one of the most well-known baking shows on YouTube. The channel mostly features baking creations resembling characters and objects from video games, television shows, anime/manga, books, and films.
With two cookbooks and over 300 TV cooking show appearances, Pansino has an impressive 4.5m followers on Instagram. 
A relative newcomer to the celebrity chef scene, David Chang takes second position in our foodie influencer ranking, scoring 24.5 out of 50. He has slowly been making waves with his Momofuku restaurant empire, gaining two Michelin stars in 2009 and expanding his brand around the globe ever since.
In third position is Yolanda Gampp from Canada, a self taught baker and cake designer, scoring 22.5 out of 50. She has released one book so far and has an army of fans on Instagram and Youtube with 2.8 million followers and 4.3 million YouTube subscribers all tuning in to her baking delights. 
Revealing the most successful Bake Off contestants of all time
Soggy bottoms, collapsed soufflés, and Paul Hollywood's ruthless comments always guarantee a truly unmissable Great British Bake Off series. The competition sees a group of amateur bakers compete against each other for the Paul Hollywood handshake of approval and the coveted title of star baker. 
The overall winner is crowned the best amateur baker in the UK, which catapults them into stardom, ranging from book deals, TV shows and even businesses. It's fair to say that these amateur bakers soon see their popularity and bank balances skyrocket.
How can we 'prove' which baker 'rises' above the rest? 
From Instagram influence to cookbook sales, our personal finance experts have crunched the numbers to reveal which Bake Off contestant is the most successful of all time.
Taking a seed list of 24 winners and runners up from past series of the Great British Bake Off series our weighted ranking system scores them based on cookbooks, social media influence, Google search volume, TV appearances and TV career length, to reveal the most successful baker on Bake Off.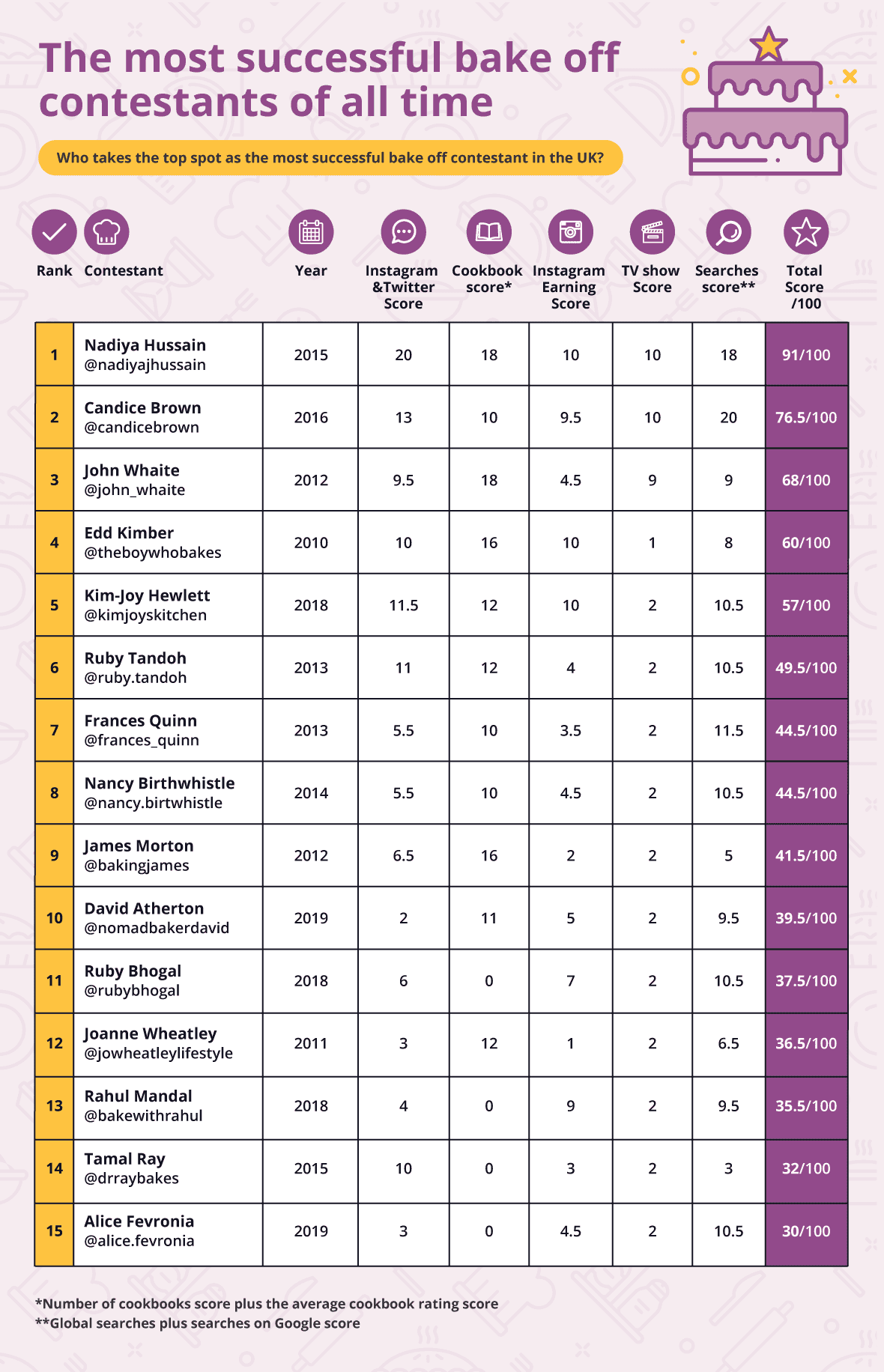 At the top of the list is Nadiya Hussain who takes the number one spot as the most successful bake-off winner in the Celebrity Chef Credit Report, scoring 91 out of 100. 
Nadiya has since written various newspaper columns, fronted the TV show 'The Chronicles of Nadiya', appeared in over 115 TV shows, and become a guest presenter on Loose Women. In total, she has released seven cookbooks, in which Nadiya's Kitchen (2016), Nadiya's Family Favourites (2018) and Time to Eat (2019) reached bestseller status. 
One of Nadiya's biggest accolades to date was being selected to bake Queen Elizabeth's birthday cake when the monarch turned 90 in April 2016.
In second place is cooking wiz and fashion icon Candice Brown, scoring 76.5 out of 100 in our report. 
She left her job as a PE teacher to pursue a career in baking and during her time on bake-off she was named star baker three times, more than any other contestant in the series. 
Since being crowned the winner of series seven (and the last winner from the BBC version of the show) she has landed the role as a columnist for The Times and released a cookbook featuring comfort food recipes. 
In 2018 she took part in reality TV show Dancing on Ice as well as appearing in over 58 TV shows since winning her series of Bake Off.
Information about Candice is searched 26,000 times per month on Google and she has an avid 249,000 followers on Instagram. 
In third place is Lancashire based champion John Whaite, scoring 68 out of 100 in our report. 
John was just 23 years old and studying for his law exams when he impressed Bake Off judges Mary Berry and Paul Hollywood in 2012. Since the show, the series three champion has even taken classes at the esteemed culinary school, Le Cordon Bleu. 
He has appeared as resident chef on ITV's Lorraine and Steph's Packed Lunch on Channel 4, and made guest appearances on What's Cooking, This Morning and Sunday Brunch, appearing in over 47 TV shows in total. 
 John has also released five cookbooks, including the top sellers John Whaite Bakes, John Whaite Bakes At Home and Perfect Plates In Five Ingredients.
Paying for it
If you're planning to head out to one of the Michelin Star restaurants mentioned in the Celebrity Chef Credit Report, you may want to consider paying with a 0% Purchase Credit Card. A 0% credit card that could save you money on purchases you make, by offering a long interest free period and low APR.