The mortgage experts at money.co.uk have delved into data to find out where the most 'beautiful' people in the world are born.
Are you looking to move? Compare mortgages to find the right deal for you. 
While beauty is ultimately subjective, we've chosen to study the cities and countries that have produced the most winners of beauty pageants.
So are there some cities where you are more likely to find more pageant winning residents than neighbouring cities?
The most beautiful countries in the world
Looking at over 500 pageant winners, money.co.uk compared their birthplaces to find out if some countries appeared on our list more than others. 
These famous names included winners of Miss World, Miss Universe, Mr Gay World, and many other pageants.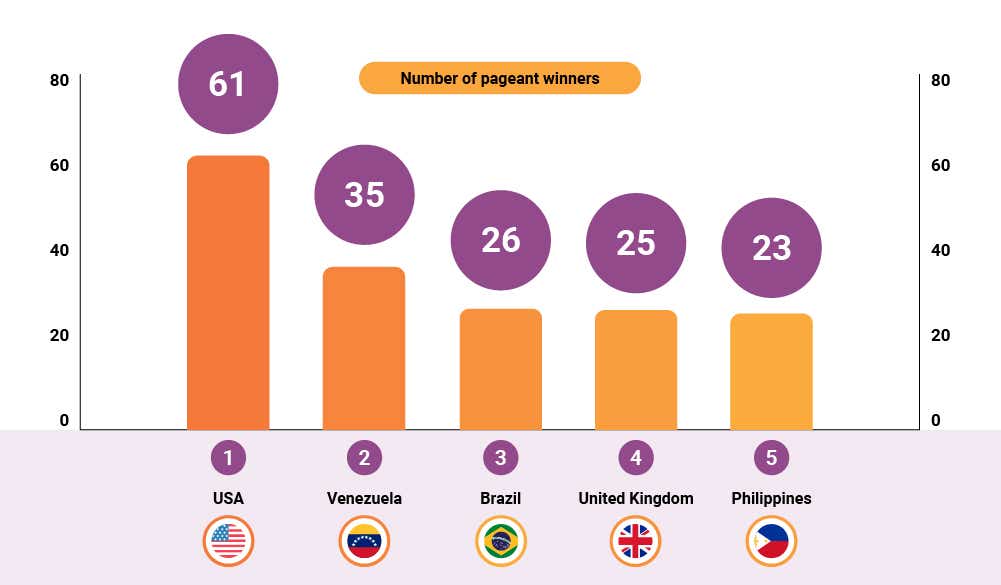 1. Caracas, Venezuela - birthplace of 10 pageant winners
Caracas in Venezuela is in first place, with Venezuela known for taking beauty pageants seriously, having won more "Big Four'' titles than any other nation. Some of the most famous beauties to come out of Caracas are Dayana Mendoza and Claudia Moreno.
2. Bangkok, Thailand - birthplace of 7 pageant winners
In second place was Bangkok, the capital of Thailand, which has produced seven pageant winners. Interestingly, four of these were winners in LGBT+ pageants.
3. Sydney, Australia - birthplace of 6 pageant winners
Two cities were tied for third place, with six beauty pageant winners hailing from Sydney, Australia. Perhaps the most famous of these is Jessica Kahawaty, who has represented both her native Australia and the country of her descent, Lebanon.
3. Turku, Finland - birthplace of 6 pageant winners
The other city to produce six pageant winners was something of a surprise, with the city of Turku in Finland tied for second place. The city is home to just under 200,000 people but has produced an exceptionally high number of beauty queens given its small size.
5. Maracaibo, Venezuela - birthplace of 5 pageant winners
Another Venezuela city is amongst those to have produced five pageant winners, again showing the country's affinity with pageants. Maracaibo is the home of the likes of Jessica Barboza and Daniela Kosán.
5. Manila, Philippines - birthplace of 5 pageant winners
The Philippines are considered another powerhouse of the beauty pageant world, which explains why the capital of Manila has produced the joint fifth-highest number of winners. 
5. San Juan, Puerto Rico - birthplace of 5 pageant winners
The Puerto Rican capital of San Juan is also home to five beauty pageant winners, with Stephanie Del Valle, who won Miss World in 2016, probably the best known of these.  
The result was a tie between Texas and California with nine each, although Texas had a larger share of winners, compared to runner ups.
Beauties from the Lone Star State include Alyssa Edwards (who appeared on RuPaul's Drag Race) and Paola Turbay.
The most common birthplaces of LGBTQ+ pageant winners
The pageant world has become much more inclusive in recent years, with a number of global LGBTQ+ pageants taking place, including Miss International Queen and Mister Gay World, but which are the countries that dominate in these events?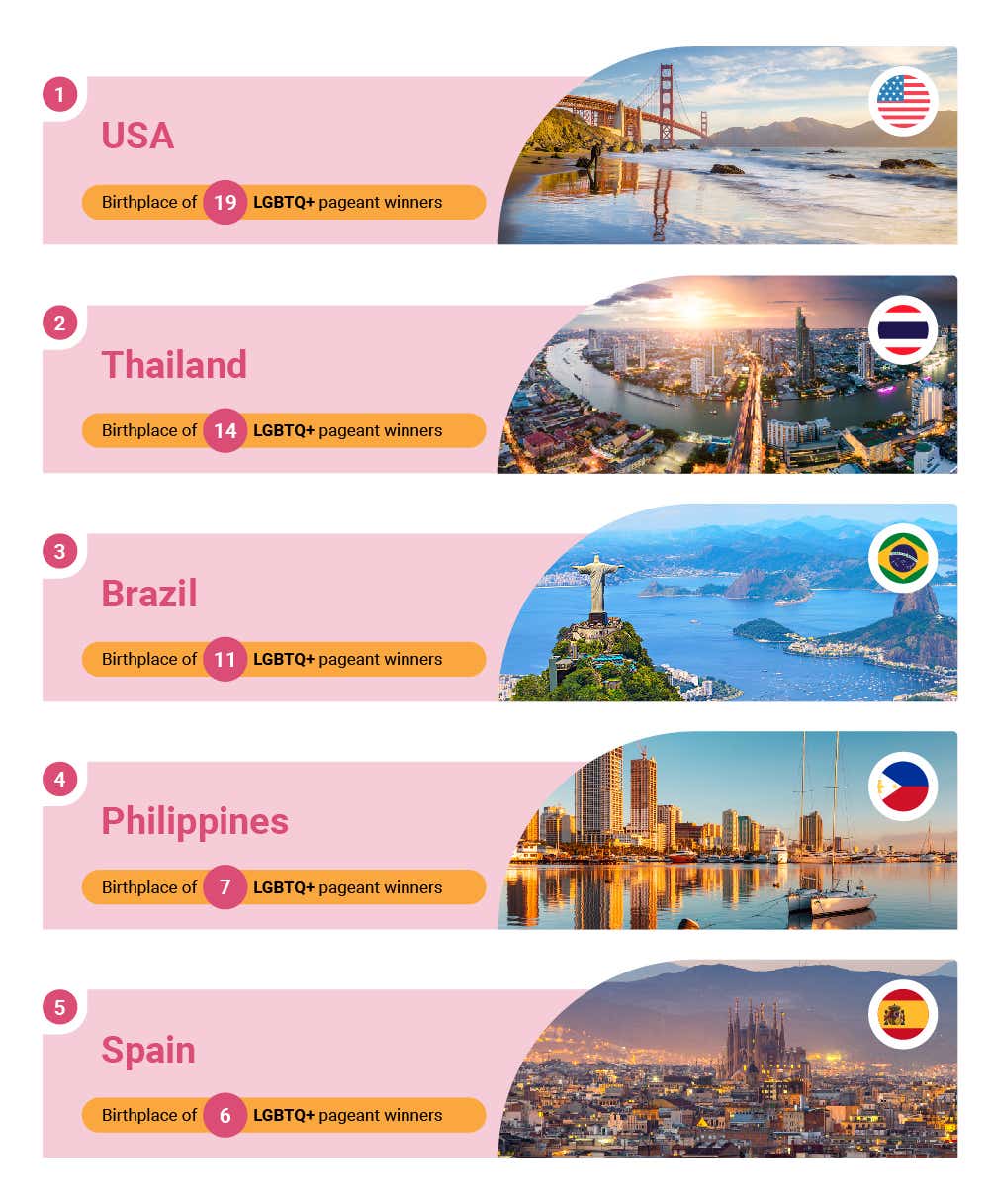 1. USA - birthplace of 19 LGBTQ+ pageant winners
As was the case with straight pageants, the USA was the country that produced the most LGBTQ+ pageant winners, including winners of Miss International Queen and International Mr Gay.
2. Thailand - birthplace of 14 LGBTQ+ pageant winners
Thailand came in second, with 14 LGBTQ+ pageant winners, and was also home to the city that produced the most beauty queens and kings, Bangkok.
3. Brazil - birthplace of 11 LGBT+ pageant winners
In third place for LGBTQ+ pageants was Brazil, with 11 winners in total, including three winners of Miss Trans Star International: Rafaela Manfrini, Lavine Holanda, and Bruna Geneve.
Birthplaces of the most popular beauty pageant winners
Winning a beauty pageant can catapult some into the limelight, giving them a new level of popularity that they wouldn't have achieved without their crown. So, which beauty kings and queens are the most popular on Instagram?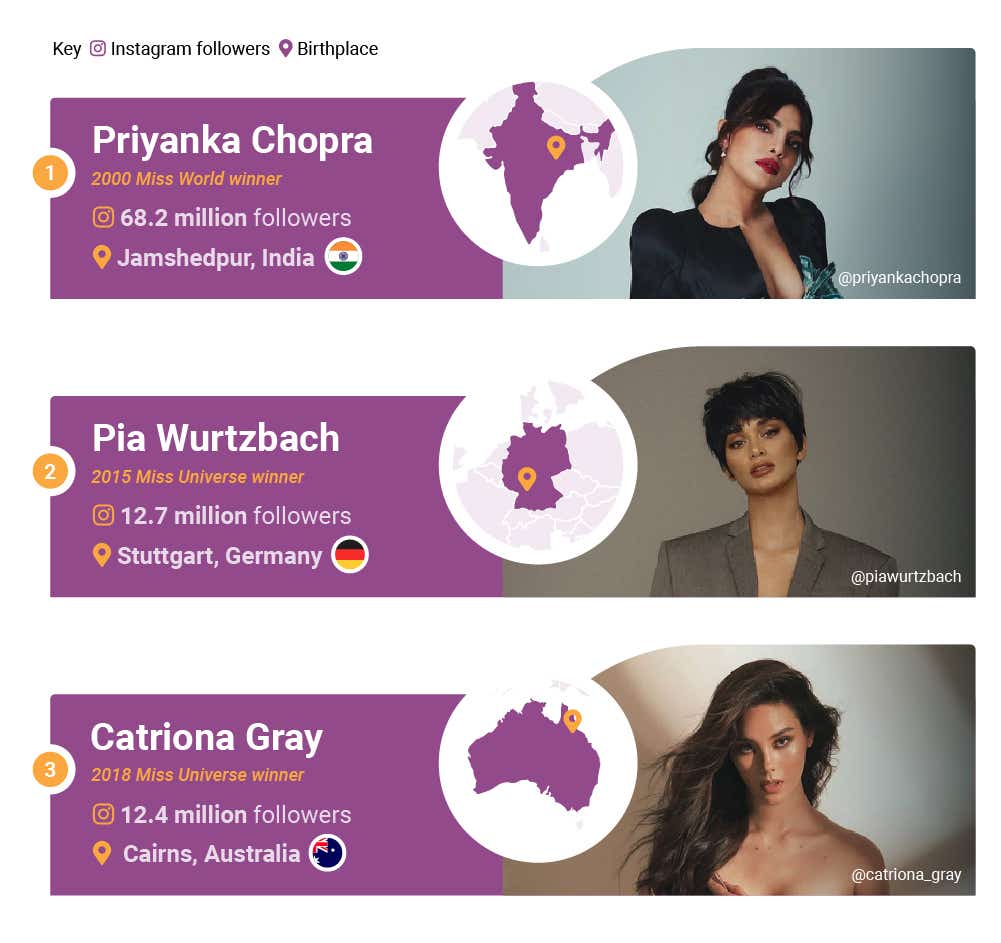 1. Priyanka Chopra - 2000 Miss World winner
Instagram followers: 68.2 million 
Birthplace: Jamshedpur, India

2. Pia Wurtzbach - 2015 Miss Universe winner
Instagram followers: 12.7 million 
Birthplace: Stuttgart, Germany

3. Catriona Gray - 2018 Miss Universe winner
Instagram followers: 12.4 million 
Birthplace: Cairns, Australia
Affording your own beautiful home
Whether the city you wish to live in is home to some of the most beautiful people or not, you can still find your own beautiful home city when you move home with affordable mortgage deals.
Methodology
Money.co.uk compiled a list of some of the most beautiful people in the world including winners of international beauty pageants and models, taken from the following sources:
Wikipedia's list of winners and runners up from the Big Four international pageants, (Miss World, Miss Universe, Miss International and Miss Earth) going back to 1951
Taking the birthplaces of each of these people, money.co.uk were able to discover the most common birth cities of the most beautiful people.
All social media follower data is correct as of 14th September 2021.